Not a second to waste
Odesza's album "A Moment Apart"
Odesza's album "A Moment Apart" made me think solidly of one word: "Kaleidoscope." It's high and light while thick and dance-floor worthy, with voices being the center melody while also a faded harmony. Part of the fun of listening to it is sectioning out the parts that create this wave of sound that fills up all the empty space. There is so much going on, and all of it is beautiful.
This is the electronic duo's third studio album, and it's a mellow edition of their previous sound. They usually have non-mainstream artists featured, but this album is graced by Regina Spektor's multi-talented voice and the soul and R&B stylings of singer Leon Bridges.
Odesza still manages to be unique in a saturated electronic market (a market that's not even purely electronic anymore, thanks to the pop-electro chorus trend). They push what they can do and use creativity to give us something familiar that still manages to stand out from what everyone else is doing. It's the reason they're at the top of the crowd in the "chill" electronic music trend. The track "Across the Room" is a testament to this creativity, a soul ballad overlaid with the piano and electronic beats.
It would be hard to really pick favorite songs, or even ones that really stick out to me. For other types of music, I would say that this means that there is a problem. But every single track is a fun listen, and it feels like the duo spread its focus and attention evenly through the whole album. With an electronic album, I find that I don't listen to it to have individual "hits" but to have a consistent sound and vibe that makes good driving/studying/miscellaneous activities music.
What the album lacks is effort put into the lyrics, which is something I think would have added depth, and definitely meaning, to the album. Lyrics of the album include simple phrases and lyrics worthy of the Chainsmokers: "Ain't no surprise/That I can't sleep tonight/ My only vice Is standing by your side" ("Higher Ground") and "Tonight we show/We show where we belong/The places I have never been/ The places we are strong" ("Corners of the Earth"). Electronic music can fall into that trap—so much of the focus is on the production of sound that the lyrics simply become another instrument, but I think the words an artist chooses to put into their work adds another layer of creativity. This is something I think "A Moment Apart" misses the mark on.
However, Odesza does an incredible job manipulating how sounds can make you feel and visualize. The result is an immersive experience, taking up all the empty space with so much color, layers, emotion and dexterity. It's a kaleidoscope dream, with the only "moments apart" being the brief moments we have of silence between the tracks, before the next song encaptures us once again.
Album: "A Moment Apart"
Artist: Odeza
Release:
Rating: 4 out of 5 Stars
About the Writer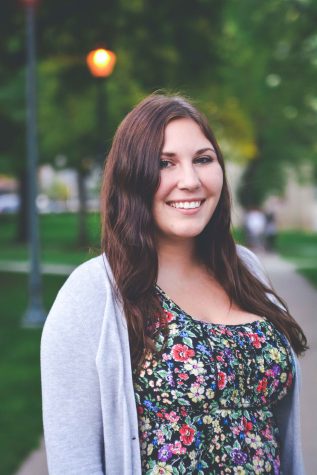 Alex Clarke, Arts & Entertainment Editor
Alex Clarke is a senior with majors in english and psychology and a minor in marketing. She also writes for Trill Mag, wrote for McClatchy newspapers for...