Offseason transactions shift tides across MLB
Despite a relatively weak free-agent class, a series of international signings and blockbuster trades bolstered several MLB teams aiming high this upcoming season.
After the young and exciting Houston Astros grinded their way to a tightly-contested World Series victory, baseball media attention quickly shifted to a young Japanese superstar named Shohei Ohtani, who rose to fame in Nippon Professional Baseball (NPB) before expressing interest in playing in the United States.
Although Japanese players signing in the MLB is a relatively normal occurrence–superstars Yu Darvish, Masahiro Tanaka and Ichiro Suzuki all arrived in a similar fashion–Ohtani is a special case. He has won awards for both his hitting and his pitching. In fact he holds the NPB record for fastest pitch at 102.5 miles per hour. Ohtani's aptitude on both sides of the baseball field have resulted in comparisons to a similar player from a century ago: Baseball Hall of Fame legend Babe Ruth.
In November, Ohtani led a highly publicized search for an American suitor where he listed different criteria to rule out certain teams. His desire to be close to Japan and stay in a relatively low-pressure environment ruled out most teams except for a select few on the West Coast– mainly the Seattle Mariners, San Francisco Giants, San Diego Padres, Los Angeles Angels and Los Angeles Dodgers. On Dec. 8, Ohtani chose the Angels, allowing him to play alongside superstar Mike Trout and significantly improving the teams' playoff hopes.
Although analysts don't believe his addition can push the Angels past the World Champion Houston Astros in the American League West, they do believe he can help lead them to a wild-card victory and playoff berth. The Astros themselves boosted their already strong rotation with the addition of Gerrit Cole from the Pittsburgh Pirates. The Astros' incredible offense and now-experienced pitching rotation place them as one of the World Series favorites this year.
However, their biggest threat to the American League pennant will be their 2017 American League Championship Series foe, the New York Yankees. The Yankees caught the baseball world off-guard last year with the emergence of young stars such as Aaron Judge, Gary Sanchez and Luis Severino. Right after the season, they were projected to have another tight race with the Boston Red Sox for the AL East title. However, the Bronx Bombers changed their forecast for Giancarlo Stanton, the 2017 National League MVP and renowned home run hitter.
After a new ownership change led by former Yankees legend Derek Jeter, the Miami Marlins looked to shed Stanton's enormous contract to free up salary space and rebuild from scratch. However, virtually nobody was willing to take on a 10-year $300 million contract for a player with questionable long-term health. With that in mind, Jeter turned to his former team, the one most likely to be able to afford Stanton.
Hitting a home run in Yankee Stadium is much easier than nearly anywhere else. With that in mind, Stanton's already ridiculous home run totals are expected to inflate, and the combination of Judge, Sanchez and Stanton could potentially turn the Yankees into the best offense in baseball.
One more team that just recently reinvigorated its offense is the San Francisco Giants. Just one year after making the playoffs, the Giants finished 2017 tied for the worst record in baseball. Particularly weak was the Giants' offense, which produced the lowest number of home runs and the second lowest total runs scored in the MLB. To address this, the Giants added two former franchise faces: Andrew McCutchen and Evan Longoria.
Although both players are considered to be past the prime of their careers, both are major offensive threats, and, alongside a healthy Madison Bumgarner, can potentially help the Giants continue their trend of playoff runs in even-numbered years.
Although these few transactions have made a major ripple in the MLB, there are still a significant amount of free-agent signings that need to take place. The free-agent class for this year is generally considered to be a weaker one, without any particularly special players. The above-average ones, such as Eric Hosmer and J.D. Martinez, are holding out in hopes of getting larger contracts. On the flip side, many teams are considering waiting for the 2018 class, which involves superstars Bryce Harper and Manny Machado.
With inching closer, expect a few more contracts to be given out and a few more offenses to be strengthened. However, the Angels, Astros, Yankees and Giants are already set to have strong seasons and potential playoff runs.
Leave a Comment
About the Writer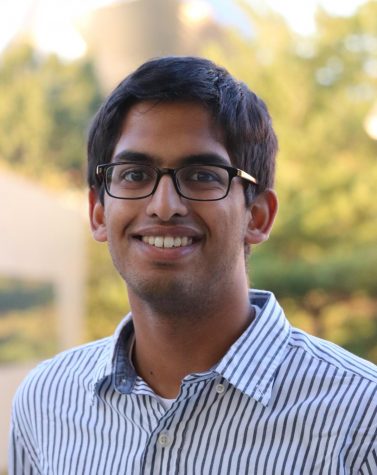 Shounak Bose, Web Editor
Shounak is a fourth-year biomedical engineer and is the web editor for The Observer. He is also a brother of the Delta Chi Fraternity, and is involved...