Ohio City comes to life for Brite Winter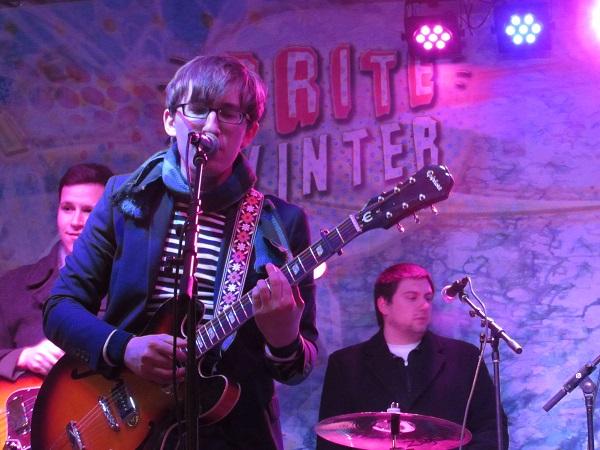 Temperatures dropped into the single digits on Saturday, Feb. 21. Slush mounded on the sides of the roads and sidewalks, as thousands of Clevelanders gathered in Ohio City for Brite Winter.
(However it wasn't as cold as last year.)
Brite Winter is a challenge to the very essence of the phrase "music festival." Looking at fests like Lollapalooza, Warped Tour or even Wade Oval Wednesdays, it's easy to envision mosh pits and tank tops and knock-off Ray Bans.
At Brite Winter, visitors instead don their thickest parkas and grab a cup of hot cocoa before huddling together at the next concert.
The fest is small, tiny even, by national standards, but for Ohio City, Brite Winter is one of Cleveland's largest and most unique cultural experiences. It celebrates the one thing most people dread: winter.
Yes, Cleveland has some pretty bad lake effect, but it doesn't stop the performers or the audience from showing up. That persistence and genuineness is at the heart of what Brite Winter is all about.
A wintertime music festival does come with its drawbacks. Running between stages becomes impossible without snowshoes or skates. Standing near a fire pit's edge becomes a well-earned position. And port-o-potties are already one of the worst things, but in freezing temperatures? Probably better to hold it.
This was just the reality of the situation; it wasn't anything you could really plan around. Brite Winter did the best it could with what it had, and it churned out an event with plenty of volunteer help, food trucks and great bands, of course.
When The Commonwealth performed their short set on an outdoor stage, they were dreadfully out of tune, but luckily their instruments warmed up towards the end of the show and finally reached a point of being in-tune.
The Modern Electric saw a crowd packed into a large area in front of one of the main stages. People squeezed together and cheered when Garrett Komyati introduced the band's song "David Bowie (Save Us All)." Later, Komyati launched into an acoustic and electric guitar duo of The Modern Electric's newest song "When All Else Fails."
Ottawa's indoor set offered a chance to warm up, watch local artists work on a large mural and enjoy freshly-brewed beer at the Great Lakes Brewery's indoor stage. Singer Dale DeLong kicked a purple duct-taped shoe in the air while singing a cover of Pixies' "Where Is My Mind?"
Headliner Maps & Atlases was wrapping up their set as Ottawa was in the middle of their own. Their last song, "Solid Ground," showcased singer Dave Davison's nasally vocals and the band's eccentric mix of indie noises.
This year's festival was partly run off a Kickstarter fund, and contributors sported their signature Brite Winter hats and scarves at the event. Overall, it exceeded its $7,000 goal by $370, with the majority of its money being raised within just a few days of the event.
It didn't cost too much to put on the event because it didn't need the extra flair. Brite Winter is a uniquely Cleveland festival, and it has continued to expand every year, without getting out of control.
Last year, they had a few games, but this year, activities included the Great Wall of Light, soccer ball skeeball and an interactive car exhibit. Last year the streets swarmed with people at every crosswalk, but this year better management kept the crowds in the right places. Last year directions between stages seemed vague, but this year directional signs helped Clevelanders all the way from the RTA Red Line stop at each consecutive show.
Last year Brite Winter was bright. But this year it was brighter.
Leave a Comment
About the Writer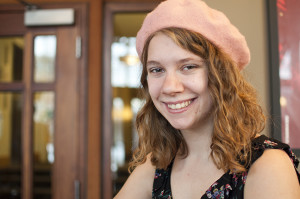 Anne Nickoloff, Director of Print
Anne Nickoloff, the Director of Print for The Observer, is a senior at Case Western. She hopes to one day be a music journalist, and has spent much of...