One University Circle apartments near finalization
In attempt to celebrate and expand the greater-Cleveland neighborhood, University Circle Inc.'s (UCI) multi-million dollar development project has reaped nothing but success. According to UCI, the its prime objective is to "create a premier urban district and neighborhood of choice open 24 hours a day, seven days a week."In the past few years, the community has seen improved pedestrian signage, enhanced streetscapes and institutional expansion of Euclid Avenue and Mayfield Road. Each of these initiatives have not only improved visitor experience, but also that of permanent and part-time residents.
UCI's One University Circle residential project, which kicked off in mid-2016, will largely contribute to the district's development once construction finally concludes this August.
The 20-story, 280 unit complex initiated occupancy during the weekend of April 4 of this year, with residents gradually moving in floor-by-floor. Representatives say they are set to finish the project next month and get everyone settled in as soon as possible.
With rentals starting from $1,395, according to One University Circle's website, the move-in ready, luxury apartments are a bang for their buck.
The complex itself is located on Euclid overlooking the Case Western Reserve University campus, the Wade Lagoon, the Cleveland Museum of Art and pretty much all of your other University Circle essentials. It's in the heart of the neighborhood, and residents could arguably walk everywhere if they needed to. Its exterior is also embedded in greenspace and is a less than one minute walk from several public transit spots.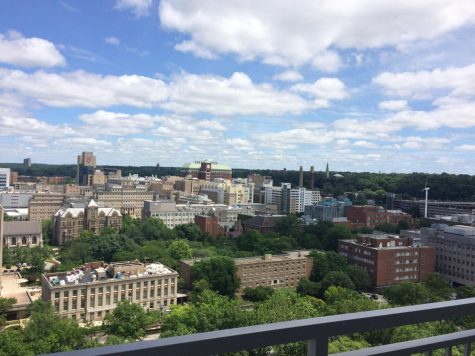 Upon entering the building, residents and visitors are greeted by a 24-hour concierge service located in the chic, white and beige-toned lobby. In addition to a 24/7 Smart Package Locker System, the lobby also features residents' mail room and a soon-to-be commercial space. According to representatives, the ground floor will offer dining options and a market for residents and visitors.
The luxury complex includes a range of studio, one bedroom, two bedroom and three bedroom apartments, all equipped with an intercom security system. Each floor-plan option features uniform details including quartz countertops, shaker-style cabinetry and stainless steel appliances, with hardwood living areas, carpeted bedrooms and ceramic tile bathrooms. Washers and dryers are included with each apartment and some come with walk-in showers.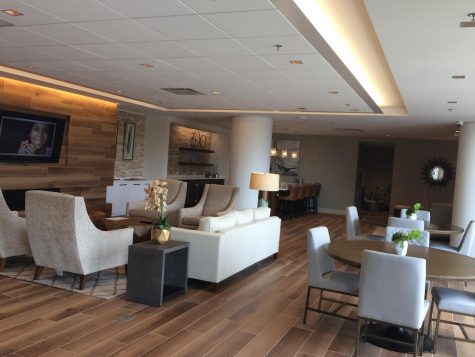 According to One University Circle representatives, the apartments' floor to ceiling windows—anywhere between 10- to 12-feet high—display unparalleled views stretching from University Circle to Downtown Cleveland and all the way to Lake Erie. The complex's amenity package is also considered unparalleled, giving residents access to everything from wellness studios to a pet grooming service.
On the fifth floor, One University Circle's 2,800-square-foot fitness center overlooks a rooftop deck and houses a wide variety of cardio machines, weight training stations, yoga classes and more, all of which are accessible to any resident. The wellness center, however, located in an adjacent room, is intimate and personalized; the small room showcases a widescreen television parallel to three cycling machines, allowing residents to select video-format virtual training programs led by a "personal trainer" on the screen at almost any hour of the day.
Just outside, the rooftop deck makes outdoor kitchens and swimming pool accessible to all residents in the summer. It also has fire pits and a community garden with more views of University Circle.
Down a few stories, the pet-friendly complex's pet washing station is tucked away near a bicycle storage facility, accompanying a dog run located outside near the garage. The roof-covered, fenced in green space allows residents' furry friends to let out energy in all weather conditions and alleviates the fears of potential runaways.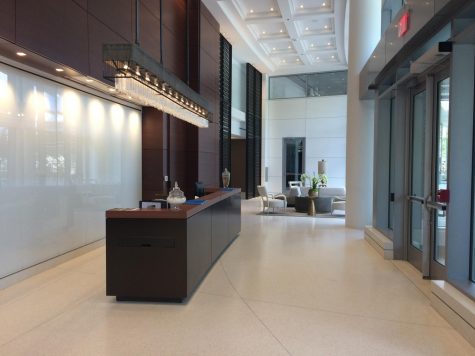 One of the most noteworthy features in the complex is perhaps its business lab. Given the productivity level of One University Circle's residential demographics—which includes CWRU faculty members and students, along with those in the Cleveland Clinic or University Hospital communities—the Wi-Fi connected workspace incorporates computer stations, printers, along with a wireless television overlooking a large, professional conference room so that residents can access a study or workspace without even leaving home.
Another unique community space in the complex is its 20th floor Sky Lounge, which gives residents an opportunity to host gatherings and events in an area equipped with a demonstration kitchen and flat screen televisions. The view, not to mention, again, is exceptionally flattering of the city.
While the luxury apartments may not fancy the budget of frugal undergraduate students at CWRU, I can certainly imagine this urban oasis housing both graduate students and faculty members. One University Circle's wellness-centered amenities and pet-friendly services, along with its intended encouragement and celebration of the community itself, will certainly promote and contribute to the district in a positive way.
Leave a Comment