Orientation is here
Just like dining with friends at Leutner Commons, pulling all nighters at Kelvin Smith Library and walking across half of the campus to classes every morning, going through orientation is an essential part of every Case Western Reserve University student's college experience. With more than 250 events and sessions, Orientation 2016 welcomes to CWRU more than 4,000 people, including new students and their families, and strives to integrate them into the CWRU community as smoothly as possible.
Orientation kicked off August 18 and lasts for 11 days. From August 18 to August 20, international students participated in the International Welcome Days. Unlike the New Student Orientation, the International Welcome Days included events designed for students who study abroad in the U.S., including introductions to American culture and sessions providing students information on immigration regulations. The New Student Orientation will then take place on August 21, at the same time as the Family and Parent Orientation. All first-year students and their families will be welcomed to CWRU campus during this time. During the New Student Orientation, first-year students will move into their dorms in the North Residential Village, meet their Resident Assistants and floormates, learn about their majors and academic opportunities and find school organizations that they are interested in. They will also be introduced to university resources that will help them succeed in college.
"During Orientation 2016, we expect students to have a better understanding of the CWRU culture, to find a student organization or two they want to be involved in, and to learn the important resources that are available for the on campus, especially Educational Services for Students, University Health and Counseling Services, the Career Center and Undergraduate Studies," said  Edwin Mayes, Director of the First Year Experience and Family programs, which is responsible for organizing orientation.
Although sponsored by the First Year Experience and Family programs, orientation is an all campus event where almost every campus office and student organization participates. From the Office of Residence Life to dining hall staff, the whole CWRU campus gets involved to provide new students a smooth transition from home to college. Students and staff from all parts of campus offer their skills and knowledge for a successful orientation.
As early as September 2015, First Year Experience and Family programs started to plan for Orientation 2016. Among the many preparations First Year Experience and Family programs has done to run such a large event, training the Orientation Executive Board and the 140 Orientation Leaders (OLs) is one of its most important tasks. Both the Orientation Executive Board and the OLs are composed of students. The Orientation Executive Board works with First Year Experience and Family programs to plan for the Orientation, while OLs are responsible for leading their individual groups of new students through various Orientation events.
"Our Orientation Leaders are an essential part of our program because they share the Case Western Reserve University culture, provide mentorship, leadership and direction to our first-year students," said Mayes.
Mayes also mentioned that their primary challenge during the planning process is the shortage of staff. In June, First Year Experience and Family programs welcomed its new associate director, Kathy Petras, to help with the preparations. Mayes comments that she and other First Year Experience and Family program staff members, including the Orientation Executive Board, "have all done an outstanding job in planning Orientation 2016."
One feature of the Orientation is its many social events sponsored by various campus organizations. The Orientation 2016 retains classics likes Undergraduate Student Government (USG)'s SPARTY, a dance party with "free food, photo booth and bumping music," according to USG President Brian Ward. Other events like "Be Social, Be Excellent," sponsored by the Office of Greek Life, Casino Night by Residence Hall Association and SpartiGras by University Media Board, will also be included in the Orientation 2016.
USG will continue to host its annual Student Activities Fair, which gathers over 150 students organizations on campus. First-year students will have this opportunity to interact with clubs that interest them and explore the diversity of CWRU campus.
"I look forward to the Student Activities Fair every year because it's the only time that nearly all of our organizations are in the same place at the same time," comments Ward. " It paints a picture of how dedicated students are to their passions outside the classroom, which I think is really neat."
Diversity 360, the new campus-wide diversity education program, will also appear again in Orientation 2016. Last year Diversity 360 was introduced for the first-time to CWRU campus during the Orientation. Carrying mission to inspire cross culture dialogue and promoting better understanding,iIt has received positive feedback from students and faculty.  Themed "Together We Can—Our Role in Creating an Inclusive CWRU," Diversity 360 will continue to help students learn more about the CWRU community and CWRU values.
Orientation 2016 is also expecting a few new events to bring a different vibe to campus. "All Systems Glow," hosted by First Year Experience and Family programs, will kick off the Orientation week on the evening of August 21. Students will be entertained by glow-themed mini golf and life-sized board games. The Class Officer Collective (COC) will also hold a new event named CWRU BLUEOUT. Aimed at instilling new students with a sense of school spirit, this event will celebrate all things CWRU.
Expected to welcome over 4,000 people, Orientation is not only an exciting time for first-year students, but also for every CWRU community member.
"We look forward to the excitement and energy that the new class brings to our campus," said Mayes. "We start communicating with the first-year class as early as January, so at orientation we get to see the faces of those we have communicated with all summer. Imagine over 4,000 people from all over the world on our wonderful campus and the positive energy that brings."
About the Writer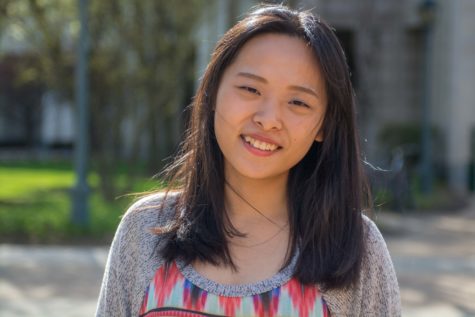 Celia Wan, News Editor
Celia Wan is a sophomore majoring in mathematics and history. She joined The Observer in the fall of 2015 and became the news editor at the end of her...