Parr: The perks of being a non-STEM major
"I'm majoring in biomedical engineering." "I'm biology, possibly pre-med." "I'm mech-E, pre-law."
If you haven't heard these phrases at least a few (hundred) times in the last couple of weeks you might wanna book the next flight to Cleveland, because you probably aren't at Case Western Reserve University.
In my case, I'm not sure what I'm majoring in. I'm undecided. No, I don't mean that I answer the notorious question of "So, what are you planning to major in?" with, "Engineering, but not sure what kind, lol." I mean that I'm very undecided. But I am pretty positive I won't be majoring in hard science, nursing, math or engineering. I'm interested in pursuing some sort of liberal arts degree(s).
While it's no secret that Case Western Reserve University is stereotypically thought of as a STEM school, what I have found is that there are so many plus sides for those pursuing a liberal arts education in the College of Arts and Sciences.
Many of the departments are small but mighty. I haven't been here that long, but I already get the vibe that we are like a bunch of little families. I don't have a class with more than 90 people in it this semester and I don't think that will change much over the next few years.
I'm not the only one who appreciates being a non-STEM.
Tucker Click, a first-year student and intended finance major with a possible political science minor, said, "I feel sort of underrepresented, but we're exposed to a lot of diversity in majors, and we're around a lot of different things, which is good for business."
Audrey Weglang, a first-year student intending on pursuing the technical side of theater said, "I like the fact that I'm surrounded by not primarily theater majors or art majors, because I am interested in science and stuff. I'm not interested in doing it, but I like hearing about it and being around it."
Mitran Kwatra, a first-year possible economics and computer science double major, said, "I feel slightly like a minority. [The good thing is] you stand out from other Case students, say, for getting a job or something."
In addition to standing out, right at our little family's reach are all the beneficial resources that CWRU and Cleveland have to offer.
For example, I had two classes in the art museum last week. Dr. Jenifer Neils, who wrote a textbook we use in Women of the Ancient World, showed us around numerous exhibits and pointed to a classic ancient Greek vase with three goddesses on it. I won't go too much into detail, but Dr. Neils said that she was able to examine the hairstyle of one of the goddesses and argue an accepted theory of who the goddess was.
I also found out a few days after that, courtesy of CWRU's The Daily, that Dr. Neils will be going on to bigger and better things, moving to Greece to be the American School of Classical Studies at Athens' first female director, because she is just that good at what she does.
I had absolutely no idea that my tour guide at the museum won the 2017 Baker-Nord Center Award for Distinguished Scholarship in the Humanities and that she is one of the best in her field—I had the chance to experience Dr. Neils' "encyclopedic" knowledge first-hand. I had the chance to ask a real academic celebrity questions. That's amazing.
Another example was last weekend: I got to see my SAGES professor, Paul Ferguson, conduct the Cleveland Jazz Orchestra and give a talk about jazz musicians Miles Davis and John Coltrane. His passion was so obvious when he spoke and led the orchestra—by God, he made his dream of conducting, playing, composing, teaching and just being around his favorite genre of music all the time come true.
That kind of close interaction with groundbreaking scholars and artists kind of opened my eyes to the thought that anything is possible, and anyone can do anything they put their mind to. The proof gave us a tour at the museum she used to be a curator at. The proof conducted a renown orchestra, featuring one of the best jazz musicians in the world, Joe Lovano.  
It never really dawned on me that all that could happen—anyone can publish a book, anyone can become a world renowned scholar, anyone can perform their favorite thing on stage every week—it's right in front of my eyes.
What's coming up outside of the STEM world? Famous composer and arranger Rollo Dilworth is coming to work with the Case Concert Choir in a few weeks, and I could not be more excited. Do you know where Dilworth got his BS in Music Education? Right. Here. That's right—one of the biggest names in the choral world today went to school where we go to school.
Success can happen to anyone, no matter what they majored in or what their alma mater is "known for." And I'm not going to lie—that kind of comfort is just what I need at a school where the emphasis is very much in STEM fields. But since most students are STEM and are so good and into what they're doing, it also kind of makes me realize that I need to focus on what I love and what I'm good at — it is my belief that if you do that, if you don't put aside your natural talents and abilities to work in a "popular field," the world will be more balanced, and you will serve others, and the world, better.
Sarah Parr is a first-year student with plans to write for every section of The Observer.
Leave a Comment
About the Contributor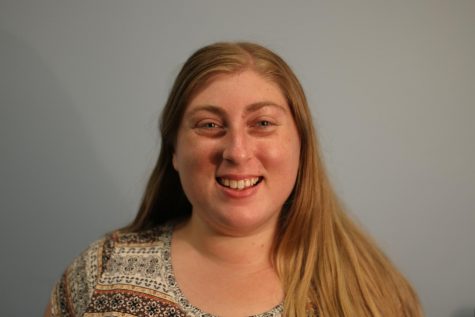 Sarah Parr, Director of Business Operations
Sarah Parr is a fourth-year at Case Western Reserve University and has been involved with The Observer since day one: she was the social media editor for...