Partners in Health brought a different kind of love to campus on Valentine's Day
While love is generally displayed in the form of chocolate boxes, roses and candy hearts on Feb 14, it also came in the form of advocacy for those across the Cleveland area last Friday. Case Western Reserve University's local chapter of Partners in Health put on a love-themed event in the Thwing Atrium, highlighting all the organizations on campus that reach out to the larger community. Third-year Brianna Olsen, president of Partners in Health, explained how this first-time event came to be. 
She said, "We wanted to have an event that educates the broader campus community about issues in Cleveland and the important things that people aren't aware of. But, we wanted to counter that with great things going on in the community. It is important to have a holistic representation."
For example, she pointed out that the table explaining lower literacy rates in Cleveland also talked about the library programs working counter them. Along with a holistic view, Partners in Health tries to create change "from the ground up." 
On a national scale, one of Partners in Health's mottos is that they "walk with their patient." Olson explained that they try to bring that attitude to their local chapter. One example of this is the work they have been doing with lead paint in Cleveland.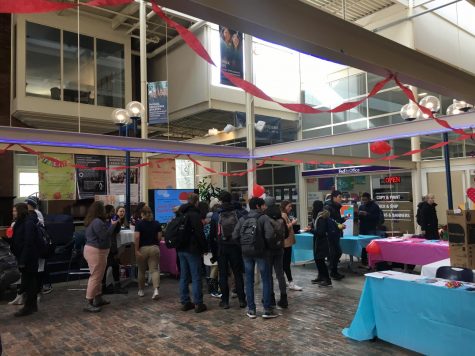 As The New York Times pointed out, nearly nine in 10 of Cleveland's houses were built before the 1978 ban of lead paint. This lead paint, once it cracks, peels and turns to dust, is ingested or inhaled by residents leading to lead poisoning. Lead poisoning affects children's development and can have devastating effects on pregnant women. 
CWRU's Partners in Health has been working with council members to get a petition signed that would create a mandate for landlords to make their apartments lead-safe. While landlords pushed back against the idea of going lead-free because of the cost, lead-safe living offers an alternative that is cost-effective and can help the health of many individuals.
As Olson put it, "If landlords are required to fix a broken window, they should be required to make sure you are not breathing lead fumes from the paint." 
That kind of advocacy exemplifies what this event is about—getting students out of their comfort zone and into the community. Samantha Kelts, a third-year student and past president of Partners in Health, explained how students tend to forget the rest of Cleveland exists. 
She said, "The [CWRU] bubble is something you get introduced to the second you come to campus. Don't go past that bridge, don't go too far on Southside."
But inside Thwing Atrium on Tuesday, Cleveland broke into the CWRU bubble. Campus groups such as the Feminist Collective, Period, LGBT+, the Social Justice Institute's committee on housing, Advocacy for Cleveland Health and many more explained not only how their causes pertain to campus, but also to Cleveland.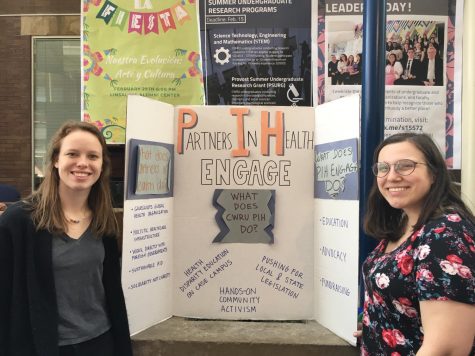 However, Olson said there was one organization she absolutely knew she needed at this event, Vote Everywhere. Vote Everywhere is a nonpartisan group that works to ensure that all students have the ability to register to vote or request an absentee ballot. While the last day to register to vote in the primaries for Ohio was Feb. 18, students can still register to vote in future elections or request an absentee ballot. All they have to do is walk into the Center for Civic Engagement and Learning in the Tinkham Veale University Center. 
On top of the campus organizations, there was also a speaker, Yvonka Hall. Hall, a Cleveland native, talked about her own experience growing up in Cleveland and being exposed to lead poisoning, putting a personal face to the cause that Partners in Health has been working towards.
Through highlighting both community organizations and personal experiences, Partners in Health's Love Your Community event helped to remind students that Valentine's Day is not just about gifts, but also about the love you have for your community and how you can show that love.