PartyNextDoor surprises with EP, "Seven Days"
On Sept. 29, PartyNextDoor surprised his fans with an EP, "Seven Days." The record was released the same day Halsey's world tour kicked off, which features Party and Charli XCX.
The EP has seven tracks, all of which were created in a week, and features Rick Ross and Halsey.
He is yet to release his upcoming full-length album, "Club Atlantis," but Party teased his fans by tweeting cover artwork and the names for each of the seven tracks on the EP in the seven days leading up to its release.
In an interview with Beats 1's Zane Lowe, Party talked about how the EP came to be: "A lot of the songs literally happened right after [something happened]," he said.
"Maybe she walked out of the house and how I deal with things is like 'Ok…' walk right upstairs to the studio and take it in one cut."
As I listened to the album for the first time, it was very easy to pick up that "Seven Days" tells the story of how quickly Party's relationship with his love interest changes so quickly, possibly in a span of seven days.
Party starts off by singing about how he's a bad influence on the girl he's with in "Bad Intentions," finishing up the album with the hopes that she'll love him again in "Love Me Again."
"Never Played Me" is the only positive track on the album, with Party crooning about how his girl never took advantage of him and his fame and money. He's amazed by how she's so satisfied with their relationship and never played games with him. The beat is catchy and very evocative of what party is good at and known for.
"Damage," which features Halsey, is my favorite track on the EP. More dancehall than the other tracks, this song has Halsey and Party complaining about a lover who keeps them waiting. Halsey's vocals are smooth and strong and are only complemented by Party's, which are gruff and steady. My only hope is that they play this together when they stop here in Cleveland in November.
"Better Man," featuring Rick Ross, "Best Friends" and "The Right Way," which has one of the most mesmerizing guitar riffs I've ever heard, are the most regretful songs on the EP. The relationship is now over and Party can't help but think about where he went wrong and how things could've been different. He asks for time to be a better lover, thinks about how maybe they should just stay best friends and also promises to do things the right way, respectively.
Party closes out the album on a sad but hopeful note with "Love Me Again." It's also the shortest song on the album, clocking in at a little more than three minutes, but it feels a lot shorter. He channels one of Prince's biggest hits, "Purple Rain," in the first two lines of the song. The beat sticks with you even after the album is over and has you thinking about the emotional rollercoaster this EP was.
I'm really excited for Party's full-length project but "Seven Days" was a good filler, and reminded me of the reasons I love Party. I cannot wait to watch him perform when he stops in Cleveland with Halsey.
Record: "Seven Days"
Artist: PartyNextDoor
Date: Sept. 29
Rating: 5 out of 5 stars
About the Writer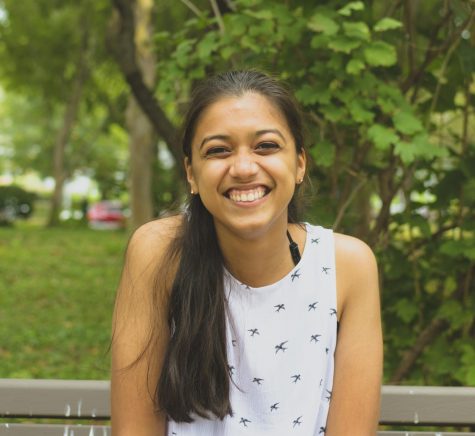 Shivalika Keni, Copy Editor
Shivalika Keni is a second-year double majoring in Economics and Physics on the pre-law track. She's been a copy editor for a year and loves spending her...