Pass the suds from… Great Lakes Brewing Company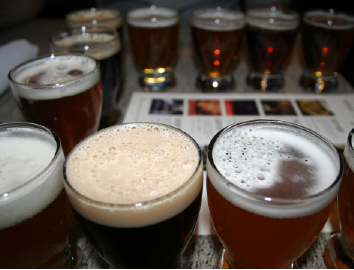 I entered a large and packed pre-prohibition style brewpub on a Thursday evening in Ohio City. The hostess led me to my table with historic Cleveland brewery memorabilia adorning the walls of the pub to guide the way.
In the late 1800s, Cleveland was filled with breweries. By 1910, Cleveland had 26 breweries in the city. Unfortunately, by the early 1980s, all of these breweries had closed their doors. It was not until 1988 that brothers Daniel and Patrick Conway opened Great Lakes Brewing Company and restored local craft brewing to Cleveland.
From the back of the restaurant, I noticed posters of Great Lakes' flagship beers. I have drank these beers numerous times, but as a Cleveland resident, it is easy to forget that Great Lakes is a tourist destination for many. Great Lakes beers are distributed through a lot of the east coast, midwest and the southern states. In the same way I travel to many other breweries in the United States, other beer fanatics travel to visit Great Lakes.
I decided to tackle their seasonal and brewpub exclusive beers before I had the five year-round beers. I started off with the seasonal favorite, Conway's Irish Ale. Many confuse this beer with a red ale, but unlike a red, it is very toasty, malty and rather light. Replacing the infamous Chillwave was the new April seasonal, the Rye of the Tiger India Pale Ale. This beer is dry and has a pine and citrus taste to it. It is also very hoppy and I must say that I thought this year's batch was much improved from last year.
The next three beers were exclusive to the brewpub and absolutely phenomenal. The Ohio City Farmhouse was the best Saison I have ever had. Saison is French for "season," and this type of beer usually has a lot of carbonation and strong fruit flavors. Brewed with ingredients from Ohio City Farm, this beer also had the taste of ginger and lemongrass. Truly exceptional, and it was my favorite beer of the visit.
The other two brewpub exclusive beers were also exceptional. The Wolfhound Stout was a dry Irish Stout, but was not too dry, as other Irish stouts usually are. It retained a coffee taste, and was incredibly smooth. The other exclusive beer, Hop Madness, was a fantastic IPA with a strong hoppy taste in every sip. Despite the hoppiness, it was a rather drinkable IPA and was not bitter or dry in any way.
The last of the non-flagship beers I tried was the Triple Dog Dare. This beer was a small batch limited release and some bars in Cleveland still have it on draft. This was my second favorite beer of the night and may be one of my new favorite Great Lakes beers. The Triple Dog Dare is an amazing Belgian beer that is crisp and flavorful. Despite its high alcohol by volume and international bittering units, it is a perfectly well-balanced beer.
I decided to try one of Great Lakes' most popular food entrée and a Cleveland staple, bratwurst and pierogies. I was served two large bratwursts with spicy mustard on the side. They were perfectly cooked and juicy. The three pierogies were served with sour cream and were cheesy and gooey. All of these delicious entrees were served on top of traditional red cabbage. It was a very Cleveland dish.
The flagship, or year-round beers, were good but not as diverse as the brewpub exclusive beers. The Dortmunder Gold Lager is much better than any American domestic beer, but is not very flavorful. However, it does seem to taste much better during the summer.
The Eliot Ness Amber Lager and the Burning River Pale Ale are good, but average beers in their categories. Eliot Ness is a solid amber ale, as is Burning River as an American Pale Ale, but both lack flavor and diversity amongst other American Pale Ales.
The Commodore Perry IPA is a great IPA for beer nerds. Most IPA's are rather hoppy and hard to get into when you are first trying them. This beer is a well-developed, medium-body IPA still tinged with hops and fruit, but is not so dry that it would turn away first-timers. If you are trying to break away from American domestics, I would highly recommend trying this beer.
My favorite by far of the year-round, flagship Great Lakes beers is the Edmund Fitzgerald Porter. This multi-award winning porter is a perfect example of how a porter should be. It has hints of coffee and chocolate, but not enough to make the beer either too sweet or too coffee- or chocolate-tasting that it no longer has a beer taste. My favorite aspect of this beer is probably the roasty finish to it. A great beer year-round and perfect with barbeque, campfires and any other fun, outdoor summer activities.
On the weekends and weekdays in the summer, Great Lakes Brewing Company offers free tours of their facility; this also includes a free sampling of their beer.
The tour is a wonderful free service for Clevelanders, seeing that most breweries charge patrons to tour their facility. In my opinion, it is one of the best brewery tours in the country. The knowledgeable and enthusiastic guide shows you the entire facility. Tours usually fill up one to two weeks in advance, so I suggest you plan ahead.
The food and beer were all reasonably priced and rather affordable for dining at one of the most popular hot spots of Cleveland. I highly recommend everyone take the tour and stop at the brewpub while they are in town.