PhiDE's Got Talent
Phi Delta Epsilon (PhiDE), Case Western Reserve University's co-ed medical fraternity, hosted their first ever Phi Phactor last Saturday, April 1. Taking a unique spin on the traditional talent show, CWRU student performances were judged by some of our most beloved STEM faculty—Dr. Drew Meyer, Dr. Barbara Kuemerle and Chris Butler, along with a popular vote. From start to finish, it was clear that each performance was meaningful to its performers, with their effort being relevant.
As third-year student Rishi Chiratanagandla began to introduce the event, second-year student Joel George interrupted, insulting its quality. This incited the first performance of the night: an impromptu rap battle, showcasing the pair's unfortunate lack of rhyming experience. However, from roasting each other's outfits to bonding over their shared love of Tobey Maguire as Spider-Man, the performance took on a comedic yet wholesome feeling. Emcee and fourth-year student TJ Disabato soon took over for the real introduction of the event, along with its stakes: winning the Judge's or Fan-Favorite Awards by majority vote. 
First up were third-year students Noah Slobodin and Alex Cleofe on bass guitar, who showcased their charisma and love for performing onstage through their matching jean shorts and cover of Prince's "The Most Beautiful Girl in the Room." Switching to more dramatic music, second-year student Ishika Kanakath sang "Rolling in the Deep" acapella, with skill comparable to that of Adele. Both performances were well received by audiences and judges alike.
Second-year student Shayaan Shaik's spoken-word poem "Imposter Syndrome" was up next. His garb of a traditional Indian kurta matched his story of growing up as a child of immigrants. The whole performance was a touching tribute to Shaik's ancestry and upbringing. The judges were impressed with his skill, with Butler encouraging him to continue pursuing his passion. 
First-year students Pranav Nampoothiripad and Sohan Muppidi, showing off their shiny gold glasses and sleek black shirts, brought a cool confidence and humor to the stage. This was made even more apparent when they started their performance with "1, 2, 3: Clicker question go!," one of Dr. Meyer's popular catchphrases. Both their rendition of "Slide" by the Goo Goo Dolls and the infamous "Wonderwall" by Oasis were a smooth blend of vocals and guitar, garnering no small amount of praise by the judges for their choice in music. 
Up next were the second guitar pair of the night, second-year student Gabe Dias and third-year student Jack McVeety, who played an original electric guitar piece over Tom Cochrane's "Life is a Highway." After their performance, the judges teased them about how their roommates must hate their guitar practice. Dias and McVeety gladly played along, claiming that they only practiced Metallica and at 3 a.m. 
During intermission, members of PhiDE asked Dr. Meyer and Dr. Kuemerle to record themselves reacting to some of their RateMyProfessor reviews. One of the standout comments was a student who simply wrote "DADDY DREW" in all caps, which obviously made Dr. Meyer a little uncomfortable. However, he later revealed that his wife has also read his RateMyProfessor, so this wasn't news to him. Kuemerle's reviews were similarly bleak, with students criticizing her "pointless" lectures—one student even telling their peers to run away if they don't need to take the course—and stressing the need to stay on top of work. While she agreed with the importance of not slacking off, she disagreed on the quality of her lectures, even joking that one student probably had "damage to their amygdala."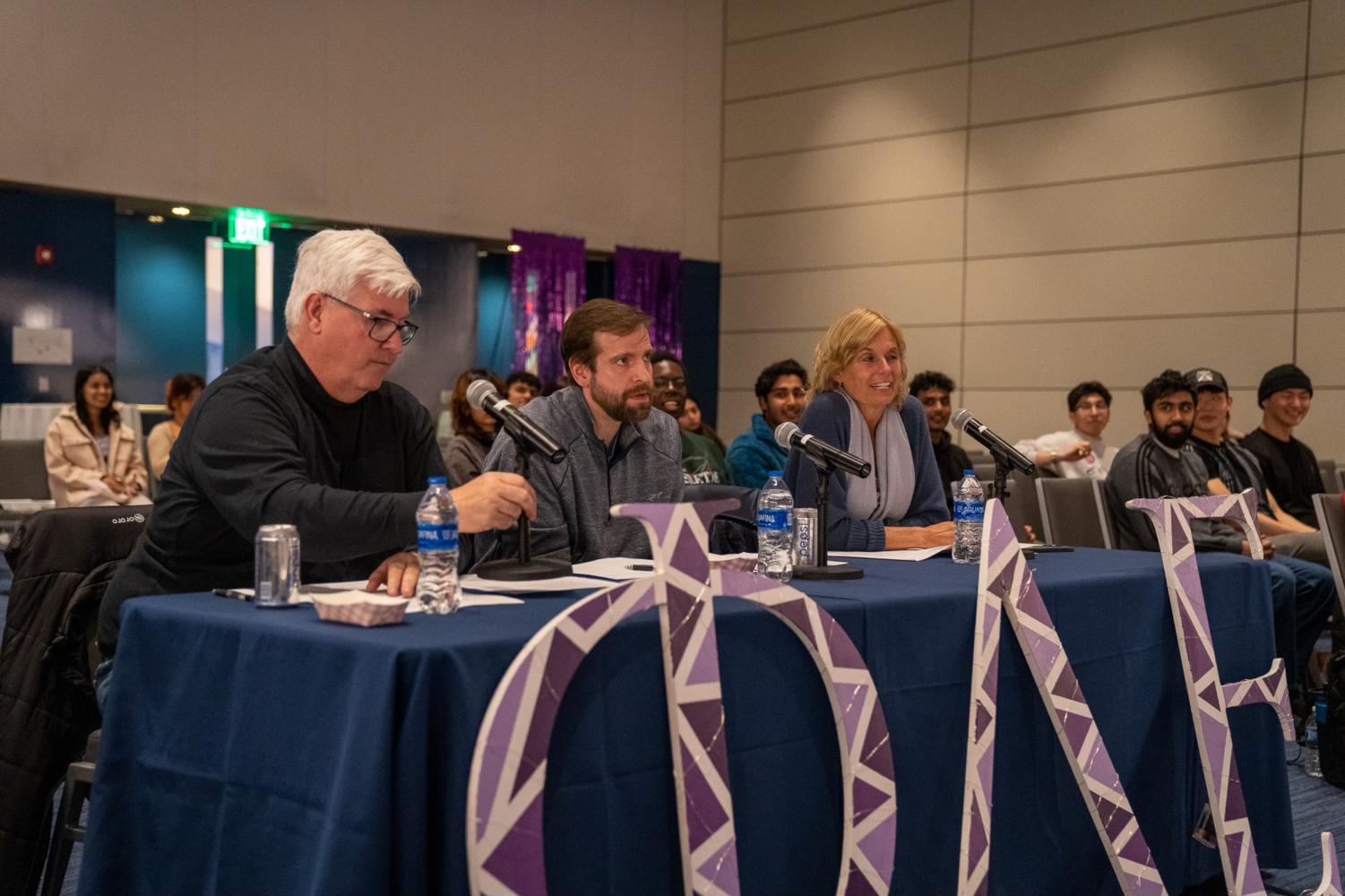 First-year student Anish Singh immediately followed the intermission, making a statement with his cowboy attire and brass trumpet. He performed "A Fistful of Dollars" from the titular spaghetti western, giving the song the dramatic undertones it deserved. Fourth-year student Travis Dumas, a saxophone performer—similarly dressed for the part with a tux, matching pants and a fedora—played an instrumental cover of "That's What I Like" by Bruno Mars to general applause from both judges and the audience. When Dr. Kuemerle asked what inspired him to play a Bruno Mars song, he revealed that it was his mother's recommendation. 
Slobodin appeared once again, this time for a solo of "Rainbow Connection" by Jim Henson, interestingly on the accordion. At the behest of Butler, Slobodin explained how out of the seven different instruments he knows how to play, the accordion is probably the most interesting, as it is a unique blend of both bass and accompaniment. Last but certainly not least, second-year student Sydney Rubin and Dias—making a reappearance—shared their rendition of "Hey There Delilah," but with a twist. Their version was from the perspective of Delilah, and is a story of longing inspired by the pain of Rubin's own long distance relationship.
With performances complete, Disabato announced that participants would now await the final decisions from the audience and judges. Those in the crowd voted for their favorite artist by sending in donations through CampusGroups, while judges continued to deliberate. As chance would have it, both the audience and judges voted on Dumas and his fan-favorite saxophone performance as the winner; he received an enthusiastic round of applause and cheers. 
Regardless of who won, all the performers did a fantastic job and gave the audience ample entertainment with each of their unique talents. Overall, the event was a success, and we hope to see Phi Phactor become a time-honored CWRU tradition.