Pixies put on crowd-pleasing Cleveland set
At the Pixies' latest Cleveland show on May 17, the band made up for lost time.
Through their two-hour set, the band explored their massive repertoire and put together a set list that spanned Pixies musical history. After years of being on hiatus, they returned for a show at the Cleveland Masonic Auditorium.
As one might expect at a Pixies show, there were weird moments. Guitarist Joey Santiago took his time with a lengthy (and I mean, lengthy) solo. But it wasn't necessarily a guitar solo; instead, he messed around with scraggly feedback sounds for a while. Then he flipped his guitar backwards and continued with the feedback, mock-strumming.
It wasn't musical gold, no. However, it pushed the boundaries of music; something the Pixies have always done, something that defined them as one of the preeminent alternative bands of the 1980s and 1990s.
Other than Santiago's strange solo and a moment before the encore, the Pixies didn't do much crowd interaction.
And the crowd didn't mind. Full of a wide range of ages, this show seemed to appeal to every demographic, from college hipsters to older men sipping beers in the upper rows of the Cleveland Masonic Auditorium.
Interestingly, the Pixie with the most energy was newcomer bassist Paz Lenchantin. Instead of just standing at her microphone with her bass, she moved around to the music, dancing and hopping around to the beat.
Some critics think that the Pixies lost their edge with the departure of original bassist Kim Deal. Many believe they have sold out (maybe the band's $35 tour t-shirts reinforced that idea). However, they didn't play like they sold out.
The music spanned between popular classics like "Where is My Mind?" and a variety of deep cuts. Only some of their set came from their latest album, "Indie Cindy."
While their light show was bright and exciting, it wasn't overpowering the music. In fact, their light show was on point with the songs, with flashes of vibrant blues, greens and reds perfectly timed with musical expressions.
Overall, the show was long. But with a fan base as dedicated as Pixies', that didn't matter; the audience ate every second up.
Concert: The Pixies
Date: May 17, 2015
Location: Cleveland Masonic Auditorium
Rating: 2.5/5
About the Writer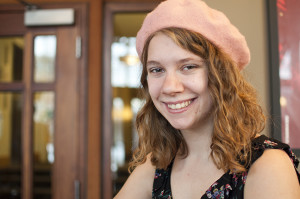 Anne Nickoloff, Director of Print
Anne Nickoloff, the Director of Print for The Observer, is a senior at Case Western. She hopes to one day be a music journalist, and has spent much of...