Players' Theater Group plans for season ahead
Just last week, Players' Theater Group (PTG) began its preparations for the season ahead in earnest, auditioning students for its plays for the coming semester. One of three theater-oriented organizations on campus, PTG puts on multiple plays each semester for the Case Western Reserve University community and also organizes "Neofuturism."
This upcoming semester is peppered with plays that some students may be familiar with as well as others that they may be encountering for the first time. "Boy Gets Girl" starts it all off on Oct. 13 and 14, setting the tone for the rest of the season.
"[It's] an examination of the ways in which we think about relationships with one another, and the stories we tell ourselves about those relationships," said fourth-year student and member of PTG Will Marshall.
"Boy Gets Girl" is followed by "Now Circa Then" on Oct. 27 and 28. The season finishes up in December with "Almost, Maine" on Dec. 1 and 2 and "Constellations" on Dec. 8 and 9. Also on Dec. 9 is "Neofuturism IV," PTG's semesterly short play event, featuring 30 plays in 60 minutes. All the plays are free and performed in the Black Box at Eldred Theater.
Regardless of their involvement on the executive board, all the members of PTG have the opportunity to have their voices be heard and contribute to planning the season. According to fourth-year student Merit Glover, president of PTG, general body members all have the opportunity to submit show proposals, and then the executive board makes their selection, creating the semester's schedule.  
PTG does its best to innovate and bring a new angle to each play it puts on. One of the last plays of Spring 2016 was "Macbeth," set in the modern American political situation. Last spring also saw Glover directing a staging of Sophocles' "Elektra," featuring portions of the text set to original music composed by fourth-year student Jonah Roth and Zachary Palumbo. According to second-year student and Treasurer of PTG, Giuliana Conte, even "Neofuturism" is getting shaken up a bit this year with a couple exciting changes.
The group allows students "…to work on shows that take big risks in terms of concept and to work with others who want to push the boundaries of what sorts of stories and ideas we are exposed to at CWRU," said Marshall.
Conte did just that when she directed "Macbeth" during the spring 2016 season. "I have done theatre all my life but never really had an opportunity to direct a fully student-produced show," she said.
Although some of the tasks that PTG puts forward for students may seem intimidating, like directing or design, Marshall insists that it's all worth it.
"It's okay to take risks and try something you don't think you're qualified for," said Marshall. "Some of the best work in student theater comes from those who know what they want to do, but don't know how yet, and who reach out and get help making their vision a reality."
It's actually quite easy for CWRU students to become involved with PTG. The organization has open casting calls at the beginning of each semester, allowing students to try out for roles in all the plays in the upcoming season.
"[It offers] opportunities, especially in directing and design, that aren't available anywhere else on campus, in academic departments or other student groups," Glover said.
Students can be stage managers for productions, work backstage as a member of the crew, help with design, or submit play proposals.  
"We work really hard to be accessible to students and serve their wishes and further their theater education however we can, so please reach out if you want to be a part of what we do, or if you have any feedback," said Glover.
Interested students can always stop by PTG's general body meetings, or they can email fourth-year student and Technology Director, Laura Mosteller.
Leave a Comment
About the Writer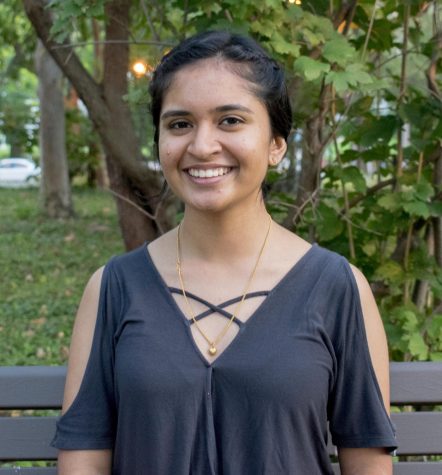 Smruthi Maganti, Arts and Entertainment Editor
Smruthi Maganti is a third-year student studying biology with a minor in public policy. After a year of copy editing, this is her first year as the A&E...