Playlist of the Week
David Bowie, "Lazarus"
Just a few days after the release of his latest and last album "Blackstar" on his 69th birthday, David Bowie passed away this past Monday after a battle with cancer. "Lazarus" is the third song off the release, and Bowie's lyrics and music video appear to be aware of his imminent death. The video shows scenes of Bowie in a hospital bed, dancing in a room, and hurriedly scrawling words in a notebook. The somber "Lazarus" ends on the notes "Just like that bluebird, oh I'll be free, ain't that just like me?"
By Light We Loom, "Clouds Will Cover Us"
By Light We Loom's latest EP, "Caught in the Tide," is a musical treat, full of sugary pop tunes like "Clouds Will Cover Us." The song bops back and forth with an energetic bouncing rhythm, balanced by singer Shanna Delaney's flowy, sweet vocals. There is more to come from the indie pop duo, formed from members of folk-rock band Bethesda.
Samfox, "Go and Get Gone"
Soul rockers Samfox recently released their EP "The Feels," and the collection of songs can certainly be felt. "Go and Get Gone" shows off singer Charity Cunningham's powerful, biting croons, over a big-band sound. A great song for winter blues.
Ottawa, "Random Lights"
On Jan. 15, Ottawa will be headlining a local show at the Beachland Ballroom. "Random Lights," off their 2014 album of the same name, shows Ottawa at their glimmery-est, with energetic, boppy melodies and a dancey drum beat.
TBT:
David Bowie, "Space Oddity"
Yes, it's the second Bowie song in this playlist. But let's remember how long Bowie was around. And let's also keep it somber; there are always some great sad Bowie songs floating around. "Space Oddity," released in 1969, presents a Major Tom character who adventures in space. And it ends with the lyrics "Far above the moon, planet earth is blue and there's nothing I can do." Bowie, you will be missed.
About the Writer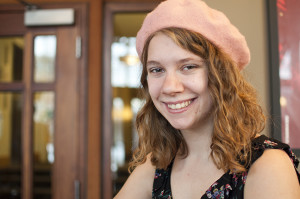 Anne Nickoloff, Director of Print
Anne Nickoloff, the Director of Print for The Observer, is a senior at Case Western. She hopes to one day be a music journalist, and has spent much of...