Post Malone sets Agora on fire
On Sept. 20, The Agora Theatre and Ballroom saw crowds it had never seen before thanks to rapper Post Malone, who is currently touring North America for his album, "Stoney." Malone performed for a sold out Agora but not without problems.
As the crowd began to build inside, the temperature began to rise, and people began to drop to the ground. Staff members realized that things were not going to plan and began to throw water bottles into the crowd to prevent any more mishaps.
Some fans had been waiting for more than three hours, but when Malone finally came out at 9:30 p.m., the wait was finally over, the energy levels shot through the roof and people quickly forgot about the furnace-like temperatures.
Malone came out smoking a cigarette and drinking something in a Solo cup with a straw, and jumped straight into his music. He opened with "Deja Vu," a song he'd collaborated on with Justin Bieber.
Malone had treated Boston fans to an acoustic cover of Nirvana's "All Apologies," and decided to do something similar for us Cleveland fans. He slowed things down with an acoustic cover of Nirvana's "Rape Me" on a bedazzled guitar. He also performed "Feeling Whitney," one of the slower and more country-sounding songs on "Stoney."
Malone kept things high energy, though, with songs like "Candy Paint," "Go Flex" and "Big Lie."
He also treated us to a performance of "rockstar," the leading single off his upcoming album, "beerbongs & bentleys." This single is currently his most popular song, debuting at number two on the Billboard Hot 100, topping Spotify's charts and breaking Apple Music's single week streaming record.
For me, it was an absolute dream come true to watch him perform this live, considering I've been obsessed with it ever since it released.
"How appropriate that we're in the venue that built rock and roll," Malone said before performing "rockstar." Though Malone's music is far from the rock and roll he'd been referencing, he's a rockstar in his own right, and it seemed evident as he jumped around onstage, the crowd singing along as if their lives depended on it.
Malone finished up the night with "Congratulations," which features Quavo (one part of trap trio, Migos), previously his most popular song, which had peaked at number eight on the Hot 100.
Watching Malone perform at the Agora was an amazing  It was an intimate experience like no other and I was privileged to be one of the few thousand that was there to witness it.
I am excited to see what Malone has to offer on "beerbongs & bentleys," and look forward to seeing him go on tour again, hopefully performing at a larger venue next time around.
Leave a Comment
About the Writer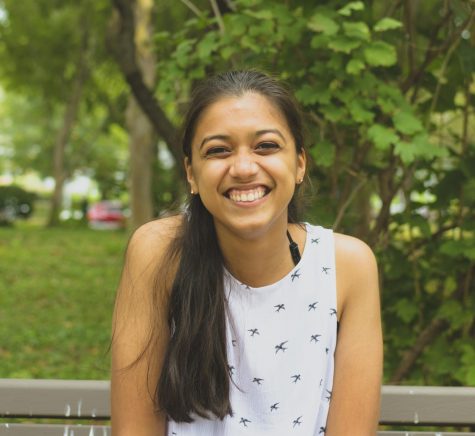 Shivalika Keni, Copy Editor
Shivalika Keni is a second-year double majoring in Economics and Physics on the pre-law track. She's been a copy editor for a year and loves spending her...