A class from CWRU meets a class from prison for discussion
Parallel classes taught at CWRU, in prison meet for discussion
Students enrolled in USSO 290M waited early on Saturday, Nov. 14 for the bus to take them to prison.
They were heading to the Lorain Correctional Institution, a state prison less than an hour's drive from the Case Western Reserve University campus. Their class, titled "Impact of Race, Class and Education: A Dialogue on Current Issues," is part of the SAGES curriculum instructed by Dr. Benjamin Sperry along with Steve Pinkerton, the writing co-instructor.
Sperry wrote in his syllabus, "part of the SAGES mission involves engagement with the wider community." The purpose of their visit was for the students to engage in "dialogue on current issues with another group of young Ohioans." The other group of young Ohioans was made of prisoners.
The Lorain Correctional Institution is primarily a receiving prison, serving as a waypoint for inmates ranging from minimum to maximum security. Once processed, the inmates are sent to other institutions. A small group of the incarcerated completes their full sentences in Lorain. They are called Cadres, and they help staff the facility.
There are currently 124 Cadres, yet only the ones with the equivalent of a high school diploma were included in Sperry's class inside the prison. Despite the different selection of students, both classes have nearly identical syllabi, reading similar books and discussing issues on societal injustice.
This was the second visit like this to happen this semester. Both classes of students were prepared and eager to meet their counterparts.
"It's a memorable class," said second-year student Reji Rouf. "It's a highlight of my college experience so far."
"It informed me of a lot of things I didn't even know about," said Nate, an inmate.
Corrections Specialist Carl Mansfield does not know of programs like this occurring anywhere else. He says that inmates enjoy being in the college class.
"It's a mark of pride," said Mansfield. "We want to show people we are doing good things in these walls."
The class started with a variety of icebreakers.
"What was your favorite childhood possession?" asked Sperry.
"My roller skates."
"My first car."
"My cat."
Gradually people started to open up as the series of questions progressed. From that point, the discussion turned more serious. Topics such as oppression, racism and discrimination were focal points of the small groups.
One inmate said in the conversation, "America has come a long way, but its prison system hasn't."
After ten minutes, each group was assigned a new question.
"How do you try to stop oppression?" a student read off to the group.
"I just ignore it," replied second-year student Adrianna Harris.
Agreeing with her, an inmate said, "You have to turn your head, and say 'thank God it isn't me.'"
The class lasted roughly an hour, and the students and inmates reconvened at the end to describe their experiences.
"Racism and oppression, it goes on every day," said one inmate, summing up what he learned through the course.
Similar thoughts were echoed by students from both sides.
"These are current issues, and it's up to our generation to solve them," said third-year student Alex Selwitz. "And we have to be as educated as we possibly can be to do it."
When asked about the class, Nate responded, "I came in here with high hopes. It was great."
"It's challenging, but they were able to talk across their lines," said Pinkerton.
As he arrived back to the CWRU campus, Sperry described his efforts positively.
"You're gathering people from different circumstances across different barriers," said Sperry. "It's challenging, but there was great and enlightening conversation taking place."
Leave a Comment
About the Contributor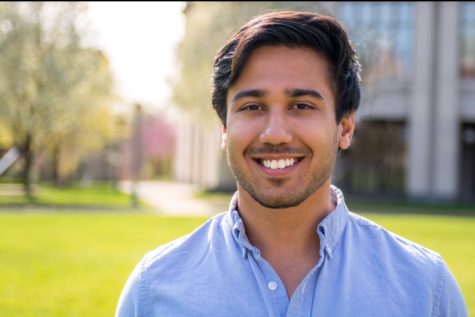 Anmol Nigam, Photography Editor
"Over-ripe sushi,
The Master
Is full of regret."

- Yosa Buson

You can contact him at axn236@case.edu.