Students protest at Hillary Clinton campaign event
About 1,500 people from across the Cleveland area came to see Hillary Clinton speak at Case Western Reserve University on Aug. 27. As they reached the front of the line heading into the event, they saw protesters accusing Clinton of avoiding various issues.
The protest, #NotReadyForHillary, was made of six Case Western Reserve University students. Standing only a few yards away from security, they held posters questioning Clinton's stance on fracking, her relationship with corporations and what she would do for the transgender community and the Black Lives Matter movement.
The protest, organized by senior Barry Goldberg, began at 8:30 a.m. and lasted until slightly after 11 a.m., just before Clinton began to speak. By 9 a.m. there were six students, each with their own reasons for joining in this display of political activism. Though everyone had their own reasons for attending, Goldberg described himself and his fellow protestors as mostly anti-corporate due to the hold these business have over politicians.
Fact sheets the protesters passed out said that Clinton had accepted money from numerous corporations and lobbying groups in the form of speaking fees, information that Goldberg feels Clinton hides from the public.
"Corporations have far too much influence on all politicians and on the conversations about [corporations themselves]," Goldberg said.
Edward Niedoba, another protester and a junior, also felt that Clinton hasn't been giving straight answers to public concerns, particularly in regard to her link with corporations. He wants to hear her address both accusations of cronyism and her ties to the business world, especially as she continues to emphasize that she is the candidate truly working for the people.
Niedoba felt that, despite Clinton's years of experience as a senator and the Secretary of State, she relies on her "celebrity status" rather than describing concrete policy goals. Goldberg added that he sees Clinton as hitting all the right buzzwords without taking any action to improve the situation, one example being her brief mention of Black Lives Matter in her speech at CWRU.
While Goldberg and Niedoba both have previous experience with activism, some of the protestors were new to the political scene.
Angelina Masetta, junior, became involved after receiving a Facebook invitation to the event. After considering Clinton as a candidate, she thought that Clinton did not support gender and race issues as deeply as she would like, prompting Masetta to join the demonstration.
Through the protest, its members largely avoided conflict with the passing crowd, which fit with their expectations for the tone of the event.
The protesters noted that people in line were generally conversational with them, and those working for Clinton's campaign were also respectful. According to Masetta, many people assumed the protestors supported Bernie Sanders, though in reality their protest was not affiliated with any candidate.
To Niedoba, it seemed like the line of event attendees had similarly varied candidate preferences, and many people in line just wanted the chance to see Clinton speak. A few said they preferred Sanders, and one man told him to "Feel the Bern" when he saw Niedoba walking to the speech with a poster.
A few people did have negative responses to the protesters.
Masseta said one woman shouted to them, "We just need a woman in the White House."
Niedoba described another woman who questioned the protestors' presence by yelling that they should be confronting oil companies directly if they want to address fracking, not going through a politician. After Niedoba came over to the woman and introduced himself, the situation diffused.
About the Writer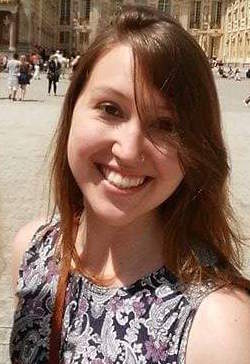 Anastazia Vanisko, Copy Editor
Anastazia Vanisko is copy editor for The Observer and writes for the news section. She is a third-year political science and dance double major, with minors...