Q&A with Brett DiCello, "Slank" from "Peter and the Starcatcher"
Brett DiCello is a fourth-year Biomedical Engineering and Theater student who is currently co-opping at Philips Healthcare. He's also president of IMPROVment, has done 12 productions at Eldred Theater and will be in the next two this spring. He has two roles in the upcoming play "Peter and the Starcatcher", which opens on Friday, Dec. 2, and goes all the way through Dec. 31. The play follows the story of the book "Peter and the Starcatcher" by Dave Barry and Ridley Pearson. It will be showed at Dobama Theater, which is at 2340 Lee Road Cleveland, Ohio.
Q: What role do you play in "Peter and the Starcatcher"?
A: I play Bill Slank and Hawking Clam. Bill Slank is the captain of the merchant ship on the course to Rundoon, which is an island under the command of King Zarboff. I have actually stolen Queen Victoria's trunk that is filled with this magical stuff, called starstuff. I switched the trunks … to take to King Zarboff in exchange of being put in command of an entire fleet. Part of the deal is that Slank always brings three orphans to Rundoon, which Zarboff feeds to his snakes. The three orphans are Ted, Prentiss and a boy with no name because he had been an orphan for too long. (Whispering) That's Peter Pan. Hawking Clam is the son of Fighting Prawn, the tribal leader on Mollusk island, which becomes Neverland.
Q: Are there fight scenes?
A: There are a bunch of fight scenes, I'm in one … the biggest one. There's a big battle scene and there's individual fighting with Black Stache who is played by a theater professor, Christopher Bohan.
Q: Like with swords and stuff?
A: No, no sword fighting … but there is a whip. There's a little bit of whip action … and guess who does it. Me.
Q: How long have you been rehearsing?
A: Started rehearsal on Nov. 7, so a little under a month.
Q: So are these all auditioned parts?
A: It's an equity house, which is a professional theater. We're all under contract.… Some guys are actually in the equity association. One guy actually played Zazu in "The Lion King" on tour [Andrew Gorell]. He plays Smee in this production. He's a Case Alum actually, did the MFA program here.
Q: Is this a musical?
A: There are musical numbers … but I wouldn't call it a musical.
Q: What is the cast dynamic like?
A: Everyone is friends with everyone. They did the show last year, too; most of the cast is returning from last year. There's only a few new members: me, the guy who plays Swing, Prentiss and Ted. Everyone has just been super patient with us. If they knew where we needed to be or what was coming up, they'd help us out. It's really just a friendly environment. We've only known each other for a short amount of time but we seem to be really close at this point. Also, everyone's way too immature for how they should be.
Q: What's your favorite part about this play?
A: It's just really goofy and funny.… It allows us to play as children on stage, and really not worry about a fourth wall or some old theater mechanics. It gets back to a youthful sensation of make believe. You get to play a whole bunch of different roles and different voices … and you have different motivations for all of them. And what's really great is that you can go above and beyond, you can be big and ridiculous and it fits right in, and it makes it more fun. It's not like high budget, I mean there's good lighting and sets, but the whole play is a great big dance. You can't sit back and relax. Everything is choreographed and everything has to hit certain marks to fit.
Q: Are you the only student in the production?
A: Yes. I'm the youngest member of the cast. The oldest member is 53, I think.
Q: You're majoring in engineering and theater; where do you think your future lies?
A: I like theater more. It's just fun. They're both things I want to get really good at, but this is … it's my passion. It's like a sport to me. You train and train as often as you can. You hope one day you'll be able to make a living off of it, but sometimes the market is harsh and you have to make tough decisions.
Q: Who are your acting inspirations?
A: I really like … uh, hmm. I look at comedians a lot. So my major influences are Jerry Seinfeld, Larry David, Billy Connolly, Bill Burr.
Q: Would you rather do stand-up or acting?
A: I've never tried stand-up, but I wouldn't pick one. I would do both.
Q: Is this theater doing anything else next?
A: Their full season schedule will be starting up again. Another CWRU undergraduate student, Paige Klopfenstein, will be in "The Flick" in the spring.
Leave a Comment
About the Contributor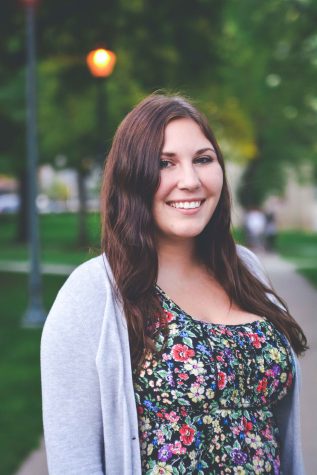 Alex Clarke, Arts & Entertainment Editor
Alex Clarke is a senior with majors in english and psychology and a minor in marketing. She also writes for Trill Mag, wrote for McClatchy newspapers for...