RecycleMania raises awareness on waste reduction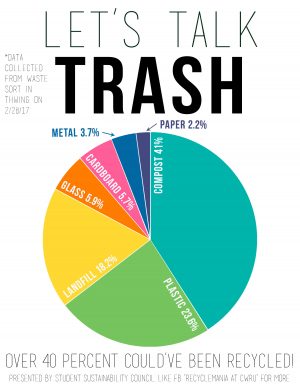 The annual RecycleMania Tournament is wrapping up this Saturday, on April 1 with the RecycleMania Carnival in Leutner Commons. Hosted by the the Student Sustainability Council, it is an eight-week intercollegiate competition that promotes and celebrates recycling across college campuses.
There will be four booths set up for the carnivals, providing games such as speed break down of boxes and guessing waste sort data. Vegan ice cream from Mitchell's Ice Cream will also be provided.
Held in the spring, RecycleMania attracts about 200 universities from the United States and Canada every year to participate in its waste reduction competition. According to the amount of recycling and trash reported to the RecycleMania program, schools receive rankings in various categories and can compare their performance against other colleges.
The RecycleMania tournament at Case Western Reserve University kicked off this year on Feb. 6, with a pledge signing in the Tinkham Veale University Center. Then on Feb. 14, SSC gave Valentine's Day a touch of sustainability by providing recycled materials for people to make cards. The following week SSC members had trivia on recycling knowledge in Grab-it! during lunchtime.
"A lot of people are not aware of what they can recycle or what they cannot recycle," said Livia Lau, one of the two co-chairs of RecycleMania. "To be completely honest, it is confusing for us sometimes as well .… We understand that, and we are trying to encourage people to try your best."
Besides, as part of the RecycleMania program, SSC released a report at the beginning of March on its waste sorting in Thwing Center. The rest is either compostable or recyclable.
"We found over forty percent of the waste could actually be recycled, which is kind of startling to us," said Annie Hu, the other co-chair of RecycleMania. "Erin [Kollar] from the Office of Sustainability told us that this is probably the highest percentage we have ever found in our waste sort."
Speaking of the purpose of hosting RecycleMania at CWRU, Hu felt that events like this will "get people aware of recycling and how easy it is and how beneficial it is for the environment, and to get them to practice these recycling methods."
Hu also thinks it is "fun to see how excited people are about recycling," referring to the enthusiasm some students showed when participating in RecycleMania events.
As for the recycling environment at CWRU, Lau thinks it "is a lot better than a lot of other universities."
She recalled an anecdote of her friend traveling to Florida and only finding recycling bins in the airport.