Recycling carnival saves earth
The Student Sustainability Council (SSC) generated excitement about recycling at their RecycleMania Carnival in Thwing Center on Saturday, April 14.
"This carnival is hype," said SSC President Leo Ndiaye. "This is hype for recycling. When you look at the name, 'RecycleMania,' it's about getting crazy for the earth. That's what all these activities are meant to do … get people excited about a practice that is usually thought of as mundane."
The carnival celebrated the end of RecycleMania, an eight-week inter-collegiate competition which compares the percent of waste each college recycles. According to RecycleMania.org, Case Western Reserve University ranked 118th in the competition, recycling about 24 percent of its trash.
RecycleMania featured seven activity booths. Each one provided new insight as to how people can reduce their environmental impact. A box-smashing station was one of the most popular.
At the booth, participants smashed cardboard boxes with a rubber hammer in a manner akin to the classic strength test at county fairs and beachside boardwalks.
"This is great. I really needed this," said one student while smashing boxes.
In addition to stress release, the station's goal was to show people the importance of crushing cardboard boxes before recycling them.
Other activities had similar themes. Water Bottle Pong featured students attempting to throw a ping pong ball into a water bottle, and the small mouths of the water bottles made the game more difficult than it appeared.
Students who attended the carnival were given an Undergraduate Student Government (USG) water bottle upon leaving, which incentivized the use of a bottle for water instead buying plastic alternatives. This was aimed to promote Take Back the Tap, a national movement to ban bottled water on campus.  
According to a Food & Water Watch brochure distributed at the carnival, the movement has seen success at other universities too. In 2009, Washington University in St. Louis became the first university to ban the sale of bottled water.
"Take Back the Tap is trying to bring awareness to campus about the privatization of water bottles by water bottle companies," said Yvonne Pan, the SSC Project Chair of Take Back the Tap. "[Bottled water is] marketed to be 2,400 times more expensive than regular tap water, when in fact, two-thirds of bottled water is just filtered tap water. There's definitely some shady stuff going on here."
Several students from Cleveland State University's Student Environmental Movement (SEM) volunteered at the event. They ran a station which taught people how to make bags from unusable T-shirts. Participants simply tied together strips at the bottom of the shirts to make a functional bag.
The presidents of SEM and the SSC said they plan to collaborate more in the future. SEM president Xavier Bay said their collaboration could be beneficial to support the government's environmental legislation.
SEM and SSC are also collaborating to tax plastic bags in Cleveland so plastic waste is decreased.
"We met a few weeks ago and our main plans, other than volunteering at mutual events like this, are toward policy and legislation in Cleveland," Bay said. "We can be stronger together than we are by ourselves."
About the Writer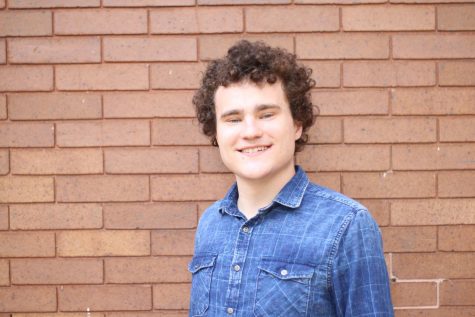 Matt Hooke, Executive Editor
Matt Hooke, The Observer's executive editor, is a fourth-year student studying English. This is his first year as executive editor after spending time...