"Refuse Fascism" holds protest downtown
On Saturday, Nov. 4, around 60 protesters from the group known as Refuse Fascism marched through downtown Cleveland. The protesters chanted "we refuse a fascist America" and "No hate. No fear. Immigrants are welcome here." The protest was one of 60 organized across the country.
At the front of the march was Vietnam Veteran Louis "Lou" Pumphrey.
"I'm with them because I'm pro-peace," said Pumphrey, who was drafted in 1966 and served in Vietnam as a reporter and editor for the first infantry division newspaper.
The Veterans for Peace member was dressed in his military fatigues and was carrying an American flag with a peace sign replacing the stars and stripes.
"I think Trump is unstable due to how he's in his own little world," he said.
When the march ended in Cleveland's Public Square, members of the group gave speeches and performances, some of which did not focus on politics. One man performed a cover of Marvin Gaye's classic "What's Going On" accompanied by a snare drum. The organizers also invited people near the rally to take the mic and give a speech of their own.
The protest was a heavy target for far-right paranoia due to claims that Antifa, a collection of autonomous militant groups that directly oppose fascism, had plans to start a civil war.
The Gateway Pundit, a far-right website, claimed that an Antifa leader said that "millions of Antifa super soldiers will behead all white parents" on Nov. 4.
The quote was taken from a tweet by Twitter user Tom Bloke, who according to an interview with Mic.com, is not involved with Antifa.  
A Facebook video titled "Officer Warns: Antifa to declare civil war on whites before year-end," featuring a police officer warning of Antifa civil war,  drew more attention to the claims. The video gained over 57,000 Facebook shares and over 3.1 million views.
Refuse Fascism member Brenda Adrine said that the organization has no connection to Antifa. The group was founded by members of the Revolutionary Communist Party (RCP) and is sponsored by the Alliance for Global Justice, a federally recognized nonprofit.
According to their website, the RCP believes that revolution, not reformation, is the only way to bring about change.
The party's influence on the local protests in Cleveland was minimal. Organizer Cheryl Lesson said that there were no RCP spokespeople at the rally, and many of the protesters had no connection with the RCP.
"Refuse Fascism is a separate organization from RCP," said protester Norm Carr. "Some of the initiators are from RCP, but Refuse Fascism doesn't take a stand on revolution."
Instead, their goal is to oust the Trump regime, according to Lesson.
"With Refuse Fascism I see a coalition. Several groups decided that they wanted to be a part of it," said Alfred "Al" Porter, Jr., president of community activist group Black On Black Crime Inc., and a member of the black studies advisory board at Cleveland State University.
Several groups of counter-protesters appeared at the rally, including several militia groups. The groups, such as the Ohio Irregular Militia and Cowboys MC, were covered in camo and carrying assault rifles. One man, who called himself Sigs, drove three hours to be at the rally. Sigs and other militia members claimed they came to the rally to back up local police forces in case of violence.
A conservative group of students from Cleveland State University (CSU), placed messages over several Refuse Fascism signs, writing "Refuse Fascism are the real fascists."
Two Case Western Reserve University third-year students, Dillon Brown and Marissa Jones, originally made the signs. The counter-protesters took them when the duo left the signs at Public Square to join the march.  The two protesters heard about the march in a class called "Social Movements and Social Change" taught by Dr. Mary Erdmans.
Erdman said the class first heard about Refuse Fascism due to the organization's involvement in a small campus protest about President Donald Trump's refusal to resign Deferred Action for Childhood Arrivals (DACA) legislation. The course itself tasks students with choosing a social movement study, from either the left or the right. Erdmans said she was surprised by the low turnout at the march.
"You can have a lot of grievances, but the question is: when do people stop b****ing in their offices and get out in the streets?" said Erdman.
Dr. Joseph White, CWRU professor of political science, said he felt that Refuse Fascisms message itself was ineffective. He commented that although Trump exhibits the aspects of some fascist leaders like having a cult of personality, embracing nationalism and relishing images of violence, calling him a fascist fails to clarify anything.
"I have to say marching around saying, 'No to Trump and Pence' strikes me as pointless," said White. "I don't know who it's supposed to win over. I'm not sure who it's supposed to mobilize. This is a politics of if we get up and scream loud enough we'll win. It doesn't mobilize anyone to win elections."
Refuse Fascism has two more protests planned. One is planned for Nov. 11, and a "mass protest" planned for Nov. 18.
"We will continue to call everyone to the street until they are removed from office," said Adrine.
About the Writer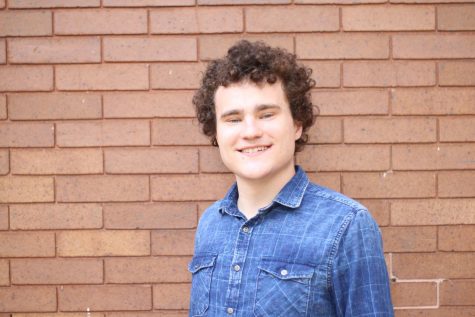 Matt Hooke, Executive Editor
Matt Hooke, The Observer's executive editor, is a fourth-year student studying English. This is his first year as executive editor after spending time...