Richards: The savior of the CWRU meal plan
If you've visited or lived on campus, you've probably had the chance to experience one of the dining locations available for use in Case Western Reserve University's meal plan. Looking at the meal plan prices for the 2017-2018 year available on CWRU's Undergraduate Housing website, you'd expect pretty good food for the pricey options.
Of course, your experience proved this expectation a disappointment once realizing your $6,360 a year gets you 17 so-called "meals" a week, providing extremely limited options. If you're not a fan of limited, you can dish out the extra $200 to get the unlimited meal plan—though your dining options don't change at all.
You will still be restricted to the regular line-up at North Residential Village's Leutner Dining Hall, which will almost always be cheeseburgers, hotdogs, soups and salads. The only other options appear to be a choice between an exotic stew, some tofu rendition or a cheeseburger soup when students don't eat as many burgers as they expected. Sure is surprising that people get tired of having cheeseburgers every day of the week, right?
There is definitely a problem in the variety of provided foods. It seems that CWRU's Bon Appetit dining services have attempted to address this issue, providing uncommon dishes and fully supporting all diet specifications like gluten-free, vegan and vegetarian preferences. At the same time, they have failed in changing up the menu to offer a little more than the same four or five dishes every day of the week for each meal.
No, you can't expect much more from a college campus cafeteria than your high school's, or maybe a hotel's, dining option given the volume of people they need to serve.There is a large range of accommodations you will need to make for a thousand students, but those thousand students should, in turn, scale the variety of food options.
Luckily, each meal plan also includes up to $150 of CaseCash each semester for use at a decent list of restaurants and for vending machines on campus. Also included are special meal swipes, three meal swipes a week which can be exchanged for single-meal combos at a small handful of participating locations on campus.
These two provisions within the meal plan are what save its already criticized value. It gives students a break from the same cafeteria scene to enjoy a nicer meal. They are particularly valuable after the dining halls are closed, allowing students to get a meal to fuel late-night studying.
If it weren't for CaseCash and special meal swipes, I predict the dining services would receive even more criticism for a lack of variety even if the overall cost of meal plans decreased. These two amenities save the meal plan, especially since the dining halls aren't living up to their listed value.
Jason Richards is a first-year computer science major. He enjoys spending his three special meal swipes at The Den during the week and all $150 of his CaseCash between Mitchell's Ice Cream and Chipotle throughout the semester.
About the Writer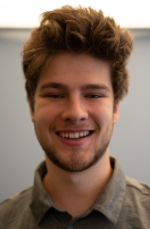 Jason Richards, Staff Columnist
Jason Richards is a fourth-year computer science major and English minor. He enjoys programming, cooking and spending his money at Chipotle.