Rising Star hosts artist Lisa Lorek
My first venture to Little Italy began on Saturday, Sept. 9, in a cozy coffee shop on Murray Hill Road called Rising Star Coffee Roasters for their Meet the Maker event. The small shop smelled like coffee and potential, and it held true to its name: it hosts events for local "rising stars" to get their names out, such as Lisa Lorek, a budding local artist who is the artistic genius behind the hand-lettered works on their walls.
Lorek is a Cleveland native who attended University of Dayton and is currently working as art director at Global Prairie, as well as doing freelance lettering and design work for clients. She has done work for coloring books, magazines and art galleries. She was named one of this year's Top 29 Visual Artists to Follow on Instagram by cleveland.com.
The artist also travels to and speaks at events. Her most recent speech titled "Forever a Work in Progress," was delivered at the Weapons of Mass Creation (WMC) Fest. Of her career, WMC8's site writes, "Balancing a design day job and a lettering-filled night shift is full of life lessons, surprises and embarrassing stories."
Last year, Lorek won third place at WMC's 2016 Ink Wars competition. Lorek considers her Cleveland upbringing to be one of the largest impacts on her style, saying, "Cleveland is a city with beautiful museums and architecture in the city that anyone could miss if they don't look."
She attributes her signature ornate flourishes to these structures: "I was born and raised in New York City and I miss the brick alleyways of Soho, the bustling streets of Union Square and the devastating beauty of Ground Zero," Lorek continued.
Lorek also has favorite spots in the city that stay with her long after she's walked away. "Places such as University Circle, the Cleveland Museum of Natural History, Cleveland Public Square, Cleveland Botanical Garden and the War Memorial Fountain all have a beauty unlike anything I have ever seen," she says of these beloved places.
She has completed murals all over Ohio but one of her more recent and proudest works is a mural for the Solon-based company Findaway World. The walls display images and quotes representing both what the company and what Ohioans consider important, exhibiting phrases such as "passion" and "take responsibility." Though the mural is black and white, Lorek's colorful personality still shines through the four walls, in the shape of inspirational snippets, company jokes and intricate doodles. This and other examples of her work can be found on her site, LisaLorek.com.
Lorek holds her humble beginnings close to her heart. When she was in high school she would doodle her favorite song lyrics on her notebooks. This fun distraction from note-taking turned into a passion that she continued while studying graphic design at University of Dayton in 2008.
She recalled, "My parents were concerned with my desire to study art because of the recession, so I also earned my degree in visual communication design in 2012 because it was supposedly the most lucrative art major."
She now measures her success not only by the money she makes and other standard values one might consider successful, but also by the happiness she finds in her work and the knowledge that she enjoys what she does.  
The Rising Star Coffee Roasters hosts events similar to Meet the Maker every now and then, and they are the perfect opportunity to obtain insight into the life Cleveland breathes into its people and the impact a city can have on a person.
Leave a Comment
About the Writer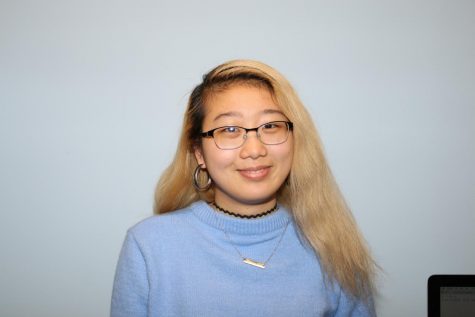 Yvonne Pan, Development Editor
Yvonne Pan is a fourth-year student double majoring in civil engineering and environmental studies, and minoring in English. Freshman year, she spilled...