Writer's Center Stage hosts cartoonist Roz Chast
The William N. Skirball Writers Center Stage Series, a collaboration between the Cuyahoga County Public Library and Case Western Reserve University, has hosted unusual speakers this year. The schedule has included two journalists known for their true-crime podcast (Sarah Koenig and Julie Snyder, of "Serial"), a best-selling thriller writer (Gillian Flynn, author of "Gone Girl") and now Roz Chast, a cartoonist on staff at the New Yorker who has published nine compilations of her work.
In their introductions of Chast, both President Barbara R. Snyder and Professor Sara Douglas talked about how the cartoonist's work has affected them. Chast's most recent book "Can't We Talk About Something More Pleasant?" details the last years of her parent's lives via cartoons, and doesn't shy away from topics like senile dementia and cremation.
"I read the book while I was living the book," said Snyder. "I laughed and cried."
Douglass agreed, and said the book was relevant to her personal experiences as well as the nursing profession, specifically as a caregiver for the chronically ill.
"Roz Chast put a voice to my experience, and the experience of many," said Douglas. "She evoked very strong emotions that I had not acknowledged."
The book approaches the subject with Chast's signature brand of dark humor. Set in places like her aging parents' apartment in "deep Brooklyn" and "the Place" (Chast's name for her parent's assisted living community), the book includes a chart called "The Wheel of Doom," supported by anecdotes about death like "A rash, then dead," "A headache, then dead," "Friend's husband killed by falling flower pot."
During the talk, Chast talked about how her work is inspired by other cartoonists, including Charles Addams, her "cartoon hero." In response to a question about her style of humor, she said, "I appreciate a witty comment, but it can be hard to explain why things are funny." In both Addams' and Chast's work, the combination of light tone and serious subjects can be unnerving. Maybe this effect is best summed up by Chast herself while describing "Breaking Bad," a television show she admires: "Things in it are kind of funnier because of the blackness around."
Leave a Comment
About the Writer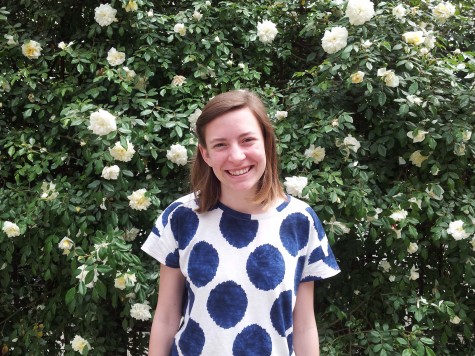 Ellie Rambo, Arts & Entertainment Editor
Ellie Rambo is the arts and entertainment editor for The Observer. She is a senior English and Cognitive Science major, and a minor in Russian. Ellie has...