RTA fare hike attempts to address budget woes
On Mar. 27, the Greater Cleveland Rapid Transit Authority (RTA) Board of Trustees will meet to vote on a budget plan for the next year, which includes making a decision about confirming fare increases proposed for this August. A one-way fare is projected to rise from $2.50 to $2.75, as part of a series of price increases introduced in 2016 to help the cope with a smaller operating budget.
Seventy percent of the RTA's operating budget comes from one percent of Cuyahoga County sales tax passed in 1974, but as of July 2017, the tax revenue became significantly smaller. The current budget woes stem from a variety of issues, including declining ridership and high train maintenance costs. The biggest hit by far, however, comes from the loss of taxable revenue.
In 2014, it was announced that Ohio's policy of collecting sales taxes from Medicaid organizations was at risk of being in violation of federal regulations. The state was given until the end of its next legislative cycle to come up with a solution for the loss of income, putting a great deal of income at stake. Without a legislative fix, Ohio projected it would lose $558 million in state fiscal year 2018.
RTA Media Relations Manager Lina Krecic described the budget problem and failed solution.
"When the RTA found out that we would no longer be able to collect the [$20 million dollar per year Medicaid] sales tax revenue, we turned to the state legislature for a fix," she said. "At the time, the legislature was looking to do a six year fix that was part of a budget sent to [Ohio Governor John] Kasich in June last year."
However, Kasich vetoed the fix, and a legislative attempt to overrule him passed the House 87-10, but was never taken up by the Senate.
In Krecic's words, "There was a fix in place, but it was never taken up for a vote."
Instead, the state decided on a $25 million dollar payment to help cover the next two years, after which the transit system is on its own.
This means budget cuts for transportation agencies across the state. The Central Ohio Transit Authority (COTA), which serves the Columbus area, will lose between $5 million this fiscal year and $8 million next year.
In Feb. 2017, COTA spokesperson Marty Stutz addressed the Medicaid tax change's impact to The Columbus Dispatch.
"We need some longer-term solutions," he said. "[The loss] represents service on the street. We'd have to be creative and find a way to maintain the high level of service we're putting out there."
Meanwhile in Cleveland, maintaining the current level of service is already off the table. The RTA's current five-year plan calls for a move towards becoming a smaller organization, which has plans to lay off up to 200 people and roll back services on lower-use bus routes. This marks a distinct low point for the organization, which, in 2007, held years of consecutive rider growth, excitement about the HealthLine project and a steller safety record to the American Public Transportation Association's Outstanding Public Transportation Systems award.
The system suffered dramatically in the Great Recession, however, and while it was able to slash service in 2010 to stay at budget, ridership numbers have never recovered to pre-recession levels. Compounding this issue is the fact that enrollment in Cleveland Public Schools has been declining, as Cleveland Metro School District (CMSD) and Universal Passes, which are the stickers available to Case Western Reserve University students, constitute 20 percent of the system's passengers.
The end result of all of these issues is an RTA system with a $30 million projected deficit between operating costs and incoming revenue, and no currently planned help from the state in funding the system beyond this year.
Leave a Comment
About the Writer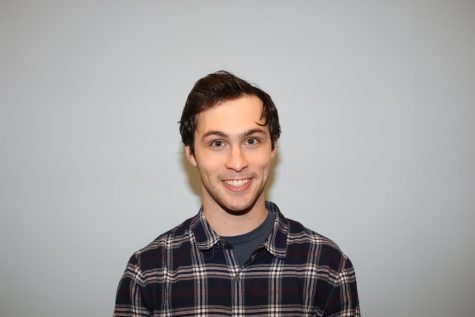 Henry Bendon, Staff Reporter
Henry Bendon is a fourth-year political science major who has been writing and taking photos for the Observer since the fall of 2016. In his time with...