Rudoff: Getting used to your home away from home
Going home for my first extended break was, for lack of a better term, weird. After spending four months completely immersed in Case Western Reserve University's campus, it was odd to suddenly go back to living in Columbus, a place I had known as home for nearly nine years prior. The fact that break lasted for nearly a month made the whole experience that much more surreal.
For the most part, there was little change at all. My house still had its green trim and basketball hoop in the driveway. My bedroom hadn't been touched, and the walls were still plastered with band posters and photos of friends. The bay window in the living room still let in all the winter sunlight that reflected off the snow in the yard. When I drove around the city, I could still navigate the complicated alleys and one-ways scattered around High Street.
The family traditions remained the same: Christmas at my grandpa's house in Kansas, big dinner with family and friends, seeing a movie on Boxing Day to get ourselves out of the house. We still had pancakes on Saturdays and biscuits on Sundays. My parents still let me spend most of my downtime with my closest friends, usually late at night.
But the entire time I was home, I couldn't shake this unsettling feeling that somehow, the entire city and its environment had changed. I would be driving down the outerbelt and notice that a new building had been added to the Columbus skyline. Cruising down the surface streets, I noticed that the infamous "Holy Matrimony is One Man and One Woman" billboard had finally been taken down after years of complaints. Talking to my friends during these drives, they would bring things up or make inside jokes that I knew nothing about. These places and people I knew so well were changing independently of whether or not I was around.
It's a selfish mindset to feel like nothing will change without your influence, but I think it's a naive one that many of us will fall victim to. You welcome so many other aspects of change when it comes to your future, like I did with moving to Cleveland. Subconsciously, though, I don't think all of us are prepared to realize that the places we inhabited will also keep moving forward as well. It's a scary feeling, coming to understand just how much your situation has evolved and will keep evolving, and that it will diverge further and further away from the things you once knew.
Beating this vague feeling of insignificance lies in embracing that, despite the changes you've missed, there is still so much progress that you've made. The Columbus I knew was a great city to grow up in, but there is so much that Cleveland and CWRU have to offer. After only one semester I already feel as though I've grown as both a person and a student. There are new interests and opportunities I've been able to explore. I've made new friendships that I see myself wanting to continue well into the future.
When people at home would ask my plan for going back to CWRU, I would say: "I go back home the 14th."
It will always be bittersweet to go back to Columbus and feel a bit disjointed from that community. But I think that's okay. If anything, it's an indicator of just how much I've been able to grow up in my new home.
Jackson Rudoff is a first-year political science and English double major who is also minoring in French. You can usually find him in his room chanting the Canadian national anthem or talking about how much he loves his Nespresso machine.
About the Writer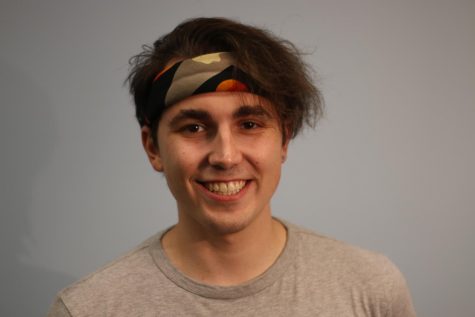 Jackson Rudoff, Copy Editor
Jackson Rudoff is a fourth-year student studying political science and cognitive science, and a French minor that he keeps forgetting to fill out the form...