Samfox's new EP "The Feels" gets emotional
Samfox's upcoming EP 'The Feels' is appropriately named. Filled with growling vocals full of anger, dance-happy guitar riffs and sluggish rhythms, the local band cycles through a range of emotions in the span of just six songs.
The band formed not too long ago, played a handful of shows at local venues like Happy Dog, Mahall's and The Foundry, and after a few months of recording, they're finally ready to put out their first collection of songs.
'The Feels,' starts off with "Charmagne," a slinky piece full of pent-up energy. Cool, whooshing "ooh's" behind singer Braxton Taylor's aggressive vocals don't do much to calm the tension, but help build drama as the song takes off in its bluesy direction.
Later comes the mysterious "Go and Get Gone," which has singer Charity Cunningham howling out some soulful croons over Josh Montgomery's pounding big band drums and cascading trumpet solos by Randall Hoyle. It's the most musically powerful moment of the EP, with a crescendo that descends right back into the single repeated demand: "Why don't you go and get gone?"
"Tired" breaks away from the rest of the EP's songs, in that it actually sounds exhausted. The lethargic guitar lags behind a steady and driving beat, while the vocals get down into a murky kind of blues, tinged with anger. "Hey Mama" is intense and aggressive, with lyrics that drive the rest of the sexy song forward. Meanwhile, the guitar gets into a sloppy kind of grunge that contrasts with precise horns and vocal backing.
All in all, Samfox's new EP is full of wildly diverse songs that stand well on their own, and flow well in a compilation. The band's freshness says more about their position than their ability; while they execute a brand of soulful rock well, they seem less certain about how to define that brand.
But then again, they don't seem too concerned about fitting in. What's wrong with mixing up genres, instrumentation and affect between each part of the whole?
Through just six distinctly raw songs, you feel with the band, with each scratchy vocal and livid strum. Samfox's 'The Feels' is an emotional experience that will take listeners along for a ride.
EP: "The Feels"
Artist: Samfox
Release Date: Jan. 30
Rating: ★★★★☆
Samfox discusses EP "The Feels"
Braxton Taylor and Randall Hoyle of the bluesy band Samfox were both excited to finish the group's first EP titled "The Feels."
"To finish [the EP] is really exciting," said Hoyle. "Recording just gives a chance to do things with our songs that we haven't been able to do in a live situation, so the songs really developed and matured in the studio."
Recording the six songs on "The Feels" took about two or three months, said Taylor. "For me, vocals were probably the most difficult thing. I pretty much redid every vocal track at least twice," he said. "Aside from the labor and the time, it was a really fun experience."
Off the tracklist, "Go and Get Gone" is one of Hoyle's favorite songs, and he thinks that the musical climax of the album occurs when multiple trumpets come in after a solo. "I think that's one of the most dramatic parts of the whole EP."
On the other hand, Taylor enjoys "Charmagne" and its grooviness. "That song is so easy on the ear," he said.
Samfox itself isn't slowing down after the EP. On "The Feels," Taylor did most of the songwriting work, but in the future, the group hopes to create a full-length self-titled album. According to Taylor, it will feature songs written by all members of the band. "If we're going to name our album 'Samfox,' why not have everyone's songs?" he said. "I want to work on other songs, and by other members of the band."
He continued: "We're building this show around having a good old time for 2016."
Samfox will be headlining a release show at Mahall's 30 Lanes on Jan. 30.
Leave a Comment
About the Contributor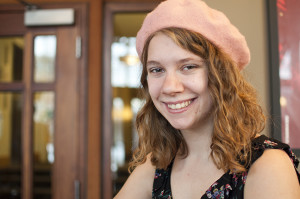 Anne Nickoloff, Director of Print
Anne Nickoloff, the Director of Print for The Observer, is a senior at Case Western. She hopes to one day be a music journalist, and has spent much of...