Local band Samfox moves forward with new EP
Standing in the driveway of a Lakewood house, it wasn't clear where all the noise was coming from.
A car pulled into the driveway and parked. A woman opened the door and frowned. "They're in the garage," she said, looking further down the driveway.
Inside the garage were the members of local band, Samfox, but it took a few loud knocks before they were able to hear and open the door.
Singer and guitarist Braxton Taylor did much of the talking between songs while the other band members grooved along, laughing at jokes and past situations. Like many of the band's stories, Taylor led into one of their songs with an anecdote of an attractive woman. This one was about a woman he met at a bar named Charmayne, whom he only spoke to for about 20 minutes.
"I thought she was super hot, and I was like, I'm gonna write a song about her," he said, before launching into the song "Charmayne."
The small garage was then filled with a soulful rock sound, with a break in the middle for guitarist and trumpeter Randall Hoyle to take a solo. Hoyle, a masters student at Case Western Reserve University, performed a series of improvised solos in the group's short set.
"He's like our dad," said Taylor. "He keeps us in line."
Samfox hasn't been around for long, but they've played some concerts around the city at venues like Beachland Tavern, Happy Dog and The Foundry. Their sound moves between blues and punk rock. Sometimes the band members bobbed their heads slowly to a groove, and other times they leapt around the garage floor. On top of "Charmayne," the band's favorites include "The Feels" and "Hey Mama."
Prior to the creation of the band, Taylor played solo shows often. When he decided to start putting together a larger group, he first went to Craigslist.
Drummer Josh Montgomery and singer Charity Cunningham were already Taylor's friends, but they needed more musicians. "I was the one who made the creeper Craigslist ad," said Montgomery proudly.
That's how they found John McDonald, the band's bassist. Hoyle was added through a chance meeting at the Hessler Street Fair, where Hoyle recognized members of the band and struck up a conversation. When he asked Taylor if the band would need a trumpet or a guitar player, the answer was yes.
Simple—that's how Samfox started. Since then, they've played a handful of shows and are working on an EP of six songs which should, according to Hoyle, be out in about four or five weeks.
The members of Samfox claim to not have a lot of great stories, but their conversations are filled with them. The band's name is a story in itself. The title "Samfox," of course, follows Taylor's other stories, some of them about attractive women. The story was a little creepy, he warned, before explaining.
"That's how all your stories start," said Cunningham, laughing.
Taylor, who goes to Hiram College, saw a girl who wore black every day and didn't speak much in one of his classes. She was cool, she was bold. She didn't ask for attention, but she still got it.
Her name? Sam Fox.
It was a quick decision for Taylor, who said he decided he would name a band after her. "That's the coolest name in the world, [she's] the coolest girl in the world," said Taylor. "Sam Fox represents this idea of cool; she made this bold statement to me, that's what I want this band to be."
While the person Sam Fox hasn't attended any of the band Samfox's shows, Hoyle noted that she liked one of their Instagram photos—one of a new drum head the band purchased with their name on it. "She'll come when she's ready," said Hoyle.
Despite a few funny stories about Taylor's small crushes and what the band called "creeper Craigslist ads," Samfox isn't weird in an uneasy way. Instead, Samfox is a quirky group of musician friends with plenty of talent, an upbeat sense of humor and new stories to find in future adventures.
About the Contributor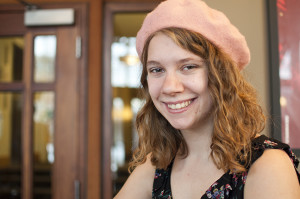 Anne Nickoloff, Director of Print
Anne Nickoloff, the Director of Print for The Observer, is a senior at Case Western. She hopes to one day be a music journalist, and has spent much of...