Take Back the Night creates a safe campus space
A night to share tears with sexual assault survivors
It was 7 p.m. on Thursday, April 14, but the sun hadn't faded away. The warm sunshine of the early spring shone through the windows of Thwing Atrium, so bright that it paled the LED candles that members of the Sexual Assault and Violence Educators (SAVE) lit for their annual speakout rally against sexual assault, Take Back the Night.
Take Back the Night, one of the major advocacy events hosted by SAVE, aims to provide a safe space on the Case Western Reserve University campus where people can share their experiences with sexual assault. In the past few months, members of SAVE had distributed about 500 cyan wristbands among undergraduate students. According to Anna Wertheim, president of SAVE, each year around 15 percent of college students are affected by sexual violence. By having 500 undergraduate students wear the wristbands, SAVE hopes to make the impact of sexual assault more visible, with each wristband representing a sexual violence victim.
The event started a few minutes after 7 p.m. Decorated with purple ribbons and paper lanterns, Thwing Atrium was filled with more than 200 students. The central space was cleared, and people sat on the floor forming a semicircle around a microphone stand waiting to share their stories, sentiments and support.
The first speaker, second-year student Hayley Yocum, walked confidently to the center of the stage, holding a draft of her story. Wearing the same white skirt as she did when she was raped at the age of 15, Yocum told the audience that she did not realize what happened to her until she saw the sexual assault posters around campus. Her anger and sorrow burst out as she recounted her painful experience. "Sexual violence is not a faceless issue," she proclaimed forcefully.
In the audience there was only silence; everyone was affected by Yocum's strong emotion and tragic experience. Tears were shed by some audience members, and a hug was exchanged between a couple.
When talking about how her regretless sexual assaulter now had a promising future, Yocum was stuttering, shivering, crying, but she did not stop calling for support and action. "You don't have to be evil to rape someone," she said at the end of her speech.
Yocum's story, full of the despair and fury of a sexual assault survivor, set a strong, inspiring tone for the night. Sustained applause filled the room as she returned to her seat in tears. The audience was so touched that nobody moved or spoke for a long time.
As the night proceeded, people became more comfortable sharing stories that happened to them, their friends or their families. A second-year international student, who had not planned on sharing, felt empowered to tell her story. Coming to the United States five years ago, she lived with a host family while attending high school. One night, her alcoholic host father attempted to sexually assault her. She had no choice but to jump out of the second floor window to escape. Because of cultural and language barriers, she did not dare to seek help. "[International students] can't really seek out support from our parents either. They would freak out and get us back home," she explained.
Now in college, she feels more comfortable talking to her close friends about this experience. She mentioned that the supportive community at CWRU really gave her solace, and she hoped that Take Back the Night would continue every year to encourage more people to speak out.
Besides sexual assault survivors, some students also stood up to share their thoughts and sentiments after hearing the survivors' stories. They expressed their their anger at the assaulters and their respect for those who had the courage to speak up. Under the safe haven that Take Back the Night provided, students experienced solidarity.
The event ran over its scheduled end time to make sure that every person who wanted to speak had the chance to be heard. Throughout the gathering, caring hugs and supportive words were shared among friends, survivors and the audience. The event ended around 9 p.m. with sincere applause. Many students walked out of Thwing Atrium with a deeper understanding of sexual assault.
"I think [the event] just makes me appreciate how prevalent this problem, the problem of sexual assault and domestic violence, is on college campuses," said fourth-year student Hayley Rassuchine, who had attended Take Back the Night in the past. "It makes me think about why we don't talk about this more. What really is it about our culture that makes people have to experience this things?"
Mary Gatti, a CWRU alum who first brought Take Back the Night to campus, recalled the origin of this event when there were only three participants. "When we first started the group, I think it was just three of us who have been impacted either by sexual assault or abusive relationship, and just really wanted to do some advocacy and kind of just get the word out."
She and other SAVE members were very pleased with the event turnout, considering this year's Take Back the Night the most successful one since its origination several years ago.
"We got a lot of variety [of speakers]," commented Gatti. "Especially being able to hear male survivors come up and talk is always huge, because a lot of them don't report, or don't tell their stories, and it's a lot more difficult for them to share. I think it's positive that we were able to have people feel safe enough to do that."
Take Back the Night is also an international event that takes place on many college campuses around the world. Wertheim felt that it is very important for CWRU to have a safe zone like Take Back the Night to both support sexual violence survivors and educate students.
Many speakers mentioned that they did not know that they had been sexually assaulted until "they sat in the bathroom and saw those posters about healthy relationships." They also felt fortunate that CWRU offered the support that helped them to overcome their fear and depression.
"It is really important to have these kinds of safe spaces on our campus," commented Wertheim on Take Back the Night. "People can see they are not alone. We can have people come and see how much of a problem this is, just in general, and how many people are affected."
Leave a Comment
About the Contributor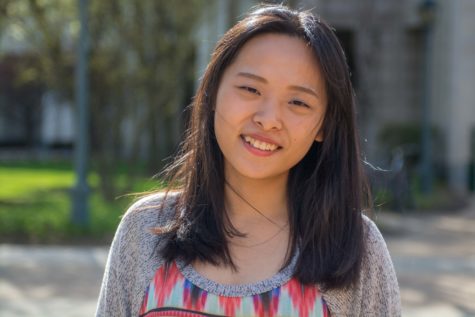 Celia Wan, News Editor
Celia Wan is a sophomore majoring in mathematics and history. She joined The Observer in the fall of 2015 and became the news editor at the end of her...