Second-year cross country runner powered by special moments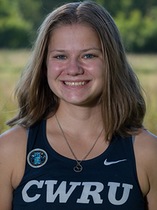 Claire Keanna is a second-year runner on Case Western Reserve University's cross country team. While she did not see the course too often her first year, she looks to build with a strong sophomore campaign while supporting the entire team. Outside of running, Keanna has a passion for biology and is currently working towards a degree in it. With the little free time she has, Keanna loves to spend time in nature.
What is your favorite part of being on the cross country team? Why?
Definitely the people. I came from a really close-knit high school team and I was really hoping to find that at CWRU. It's gone beyond my expectations; the men's and women's teams are really just one big group, and it feels like you're part of a family. They've been great resources in terms of classes and just transitioning to going to school far from home. I haven't been able to race much over the past year due to injury, but the team has been super supportive through everything.
Where did you get your passion for running? Any good stories?
Initially, I didn't want to run (my mom had to push me out of the car at my first high school practice), but over time I grew to love it. As I've gotten older, I've appreciated more and more just being able to go for a run and clear out my thoughts and spend time outside. Probably my favorite running story was from my senior year of high school, when one of my classmates passed away suddenly, 48 hours before our conference meet. Despite grief, my teammates and I were able to push through and nearly win the meet. It reminded me of the power of running and community, and it remains in my mind as one of my most special running-related moments.  
Do you have any meets that you remember being particularly special? Why?
Experiencing the dual (our annual indoor meet against Carnegie Mellon) last year was super special. Everyone's super hyped up and supporting each other. I think men's triple jump was the last event happening and everyone on the team, who was done with their events and could've easily gone home, stuck around and cheered. It really showed me the camaraderie between the different event groups, despite them not practicing together much. 
Why are you majoring in biology? What interests you about it?
I always liked science classes as a kid, especially biology courses in middle and high school, but I wasn't sure what to do with it outside of becoming a doctor. I volunteered in a research lab during the summer before my senior year, and I instantly fell in love with research. It's really cool to go about experiments and be able to see something happen before your eyes, that you can actually be present for the things you're reading about in textbooks and hearing about in lecture.  
What are your favorite free time activities? Why?
When I'm not running, studying or sleeping, which takes up a fair amount of my time during the academic year, I like to spend time outside or read. I grew up in Connecticut, not too far from the ocean, so I spent a lot of my summers in or by the water. I love kayaking when I'm home, and in Cleveland I try and sit outside in the sun—when it's out!
What is your favorite quote or what inspires you?  
"So many things are possible just as long as you don't know they're impossible." ― Norton Juster, "The Phantom Tollbooth"