Second-year football player all about the team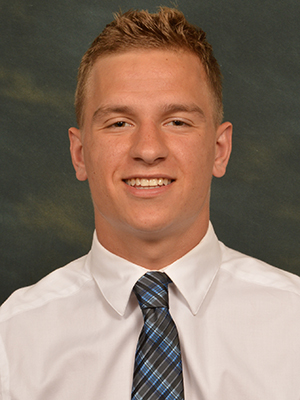 If you ask most athletes what their favorite part of playing sports is, their answer is likely the team. Second-year safety Nick Kadlecik is no different in this aspect, as he longs to be part of something truly special. His time with the team allowed him to enjoy his first year at Case Western Reserve University, and luckily he has three more thrilling years to come.
Kadlecik fondly remembers his West Allegheny High School coach teaching his players to really "buy into" the program. This lesson from his former coach is what spurred Kadlecik's passion for football.
During Kadlecik's first year, he saw playing time in five games and had two interceptions. The interceptions came in back-to-back weeks against Geneva College and Washington University in St. Louis. In addition, he earned recognition for the Presidents' Athletic Conference Academic Honor Roll.
Although he has some great individual accomplishments, Kadlecik is quick to reiterate the accomplishments of the team. One of his most memorable games was one he did not even play in. Carnegie Mellon University, arguably CWRU's fiercest rival, was set up in victory formation, but Kadlecik's teammates managed to draw a penalty, force a punt, block that punt and score the winning touchdown. This was a great example that even in the darkest moments, when you play as a team, you should never give up.
Off the field, Kadlecik is pursuing a chemical engineering degree.
"I am majoring in chemical engineering mainly because of my father," he said. "I have always been intrigued by developing something and making it. That is why I want to be an engineer."
Kadlecik made it clear that his parents drive him to do well because they are professional, funny and caring. They are who he wants to grow up to be.
Of course, athletes' lives are about more than sports and academics. Although Kadlecik is not involved in any other clubs or organizations on campus, he previously considered getting involved in Greek Life. Most of Kadlecik's free time consists of watching television shows like "The Office" and "Game of Thrones."
Leave a Comment