Second-year softball player learns from failures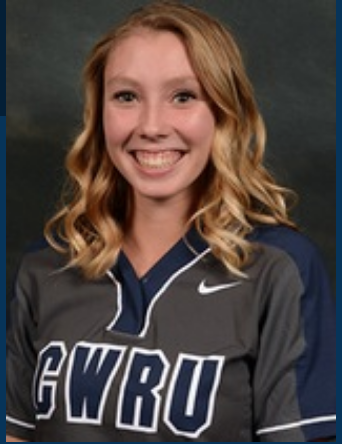 Sydney Wagner is a second-year infielder and outfielder on the Case Western Reserve University softball team. Currently, she boasts a .268 batting average with 71 at bats and eight runs batted in. Softball has changed her life because it gave her something to be passionate about. Outside the diamond, she pursues a degree in accounting and loves to be artistic through design.
What is your favorite part of being on the softball team? Why?
Having my closest friends with me. Playing softball in college has given me an automatic support system and my closest friends. I love the time we spend together, especially when traveling. We are an extremely close team with unbelievable chemistry. The love and respect that we have for each other is remarkable. I have never been on a team with this much heart. Every girl on the team makes me a better person.
Where did you get your passion for softball? Any good stories?
Watching college softball when I was younger made me want to play in college. To me, it was the ultimate goal throughout middle school and high school. I think that watching the strategy of the game gave me the urge to continue to learn everything I could about it. I think that learning everything I could about the game made me want to coach. I will be assistant coaching a travel team for the second summer this year. Teaching young girls about softball fills me with so much joy because I know how life-changing this sport has been for me.
Do you have any games that you remember being particularly special? Why?
My favorite game occurred during [the] postseason (regionals) last year. It was during our comeback through the losers bracket against St Mary's, and I threw out one of their runners at home to keep our one run lead, Dusstyn Reynolds fielded an amazing bunt for the final out of the inning and then Nicole Carty led off the next inning with a homerun. It was such a momentum changer and it propelled us forward to win that game and eventually take regionals.
Also, winning the final game of [NCAA] Super Regionals against Hope College. When we won that game and hoisted that Super Regional trophy over our heads, it was like a dream. I had watched countless Division I teams do the same thing on television for many years prior. In that moment, it felt unreal that we were competing for a national championship.
Aside from softball, what else are you involved in on campus? Can you explain what you do in them?
I am a part of the theater department on campus. I work in the costume shop helping to build costumes for the campus shows. I also design for other shows on campus usually during the fall. I have been doing theater most of my life, and I love having the opportunity to design on campus and continue to keep that creative aspect during my college experience. I am also a member of Kappa Alpha Theta. I am a part of two committees in Theta, sisterhood and marketing. I love being able to be more involved with events as a part of these committees.
Why are you majoring in accounting? What interests you about it?
I am majoring in accounting because of the amount of opportunities it can provide. I am not quite sure what exactly I want to do with my major after but I know that with this degree from CWRU, I have many pathways I could take. To me, accounting is very regimented and it fits perfectly with the way my brain works. I also appreciate the curriculum of the business school because it is very well-rounded.
What are your favorite free time activities? Why?
As a designer, I love painting and sketching. Any chance I get to paint is very stress-relieving for me. I also love to read because it's such an easy way to pass time. Another hobby of mine would be thrifting. I enjoy being able to take an old garment and make it my own. Especially with my sewing skills, I can see a lot of potential for new additions to clothes. And of course, any time I get to be with my friends is time well spent.
What is your favorite quote or what inspires you?  
With relation to softball, I would say my favorite quote is "fail fast," courtesy of my dad. In a game built on failing, failing quickly allows you to make adjustments and not dwell on the mistakes. It also allows you to learn from them. My dad inspires me to keep a positive attitude especially when things don't go my way. He reminds me that everything in life is a challenge, but there's no use worrying about it, just conquer it.