Security alerts keep the campus on its toes
Case Western Reserve University security alerts, sent out by the CWRU Police and Security Services to notify the CWRU community of any kind of security incident, have recently experienced a spike in number. Eight alerts were issued in October alone, and there have been a total of 14 incidents reported through these alerts since the semester began. The sudden surge in security alerts has students and other community members concerned about their safety, but the school is taking action to strengthen campus security.
A security alert usually contains the time and location of an incident with a description of the suspects. The alerts cover both on- and off-campus incidents, as many students live or visit off-campus places frequently.
The reasons for this increase in CWRU alerts are unclear.
"Whether any incident is random or part of a coordinated effort, we feel a profound responsibility to do all we can to maintain the safety of our campus," Frank Demes, executive director of Public Safety, said in a statement. Demes further explained that since CWRU is an urban university, "We enjoy the many benefits of being part of a major metropolitan area, and also must be mindful regarding some of the challenges involved."
First-year student Himica Kalra said in a text message that she is "slightly concerned with the growing number of security threats on campus…. I don't feel that we are prepared to deal with these potentially life-threatening situations." She also added that "it has become a constant fear that I do not believe should exist on a campus like CWRU."
Another first-year student, Parv Sud, said in a text message that he feels "uneasy about my security on campus primarily because of how my upperclassmen friends react to these alerts. For almost all of them, this increase in the number of alerts is something they haven't ever seen for the duration of their time at Case."
Sud is also the president of Cedar Community College, one of the first-year residential colleges. He said in a text message,  "It is crucial for me and the rest of my council, the Cedar Community Council and Residence Hall Association, to ensure that our residents understand the seriousness of the risk and danger associated with these alerts and are fully informed about CWRU's safety recommendations."
One of the challenges that arises when recording the number of incidents that take place is the fact that there tend to be "blurred campus lines." There are buildings or areas that are considered off-campus by CWRU, but are still considered on-campus to most students. An example of this is Constantino's Market, a grocery store frequented by many CWRU students that is now considered "on-campus" even though it is not directly related to CWRU.
Demes said that the university's annual crime statistics reports record incidents that happened on campus, on public properties that are on campus or in buildings that are associated with student organizations. He explained, "Incidents that happen off-campus but within areas the campus police patrol are included in monthly logs."
Demes and his team have been working to make the campus a safer place. As a result seven different individuals have been arrested in the past three weeks in connection with robberies that have happened on or near campus. He said, "These appear to be crimes of opportunity, rather than any organized effort."
Students who walk alone or are on their cellphones and are not aware of their surroundings become easy targets. Demes said, "Looking up, keeping both earbuds and phones in a pocket or backpack and walking in groups make an individual a less attractive target."
The Undergraduate Student Government voiced its concerns about campus safety and is now trying to assist the CWRU Police Department in any way that it can. In their most recent newsletter, USG responded to increased security alerts by talking to President Barbara R. Snyder, Vice President for Student Affairs Lou Stark and Demes to figure out how to improve safety on campus.
One of the most prominent results of this dialogue, which Demes also mentioned, was the increase in patrols—bike, foot and car—along the perimeter of the campus.
"We have increased the number of our police officers on duty in the evening and overnight hours by 50 percent, and both the Cleveland Police Department and the University Circle Police Department have detailed additional officers to assist us in protecting our campus," Demes explained, a development that was also addressed in the USG newsletter.
In addition, the USG Student Life committee took a tour around campus and made a note of any poorly lit areas and any street lights, Blue Lights or emergency phones that do not work. Stark promised USG that there will be expedited repairs.
USG is also looking into additional transport services to ensure that students have a timely and accessible way of safely traveling around campus.
In a joint email from Stark and Demes, responding to concerns and explaining added security measures, they mentioned that the number of vehicles providing safe rides would be increased, and there would be extended campus shuttle hours with shorter wait times.
To address any concerns that students and other CWRU members may have, and to also learn about their experiences, Demes and his team will be speaking in residence halls and at each school in the coming weeks. He hopes to resolve any issues and to also share some tips on how to enhance personal safety and security.
In the meantime, the CWRU Police Department encourages all students and other CWRU members to download the Shield application to help the CWRU Police Department respond to emergency situations quicker and with more accuracy.
Note from the writer: If you note suspicious activity, call 216.368.3333 to alert a dispatcher.
About the Writer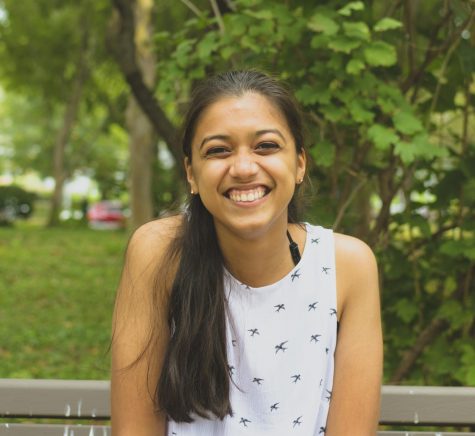 Shivalika Keni, Copy Editor
Shivalika Keni is a second-year double majoring in Economics and Physics on the pre-law track. She's been a copy editor for a year and loves spending her...