A life of dedication
Senior biomedical engineer Henry Wu dies
Fourth-year student Henry Wu was outwardly quiet, reserved and even shy before his death on April 9. He worked hard and would often lose himself in a task, but once someone came up and talked to him, he was happy to converse and had plenty to say.
Henry died at the age of 22 during a bus ride from Cleveland to his home in New York; the exact circumstances remain unclear.
"Henry was always motivated to help others," said his brother Barry Wu, a student at Rochester Institute of Technology. "He hated to be behind, so he pushed himself to be on top."
According to his first SAGES professor, Bernard Jim, Henry was especially enthusiastic starting out at the university. While completing coursework as a biomedical engineering (BME) major, Henry also joined the track team, Symphonic Winds and the Jolly Scholar kitchen staff in his first semester. Through his time at Case Western Reserve University, Henry was also involved in the BME honor society Alpha Eta Mu Beta, research at MetroHealth and volunteering at University Hospitals.
"He placed a strong emphasis on connecting with his fellow students and his professors," said Jim. "I distinctly remember him being the first of my advisees to 'friend' me on Facebook. He wasn't shy about asking his peers for help with his course work when he was struggling."
Despite Henry's quiet nature, one of his friends on the track team, current fourth-year Jonathan Freeman, said that the two always had something to talk about.
"I remember that he always seemed to be upbeat," said Freeman.
At work at the Jolly Scholar, Henry was more reserved. Jolly Scholar owner Matt Vann thought Henry seemed to take an almost military approach; to him, everyone was equal, and he treated them all with the same politeness.
Sometimes, that outward quietness was just because Henry was focusing so intently.
Jim recalled a story that Henry once told him. Henry's high school, Stuyvesant High School, had a strong tradition of football, so even though he was neither very large nor very athletic, Henry wanted to join the team. With the help of the head coach, Henry spent hours in the weight room and studying the playbook, until eventually he became a starter. By his high school graduation, Henry had varsity letters in both football and track.
"I think he brought that same approach to his academic work at Case," said Jim. "If he worked hard enough and received the right guidance, Henry knew he would succeed here, too."
Henry proved Jim correct after he turned in a SAGES paper he hadn't spent much time on. He admitted to his mistake and worked hard to revise the paper, and in the end he earned an A.
Freeman agreed that school was always Henry's top priority; Henry undertook large course loads and was committed to earning good grades.
"Sometimes we would practice together and sometimes not, because he was so busy with school and lab and stuff that sometimes he would practice later," said Freeman.
Henry's motivation for this had been with him for years: joining the military. In high school, Henry was chosen out of a large pool of applicants in his area to receive a congressional nomination to the United States Military Academy at West Point, and after he came to CWRU, Henry continued to talk about his desire to work towards joining the military—possibly as an officer or an army doctor.
"He wanted to be in the military because he believed that a country is strong through its military," said Barry. "He knew that he was blessed to be brilliant, so he wanted to use that for the people."
When Vann and Henry would talk at the Jolly Scholar, the topic often turned to Henry's military goals. According to Vann, that was the subject that Henry was most excited to talk about. More than simply joining the military, though, Henry dreamed of becoming a general and leading others.
"I think that was something he was driven to do—to be a leader—and he was probably trying to find his way, because it probably wasn't a natural role for him," said Vann. "So it was something that he wanted to do, on whatever level, but he just had to find his methods to try to get there."
According to Barry, Henry was driven to be a leader because that way he could ensure that the end result of any given task was perfect.
"He worked hard so that he could go into difficult fields with very few people in them, so that he could take the burden of necessity off of society," said Barry.
Once, Vann recalled, Henry made a mistake in the kitchen, mixing up the lids for the ranch and blue cheese dressings. Vann asked him if he was sure that was right, and Henry answered after some consideration that he was. Vann then sent him along to the kitchen manager, who pointed out Henry's mistake.
About a month later, Vann saw Henry standing over another new employee, echoing his earlier words: "Are you sure that you've got that correct?"
When Henry left the Scholar to pursue research opportunities, his resignation was correct to a T. He set up a meeting with Vann, where he resigned in person and gave him a formal letter. He was also willing to delay the start of his research to put in his final two weeks at the Scholar.  
As Henry worked at the Scholar and then transitioned into research, he was also a member of the track team. According to the Track & Field Head Coach Eric Schmuhl, Henry was "a wonderful young man with tremendous potential," even though he was often too busy to practice with the team.
"He always worked really hard, even though he wasn't the fastest runner on the team," said Freeman. "I remember he always wanted to work really hard and improve."
In the Case Symphonic Winds, Henry may have found some relief from his busy life when he played his trumpet, says Gary Ciepluch, the band director. Henry already played well when he arrived at CWRU, and in addition to joining the ensemble, he also worked on the band staff, doing a variety of tasks such as setup and teardown for rehearsals. Henry was a member of the band during his first through third years.
According to Ciepluch, when Henry was working, he would sometimes forget an obvious task, like setting up the music stands for a rehearsal. Ciepluch would then remind him of the task, and Henry would say, "Oh, yeah," and immediately complete it.
"I never knew from day to day what I would have to remind him to do … " said Ciepluch. "But I could always count on it getting done."
Ciepluch doesn't attribute this at all to laziness or anything of the kind. He could just never be sure where Henry's mind was.
"You know how some people are really focused on something—you're never sure what—but that was Henry," said Ciepluch.
When an email went out before Henry's senior year asking him if he would like to sign onto the band staff again, Henry decided against it, and he didn't rejoin the Symphonic Winds either for his final year at CWRU.
Not long before his death, Henry became a volunteer at Rainbow Babies and Children's Hospital, where he visited and played with patients ranging from infants to teens. According to Carol Passerell, Volunteer Services Coordinator, Henry was passionate about his research and his future in medicine.
"Henry was an amazing young man," said Passerell. "I interviewed him personally, and he made a profound impact in the short period of time I spent with him."
Henry is survived by his parents, Donna and Guoyao Wu and his brother, Barry. His wake was held on April 20 in New York.
"Henry was special," said Barry. "The more you knew him, the more he tried to be better than you. He always wanted to be ahead and have everything planned out. Even as his little brother, he loved to push me by making me independent so that I could catch up to him."
Leave a Comment
About the Writer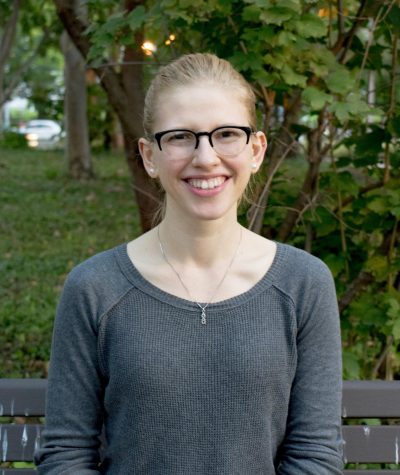 Aquene Kimmel, Director of Web and Multimedia
Aquene Kimmel, Director of Web and Multimedia, is a fourth-year English and French major. She is also Editor-in-Chief of The Athenian and a member of Pi...