Simon Pegg's return to the big screen: 'The World's End'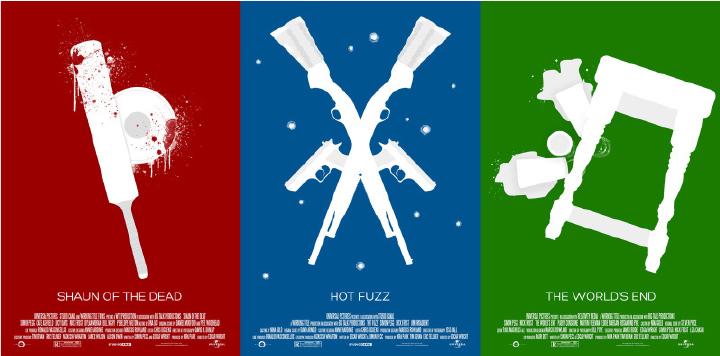 Lily Korte, Film Critic
August 30, 2013
At long last, the Cornetto Trilogy is complete! If those words mean nothing to you, maybe these words will: the creative team behind "Shaun of the Dead" and "Hot Fuzz" have finally made another movie. The trio of films—jokingly named after a brand of ice cream that makes recurring cameo appearances throughout the trilogy—are the work of writer/director Edgar Wright and writer Simon Pegg. They began work on "Shaun of the Dead," the first film in the trilogy, shortly after the end of the television show "Spaced," which they had both worked on previously. "Shaun of the Dead" featured a lot of the same actors from "Spaced," most notably Nick Frost, and also featured Wright's signature exaggerated-directorial style, as visually distinct in its big-screen incarnation as it had been on television. "Hot Fuzz" followed in 2007, and both it and its predecessor were critical and commercial successes in their native Britain, as well as in North America. After the successes of the earlier films, the continued absence of a new film from Wright and Pegg had been frustrating for fans, but will "The World's End" give them much to celebrate after the agonizing wait?
The main plot concerns a bunch of middle-aged men, reuniting for the first time in years to attempt a massive pub crawl in their hometown that they were unable to complete in their youth. Dubbed "The Golden Mile", the feat consists of having a pint at each of twelve specific bars within a night, finishing, appropriately enough, at one entitled "The World's End". Drug-addled manchild Gary King (Simon Pegg) is the primary organizer of the event, but early into the evening it becomes evident that pub crawls are not quite the same when the participants are all pushing 40 years old; Gary's friends are now largely married, employed, middle-class yuppie types. If they have all changed by becoming more traditional and boring as they aged, King has annoyed the rest of them by refusing to change at all, still as immature and impulsive as ever. Even his appearance hasn't changed: black trenchcoat, Sisters of Mercy shirt, unkempt long hair dyed black. The tension between Gary and Andy (Nick Frost) is particularly severe, for reasons that become clear later on in the movie. Not only have Gary's friends all changed, but even the pubs themselves have changed, becoming more sanitized and identical than they were twenty years ago when the group of friends first attempted The Golden Mile. Were the film merely a darkly comedic rumination on the effect of the passage of time on people and their relationships with one another, it would be interesting enough, but halfway in, the plot adds another bizarre element into the mix that massively changes the rest of the film. It's unclear how much of a spoiler it would be to say any more about it than that, but if you are familiar with the previous two films in the trilogy, then you should have some idea of what to expect as far as plot twists go.
Actually, the previous films provide much of the template for what to expect from "The World's End" in general. As well as having the same writers, same director and different combinations of the same group of actors, the films revolve around broadly similar themes, feature the same combination of humor, action sequences and explorations of human relationships, use popular music very effectively in their scores and use a lot of the same visual devices—for example, the dramatic close-ups of mundane events or objects are used as hilariously here as in the earlier films. In many ways, "The World's End" feels like a more mature development of a lot of themes from the earlier movies. There is a lot more linking them than the cameo appearances of different flavors of Cornetto ice cream.
Because they are all so similar in feeling, despite being about completely different subjects, anybody who liked "Shaun of the Dead" or "Hot Fuzz" would also like this movie, whereas if you hated both of those movies, you probably wouldn't like this one either. To anyone unfamiliar with the films, it would probably help to know they are not "typical" comedies in most ways. They usually start off ordinarily enough before the humor takes a backseat to extended action sequences, which might bore those who aren't into fight choreography or cartoonishly gory violence. Alternately, the more earnest moments might strike others as cheesy or overwrought. (In all fairness though, these are not necessarily easy things to comfortably wedge together into a single film, and most that attempt it are nowhere near as successful as Wright and Pegg are.) It does no harm to see "The World's End" without having seen its predecessors because despite the stylistic similarities between them, all three films function perfectly well on their own. Some overzealous internet fan has probably already written a thesis-length statement on all the uniting features of the trilogy, but that doesn't make them any less enjoyable as individual films.