SKATERS roll back into Cleveland
Singer Michael Cummings hopes for bigger crowds
After this past April's SKATERS show, expectations might be mixed for their return to the Grog Shop this coming Tuesday, Sept. 9.
"That was a really weird show for us," SKATERS singer Michael Cummings said. "All the rest of the shows [on our tour] were totally packed, but then it was like, 10 to 12 people, or something crazy.
That's not to say the show sucked; fresh off their successful 2014 album "Manhattan," it just didn't make sense; the punky, crowd-engaging show simply should have had a bigger turnout. The tiny crowd stood in front of the stage, listening to the likes of "Deadbolt" and "I Wanna Dance (But I Don't Know How)" without even dancing. Such a shame.
But even when performing with other bands, Cummings said that he has never seen a large crowd at the Grog Shop. "I don't know what it takes," he said, about getting an actual audience.
The April show's sparseness could be blamed on rivalling bands performing at other Cleveland venues. Or maybe people were too busy filing their taxes. Or maybe it was just the fact that it was a Monday.
None of that should matter for SKATERS' next Cleveland show, though. Their secret ingredient has arrived in the form of headliner The Orwells.
"They're pretty fun. They're really young, which is cool. Definitely every time we come out with them, I wouldn't say they're party animals, but I would say they have a good time," Cummings said. "They're fresh still."
The Orwell's peppier, strum-filled beachy punk will complement SKATERS' more subdued style, and contribute to the punk-filled craziness of the night.
This time around, Cummings should see what the Grog Shop is like with a packed audience. Punk has been coming back in Cleveland and music in general, and Cummings agrees.
"I think there are a lot more punk influences in everything," he said. "I even think that pop music has borrowed so much from early pop punk stuff, like from when I was a kid. I think it's just for everyone now. It's not as much of a counterculture thing."
About the Writer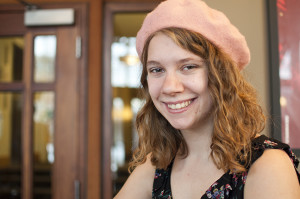 Anne Nickoloff, Director of Print
Anne Nickoloff, the Director of Print for The Observer, is a senior at Case Western. She hopes to one day be a music journalist, and has spent much of...