Slight Revision of "The Script"
From their very first single, "The Man Who Can't Be Moved," released in 2008, to their now fifth album "Freedom Child," The Script hasn't strayed much from the formula. The Irish band's self-entitled first album had hits we can probably all remember, like "Breakeven" and "Live Like We're Dying"—pop songs with simple lyrics about breaking up and living life to the fullest.
Nine years later, "Freedom Child" is true to the core of The Script, nothing changing except for the music trends the band tries to follow. The album consists of simple pop tracks with cliché lyrics about heartbreak and living life to the fullest. Fans of the easy listening provided by The Script's music and safe-for-work radio stations will love "Freedom Child." However, a couple tracks show that The Script has stayed true to its original sound—all while keeping up with the changing times.
Catchy choruses run through the album; it's basic songwriting formula—it's overdone—but it works. I especially liked "No Man is an Island" (with an electro-esque chorus, showing The Script can keep up with the times), "Wonders" (clad with inspirational lyrics and a synth-pop chorus), "Freedom Child" and "Deliverance."
"Rain," the first single off the album, delivers on a The Script speciality: breakup songs. The song uses a more original metaphor and connects sorrow to rain. I will give it this: The musicality definitely shows some progression in how the band writes their music. The song has an upbeat vibe despite the sad lyrics.
Where "Freedom Child" does get more provocative (or perhaps just less conservative) with its lyrics is on the tracks "Divided States of America" and "Make Up." "Divided States of America" talks about the political climate in pretty vague terms. I wasn't sure if the band was going to take a side until halfway through the pre-chorus when lead singer Danny O'Donoghue sings: "Another scandal from the man in charge." It's not that daring of a lyric, but I was surprised.
Then there's "Make Up," a song that includes lyrics such as, "But she's a queen in the skin of a king / Never happy who she is, that's the saddest f**king thing…." I have yet to hear another song that discusses the struggles of the trans community, and I have not heard responses to this one as of yet. It was something I never expected on a song by The Script. In my ignorant opinion, I think the song writers might have had good intentions, but there's something that feels disingenuous.
Another song with problematic lyrics is "Love Not Lovers," which is about Tinder and hookup culture. As O'Donoghue sings about how you won't find love, only lovers, on dating apps, it feels like wise advice from someone out of touch. Each verse describes a hook-up with a male and how the male leaves, without specifying gender, because he doesn't love them. The chorus then goes: "…No more one bed to another/'Cause you will never find love, you'll only find lovers." Problematic lyrics, to say the least.
The Script has taken its biggest step yet, both musically and lyrically, but I'm not sure it is enough to make the band really stand out or help them keep up with the Top 40 that has only grown more diverse. Ed Sheeran has embraced his Irish culture ("Galway Girl"), Mexican pop dominated the summer ("Despacito"), an incredible song by Logic about suicide prevention ("1-800-273-8255") hit the Top 40 charts and hip-hop and rap have taken over the previously pop-dominated charts. So while it was a step in a more modern direction, I don't feel it was enough or altogether the right choice. The music industry isn't in the same place it was when "Breakeven" and "A Man Who Can't Be Moved" were on top of the charts.
Title: "Freedom Child"
Artist: The Script
Release Date: Sept. 1, 2017
Rating: 2 out of 5 stars
About the Writer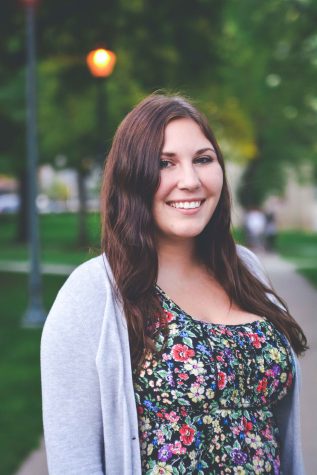 Alex Clarke, Arts & Entertainment Editor
Alex Clarke is a senior with majors in english and psychology and a minor in marketing. She also writes for Trill Mag, wrote for McClatchy newspapers for...