"So Social" tour brings Smallpools back to Cleveland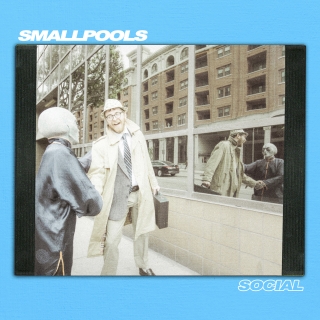 Remember fall? So many great things happened: you could go outside without freezing your eyebrows off, the Patriots weren't going back to the Super Bowl and University Program Board (UPB) brought in Smallpools as one of their fall concert artists. While there have been unfortunate developments on two of those fronts, Smallpools has done their part to keep the good times rolling by releasing a five song EP entitled "So Social" in December and announcing a tour, including a stop in Cleveland, in support of their new material.
The album itself is standard Smallpools fare. Fans of the band will be happy to hear their guitar driven pop-rock combo return in full force, with catchy riffs and synths permeating the entire album. The two songs marketed as singles, "Social" and "Stumblin' Home," are the strongest on the album, encapsulating the joyous energy and almost goofy lyrics typical of previous hits. The three songs that round out the EP, "Downtown Fool Around," "People Watching" and "Beggar," are fun too, but don't stand out that much—you might not intentionally play one of them, but once on, there's no reason to turn them off.
Smallpools' biggest weakness comes in their consistency—the entire album sounds like the band fans know and love, but there's no real sign of musical development or experimentation. The new songs are fun and the EP is solid, but none of the songs match the heights of previous hits like "Dreaming" or "Million Bucks." All in all, "So Social" is an enjoyable listening experience, and if you're looking for the indie pop sound Smallpools is known for, you can't really go wrong with trying out the new material.
Their tour dates sadly do not include a dedicated Cleveland show. Instead, they'll be stopping at Brite Winter, an indoor/outdoor music festival held on Feb. 23 at the West Bank of the Flats. The festival, which sells VIP tickets for between $50 and $200, is free—with donations appreciated—so if you felt like you missed an opportunity to see them for cheap in the fall you've got a chance to redeem yourself.
You can also discover some new bands while you're there, like the Cleveland area Mourning [A] BLKstar, a self-described "multi-generational, gender and genre non-conforming amalgam of Black Culture dedicated to servicing the stories and songs of the apocalyptic diaspora," or Front Porch Lights, another local Cleveland band whose five-piece lineup has produced a sound one critic called "the kind of mid-tempo Americana that we've been sorely missing." Just make sure you're at the mainstage when Smallpools make their appearance.
"So Social" is available now on the band's website and on streaming services like Spotify and Google Play Music.
Album: So Social
Artist: Smallpools
Release: Dec. 7, 2018
Rating: 4 out of 5 stars