This week a priority for sororities
Formal recruitment brings in new members
At the beginning of every Spring semester, Case Western Reserve University's sorority sisters fill the Tinkham Veale University Center and Thwing Center for formal recruitment.
The four days of recruitment, spread out over two weekends, allow sorority members to interview new recruits and learn more about potential new members' interests. Simultaneously, each recruit learns more about all of CWRU's sororities.
"Recruitment is a mutual selection process," said fourth-year student Megan Ramirez, who is the chapter president of Sigma Sigma Sigma. "The women going through recruitment rank all the chapters and in turn all the chapters rank the women going through recruitment. The different chapters on campus have different focuses when considering each woman because we are all made up of different values and personalities, and we have to keep that in mind when deciding who to invite back."
Ramirez joined Sigma Sigma Sigma when the sorority had its start at CWRU, during the 2014 fall semester. This is the second year Sigma Sigma Sigma will be involved in formal recruitment, in addition to the eight other sorority chapters at CWRU.
Sorority formal recruitment is known for being a stressful but rewarding time for potential new members. To assist new students in their selection processes, some older sorority members remove themselves from recruitment and become Rho Chis. A Rho Chi is a mentor and advocate position, there to help new interested members.
Currently the Watchcare Representative for the senior class of Alpha Phi, fourth-year student Kya Sherman went through a year of being a Rho Chi during recruitment.
"As a mentor, they help guide the potential new members through the recruitment process with unbiased wisdom and advice," said Sherman. "As a friend they are there to hear about every single amazing moment and inspiring conversation, and are there to be comforting for the disappointing moments or tough decision. As resources, Rho Chis know how recruitment works from both sides."
After going through recruitment last year, second-year student Celeste Engel already holds a leadership position in Phi Mu as the Pytte Cup chair. She remembered the stress of waiting during the week between recruitment weekends to find out if she got into Phi Mu, and being scared that she wouldn't be invited back.
Though Engel ended up in the sorority where she wanted to be, she still thinks some adjustments to the recruitment process could be made.
"I wish individuals could get over the more typical questions such as 'Where are you from?' or 'What's your major?' I feel that there is so much more to a person than just the answers to these questions," she said. "I remember going through recruitment and most recruiters only talked about my hometown."
While the majority of sorority members join through formal recruitment, most fraternity members join through informal recruitment. Instead of speaking to every Greek house and following a series of predetermined steps to decide where the potential new member will placed, the individual new members have more freedom to choose the Greek houses that they want to know better.
Some sorority members think that formal recruitment could benefit from becoming more informal. Pi Beta Phi's Vice President of Fraternity Development Verity Forsythe, a third-year student, thinks that the two weekends could include some informal events.
"However, part of the reason I do not want to change the structure and formality of formal recruitment is because it requires potential new members to meet members from every chapter, and not just the ones that they think they want to join from stereotypes that may exist," said Forsythe.
Ramirez also thinks that recruitment could change to be a little less stressful.
"I probably wouldn't have the women going through recruitment meet every single chapter on the first day," she said. "It was extremely overwhelming to talk to so many women and then decide, after talking with each chapter for only 20 minutes, who I liked best. I would rather have met all the chapters over the span of two days."
Though Sherman agrees that formal recruitment is overwhelming, she prefers the formal aspect of it. Meeting all of the sororities allows for potential new members to narrow down their decisions and evaluate their options instead of choosing too quickly.
Although formal recruitment follows strict traditions, some sororities have broken away from customs. For example, Sigma Sigma Sigma, Sigma Psi and Kappa Alpha Theta will accept transgender women, whereas many sororities only accept cisgender women. Additionally, moves have been made to place less emphasis on feminine clothing during recruitment days.
Sherman, and many other sorority members, offer encouragement to potential new members going through recruitment.
"Recruitment isn't just for people who have decided they definitely want to go Greek," she said. "I had no idea if Greek Life was going to be for me or not, and when I went through, I found a group of women who have challenged me to be the best version of myself."
About the Writer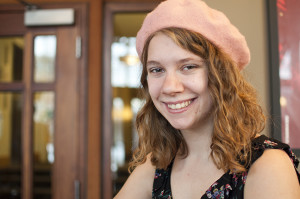 Anne Nickoloff, Director of Print
Anne Nickoloff, the Director of Print for The Observer, is a senior at Case Western. She hopes to one day be a music journalist, and has spent much of...