Sparknews' Impact Journalism Day event
On April 10, The Observer joins 19 other collegiate newspapers to celebrate journalism. The 2012 social business start-up, Sparknews, is celebrating journalism by organizing their Impact Journalism Day 2017 event, a day on which collegiate newspapers publish stories from one another's publications. These newspapers around the United States, and the world, are highlighting students' social or environmental initiatives.
The Observer has reported on two Case Western Reserve University organizations making a difference in the Cleveland community: the CWRU Food Recovery Network and CWRU Labre: A Homeless Outreach Ministry. Other collegiate newspapers are publishing these stories.
We also chose six articles from other student newspapers to feature on our website from Berkeley, the University of California, Santa Barbara, the University of Manchester, the University of Pittsburgh, the University of Washington and Tecnologico De Monterrey. In the spirit of collaboration with other collegiate newspapers, The Observer did not edit the articles from the other newspapers for style or standards.
Check out more stories and pictures from other student newspapers online.
---
Editor's Note: This article was written by a member of a collegiate publication independent of The Observer. It is being published on The Observer's website to celebrate Sparknews' Impact Journalism Day 2017 event on April 10. Sparknews' is a 2012 social business start-up. In the spirit of collaboration with other collegiate newspapers, The Observer did not edit the articles from the other newspapers for style or standards.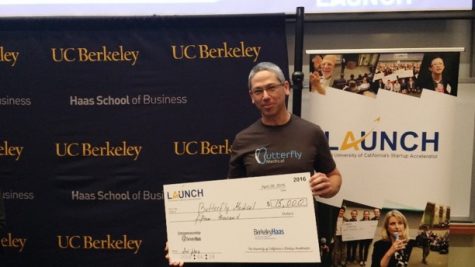 UC Berkeley alumnus's startup develops mechanism to treat urinary blockage
Ahna Straube
Butterfly Medical, a social-impact startup, has developed a device to treat urinary blockage from noncancerous enlargement of the prostate.
The company won a prize reward of $15,000 last April in a competition led by LAUNCH, UC Berkeley's leading startup accelerator, to develop the minimally invasive device — an alternative treatment to traditional benign prostatic hyperplasia, or BPH, a noncancerous enlargement of the prostate. The device's design fits the specific shape of the prostate and dilates the prostate by retracting its lateral lobes, restricting the flow of urine.
The device resembles a butterfly, the inspiration for the company's name. As men age, their prostates grow, which can restrict the flow of urine and cause them to make multiple trips to the bathroom per night, according to Idan Geva, CEO of Butterfly Medical and former UC Berkeley master's student in the Haas School of Business.
"It is considered the most prevalent disease in aging men," Geva said. "It's affecting tens of millions of men around the world."
Butterfly Medical's device is made up of a unique metal with shape memory called Nitinol and is  placed in the prostate, pushing aside the restrictive tissue and allowing urine to freely flow out, according to Geva. Additionally, the device can be quickly obtained and used, offering patients instantaneous relief.
Geva added that the procedure takes no more than 10 minutes and that afterward, the patient is symptom-free. "That's the big innovation," Geva said.
LAUNCH's intensive three-month accelerated program is open to the entire UC system and aims to propel prototype-ready businesses into their next stage of growth. In the fall, LAUNCH judges choose 20 to 25 of the most impressive startups in the UC system.
At the end of the three-month program in late April, Butterfly Medical and its co-competitors participated in Demo Day, which included a startup showcase expo, final pitches to judges and an audience of more than 300 people.
Geva said he started working with Butterfly Medical in the early stages of the company's development. The LAUNCH accelerator program brought "friendly eyes" to observe and advise Butterfly Medical, he said, while also allowing the company to win some money.
"LAUNCH brought things to the front of the stage and helped me shape my perception on how I'm going to market my product," Geva said.
Helpful Village — an online platform that creates communities of senior citizens called "villages," through which they can assist and advise one another — was among the 19 teams picked to participate in Demo Day last spring.
Manuel Acevedo, founder of Helpful Village, said LAUNCH "gets you out of your safe zone" and also serves as a way for a company to address its weaknesses.
During the accelerator program, LAUNCH also provides startups with entrepreneur mentors who lead teams through a "rigorous curriculum" by UC Berkeley faculty, according to the LAUNCH website.
Cathy Schwallie Farmer said she was matched specifically to advise Butterfly Medical because of her experience with information technology and health. She served Geva by providing instructions, offering helpful suggestions and introducing him to large medical organizations, such as Kaiser Permanente.
"I was … (Geva's) creative bouncing board," Farmer said. According to Farmer, the LAUNCH program requires startup founders to interview 100 customers.
"That is not trivial, and it is profoundly valuable for any entrepreneur," Farmer said.
Farmer added that she has family members with prostate cancer, piquing her interest in helping Butterfly Medical succeed. Robert Moore, co-chair of LAUNCH, said Haas will hold its next Demo Day on April 27.
Editor's Note: This article was written by a member of a collegiate publication independent of The Observer. It is being published on The Observer's website to celebrate Sparknews' Impact Journalism Day 2017 event on April 10. Sparknews' is a 2012 social business start-up. In the spirit of collaboration with other collegiate newspapers, The Observer did not edit the articles from the other newspapers for style or standards.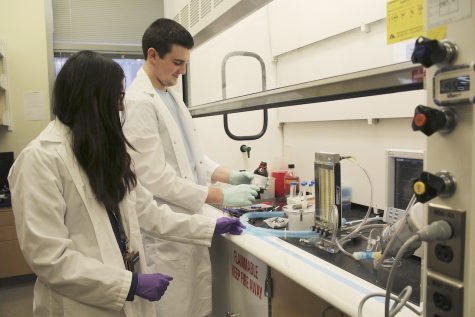 Bioengineers Without Borders brings medical technology where it's most needed
By Monica Mursch Contributing writer
Eric Swanson wasn't planning to be so involved in Bioengineers Without Borders (BWB) when he first joined. Now, as president of the organization, he's pretty much as involved as he could possibly be.
BWB is a student organization at the University of Washington that focuses on creating medical technologies for places that may not have access to quality health care resources. BWB focuses on creating low-cost, quality medical equipment while also learning skills useful to bioengineering and related career fields. The teams that comprise BWB do consist of many bioenginnering (BIOE) majors or intended majors, but the team is home to members from other fields as well.
There are currently eight active teams in BWB. Swanson is the graduate leader of one team focusing on building a low-cost anesthesia delivery device. The team is built of current undergraduates Philip Walczak, Timmy Lee, Gabby Pang, Conner Pitts, Ajeet Dhaliwal, Ross Boitano, and Kaleb Smith.
The idea for the project came about approximately three years ago when Walczak was taking the "Introduction to Bioengineering Problem Solving" class at the UW. He brought his idea to BWB and wanted to turn it into actual functioning technology people could use.
"There's this lack of access to basic surgery in low-resource settings and there's a lot of reasons for that lack of training for anesthesiologists on it," said Swanson, a bioengineering Ph.D student at the UW. "Another major component is a lot of what is required for surgery [isn't] available because of the lack of access."
Along with fellow Ph.D student David Peeler, Swanson has been leading a team to create the anesthetic device. The difference between this medical technology and others available is its portability, which allows doctors to carry it with them for surgery, making it ideal for low-resource settings. Although there are other portable anesthetic devices available, many are not of good quality and can make it a challenge for doctors to apply the accurate doses they need.
Along the way, the BWB team ended up finding and working with BIOE associate professor Wendy Thomas and Anthony Roche, a professor of anesthesiology in the UW School of Public Health. Both have helped advise the team while keeping a hands-off approach to the building of the project itself.
"My role is two-fold," Thomas explained. "One of my roles is that I provide a lab space, and the other role is that I provide bioengineering expertise and help them to bounce ideas off when it comes to their project and give them feedback."
The team is currently working on a draw-over vaporizer, one type of portable anesthetic device. A draw-over vaporizer is different than a plenum vaporizer because a plenum version requires a power source to make it functional. If there is a power outage, there is no way to use a plenum vaporizer in an emergency medical situation.
During surgery, the anesthetic chamber that contains the general anesthesia or inhaled anesthesia needs to be kept at a constant temperature. That is a problem for draw-over vaporizers because it's hard to maintain the constant temperature needed for surgery.
The anesthetic device team recruited UW MBA student Aaron Boswell to help present the project at a business competition, specifically aimed at highlighting how to market the anesthetic device after the project is completed and ready for medical professionals to use. With his help, the team won second place and a grant of $10,000 at the Holloman Health Innovation Challenge on March 3, 2017.
Another BWB team is focusing its efforts on building a hydration monitor, a device that measures hydration levels for communities where people may not be able to diagnose themselves properly. The goal is to create a quality monitor to use in developing countries most in need. The device this team is creating is unique because there is a lack of competitors attempting to address the same issue.
"The focus is on infants and children ages zero to five who cannot speak for themselves, whereas adults can say whether they are dehydrated or not," co-project manager and BIOE undergraduate Micaela Everitt said.
In addition to Everitt, this team is made up of Annapurni Sriram, Barbie Varghese, Caleb Perez, Devin Garg, Emily Chun, Jocelyn Ma, and Vidhi Singh. BIOE Ph.D student and mentor Hal Holmes serves as an advisor because of the core members who were working on the project at the time. Holmes said he was impressed by their passion and drive for the project, and he has stayed on as the team has added more members to the project.
The faculty advisor for the hydration team is Matthew Bruce, a principal scientist/engineer at the UW's Applied Physics Laboratory. He aids the team with technical direction and advises them on other mechanical aspects of the project.
"For people in a place without immediate access to healthcare or doctors, they will need to use a device like this to try to diagnose whether or not their child is dehydrated and by how much," Sriram said.
BWB welcomes anyone who is passionate and willing to learn the skills needed for various projects, and the organization is also currently looking for any upperclassmen in a technology-related major to get involved. The best candidates will be passionate and driven to create technology that can make meaningful change around the globe.
Editor's Note: This article was written by a member of a collegiate publication independent of The Observer. It is being published on The Observer's website to celebrate Sparknews' Impact Journalism Day 2017 event on April 10. Sparknews' is a 2012 social business start-up. In the spirit of collaboration with other collegiate newspapers, The Observer did not edit the articles from the other newspapers for style or standards.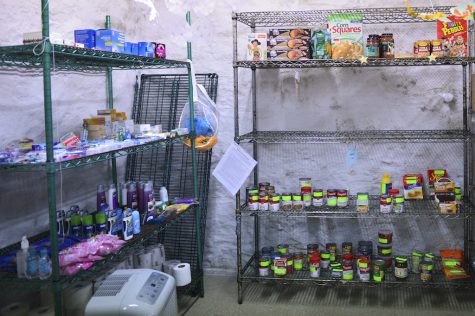 Pitt Pantry addresses rising food insecurity
Janine Faust, The Pitt News staff writer
After finishing a shift at Market Central, Alexandria Dsouza usually swings by the Pitt Pantry to pick up her groceries for the week.
"I come here primarily for toiletries, like toothpaste and toilet paper, and breakfast foods like bagels and cereal," Dsouza said, leaning comfortably against the pantry door frame, a bag of bagels firmly cradled in the crook of her elbow. "And beans. Beans are great."
Dsouza, an international student from India, lives off-campus in the Shadyside neighborhood. Since getting to the University of Pittsburgh in August 2016, she's been visiting the pantry to save her wages for rent, tuition and additional costs that inevitably crop up.
"Every little bit helps…Most of the money I make working at Market Central goes toward my rent and other expenses," Dsouza said. "Any chance to save cash makes a difference to me because I've taken on a lot since arriving here."
The Office of PittServes — which connects students with service opportunities —facilitates the non-profit, volunteer-run Pitt Pantry. The Pantry takes donations from individuals, food drives and food recovered from businesses including Starbucks and Einstein Bros. Bagels. It also receives cheap and healthy recipes from the Greater Pittsburgh Community Food Bank.
"We've had tremendous support from the local community," Smith said. "Sometimes we'll get food from drives we didn't even know were held."
Tucked away in a corner room of the Bellefield Presbyterian Church's basement, the pantry is not a permanent structure and is only open Wednesdays from 5 p.m. to 8 p.m., Thursdays from 1 p.m. to 4 p.m. and Fridays by appointment. Colorful paper decorations hang from the ceiling and brush shoppers' heads as they follow their pantry guide — a student volunteer — to the beat of pop music playing in the background.
Healthy, easy recipe ideas dangle over collapsible shelves housing perishable items. Next to a refrigerator stocked with yogurt and salads is a folding wall, decorated with tacked-on coupons.
Junior Madoc Smith — one of three or four student volunteer workers on duty at all times — escorts individual shopper through the pantry during a shift in February, asking about their allergies and diet and if they own a can opener or microwave. If needed, the mathematical biology, computer science and urban studies major directs them to the vegetarian or gluten-free sections.
"The people who come in here, they're just kids trying to eat," Smith said. "We try to make it as welcoming an experience as possible."
As Smith guides a shopper through the pantry, he tells them how much food they're allowed to take. Pantry customers are allowed to make two visits a month and must fall under the United States Department of Agriculture's federal income eligibility guidelines. The income limit is $17,820 for an independent individual, $24,030 for a couple and $36,450 for a family of four. The amount of food a customer is permitted to take depends on how many people they're shopping for. For instance, a person shopping for just themselves may take one can of soup, but a person shopping for three people may take two.
"We try to supply students with aid beyond just giving them food," Smith said. "We'll also hold home winterizing workshops and do stuff like send them information about stores holding sales."
 At a University that costs upwards of $17,000 a year, or more than $28,000 for out of state residents, a food pantry seems like an ironic necessity. But it might be the high — and rising — cost of college, along with all the added costs of living, that make it so needed.
The Pitt Pantry's customers are only a handful of the thousands of college students who visit campus food pantries across the U.S. — and that number has ballooned in recent years. The College and University Food Alliance welcomed its 400th food pantry in December 2016, a large increase from its original 13 college pantries in March 2012.
"Food insecurity has increasingly become an issue on college and university campuses and can pose a significant barrier to student success," CUFBA's website reads. "Addressing it serves both a human service and educational need."
By food insecurity, CUFBA means lacking access to adequate food due to a shortage of money or other resources. Hunger is more common among college students than the U.S. population as a whole, according to the October 2016 report Hunger on Campus.
The report surveyed more than 3,000 students at a mix of 34 community and four-year colleges, and found that 48 percent of recipients experienced food insecurity in the past month, having to skip meals or shorten meal sizes because they lacked funds.
Of the food insecure students in the study, 32 percent said that hunger problems had an impact on their education — 53 percent of those respondents reported missing a class, and 25 percent reported dropping a class due to food insecurity.
Erika Ninos, the sustainability program coordinator for PittServes, said alumni feedback revealed that there were times in many Pitt students' collegiate careers when they were unable to purchase nutritious food or were forced to cut back on meals to save costs. This information led to the pantry's creation.
"After benchmarking other institutions and researching what is available locally for students, a cohort of students came together with the Office of PittServes to create the Pitt Pantry," Ninos said.
During its first month, 23 people visited the Pitt Pantry. Now nearly two years old, the pantry serves between 50 to 100 members of Pitt's faculty, staff and student body a month.
Pitt is not the only Pittsburgh-area college to start a food pantry. The Community College of Allegheny County — CCAC — started its own in April 2015.
The CCAC's pantry, called the Campus Cupboard, follows the same federal income guidelines as the Pitt Pantry. It's open two hours a day, four days a week, and customers are allowed to visit once per month. Kelli Maxwell, dean of student development of CCAC's south campus, said that its visitors come from all demographics and socioeconomic statuses.
"We've got a lot of young people, but we also have older people going back to school to get a degree," Maxwell said. "We also have students that are parents or full-time workers."
Neither lack of employment, a lack of access to college meal plans or financial aid have been found to be contributing factors to food insecurity among students. The Hunger on Campus report found that of the food insecure students surveyed, 56 percent reported having a paying job, with 38 percent of them working 20 hours or more per week.
Among the respondents from four-year colleges, 43 percent of meal plan enrollees still experienced food insecurity, and three in four food insecure students received some form of financial aid. More than half — 52 percent — received Pell Grants, and 37 percent took out student loans during the current academic year.
More students are going hungry simply because students are spending more money to cover the rising cost of tuition. According to a 2015 report by the Center on Budget and Policy Priorities, tuition at public four-year colleges has gone up $2,068 on average since the 2007-08 academic year. Simultaneously, state spending on higher education nationwide is down an average of $1,805 per student since the Great Recession.
Furthermore, more and more people are feeling pressured to attend college even if it's unaffordable. A 2013 study by Georgetown University predicts that almost two-thirds of open jobs on the American market will require higher education beyond high school by 2020.
The burden of covering college expenses often falls solely on students, with family members less capable than before the recession to help cover costs. According to College Board's 2016 report, the average total cost of tuition, fee and room and board rose 10 percent from 2010 to 2015 at public colleges while median family income rose just 7 percent over the same time period.
An undergraduate Pitt student and visitor to the Pitt Pantry who wished to remain anonymous said she attends the pantry because she can't risk asking relatives for spare funds, and what money she makes must be put towards other expenses.
"I don't want to bother [my mom] for cash for food while she's got her own expenses to cover," the student said. "All the cash I make over the summer I use to pay my rent."
The student said she doesn't think people realize just how many people benefit from the Pitt Pantry's presence on campus and how much its services mean to many students.
"It's definitely the best program Pitt has to offer — after all, everyone needs to eat dinner," the student said.
Editor's Note: This article was written by a member of a collegiate publication independent of The Observer. It is being published on The Observer's website to celebrate Sparknews' Impact Journalism Day 2017 event on April 10. Sparknews' is a 2012 social business start-up. In the spirit of collaboration with other collegiate newspapers, The Observer did not edit the articles from the other newspapers for style or standards.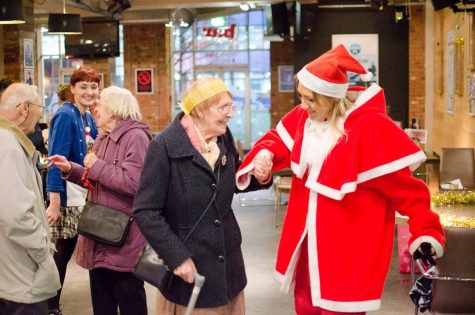 How Intergenerational Projects Are Tackling the Loneliness Crisis
Jacob Nicholas
As the UK's population ages, loneliness amongst the elderly is quickly becoming an epidemic. According to the latest research by the Campaign to End Loneliness, 17% of older people have contact with family, friends or neighbours less than once a week, and 11% have contact less than once a month. Over half of those aged over 75 live alone.
Loneliness and isolation are bad for our health too, with a lack of social interaction being as harmful as smoking fifteen cigarettes a day – it's more dangerous than obesity or not doing any exercise. Clearly, the problem is an important one, and it needs tackling.
With this in mind, the Intergenerational Projects group at the University of Manchester set out to get elderly people in the local area together for parties, film afternoons, and a whole host of other activities.
"People forget what difficulty people can face just by being older," said Charlie Spargo, one of the group's project leaders, "I think it's important to help out people, especially those who are often alone – living alone or having lost a spouse – to give them a chance to have a more normal experience by mixing with friends, making new friends and keeping active and engaged in society".
"We're all volunteers who work with elderly people in the local area. We invite them to normally four parties a year in the Students' Union, where we put on entertainment and food and a few drinks for them, and give them a nice afternoon of time with their friends, who they've met normally through the parties, and a chance to socialise with people".
Tackling loneliness is hugely important to the group. "A lot of them are inside all day, and both the parties and film afternoons are to hinder isolation and make sure they get something out of their time," according to Lise Albertsen, the group's co-ordinator and general leader.
"It gets them out of the house if they're at risk of isolation," agreed Charlie.
However, the group do not settle with just providing a chance for people to socialise. "We don't just put them in a room and have a party, we always make sure that they're doing something", Charlie emphasised, "like bingo or a quiz or listening to music put on by student groups, and try and give them as good a time as we can." The group even hosted a recent cheese and wine party – though they received some complaints about the cholesterol.
These nights are popular too, with numbers increasing all the time – there are now a total of 148 now on the invite list, and their last party had around 70 attend – "it was massive," according to Lise.
The group are extremely keen to improve the relationship between students and the wider community. "It's of massive importance," Lise told me, "especially when you're a student you kind of get locked into the campus – the campus and your home, and you don't really see the rest of Manchester."
"It can be a bit sad when you see someone who's just done their university degree and never gone off the beaten track – never met anyone who wasn't a student, and then they leave and never come back," said Charlie. "I think that's sad."
The intergenerational events highlight just how easy it is to fall into this student bubble. "A lot of the guests to the intergenerational parties are from… the areas that we associate as just students, but actually there's a little community of their own that they get involved with", Charlie told me – demonstrating not just how noisy and obvious students are, but how easy it is to ignore the rest of the community, particularly the elderly.
Intergenerational projects do not just help the elderly, however: "It's very much a two-way connection – they gain from us and we gain from them", Charlie explained.
"You see it with the volunteers," Lise elaborated, "most of them have never worked with the elderly, and then they come out of their first volunteering session or film afternoon or party, and they're so excited and they're so happy and they've spoken to people and got to know stories – they just love it."
"We're not just volunteering out of duty," replied Charlie, "we also really do enjoy it because they're just a great bunch of people to spend an afternoon with."
"They're so kind and funny and sassy," Lise said, beaming.
"Some of them have definitely got an attitude," Charlie admitted, "but they just want to have a bit of fun, make a bit of trouble sometimes."
Loneliness amongst the elderly is a serious problem – the UK is a country where two fifths of older people say that their main source of company is their television. "In Britain especially, we have a tendency to leave behind people over a certain age," agreed Charlie, "it's easy to forget about groups of people like that, and I don't blame anyone for doing it."
The group may not blame anyone for failing to include the elderly, but that does not mean they are happy about it. "They're so intelligent and they're so smart and clever and funny, and I think they're being forgotten in society," Lise complained. The group accept that they do not know "what the solution is" at the national level, but their efforts certainly make a difference here in Manchester.
Editor's Note: This article was written by a member of a collegiate publication independent of The Observer. It is being published on The Observer's website to celebrate Sparknews' Impact Journalism Day 2017 event on April 10. Sparknews' is a 2012 social business start-up. In the spirit of collaboration with other collegiate newspapers, The Observer did not edit the articles from the other newspapers for style or standards.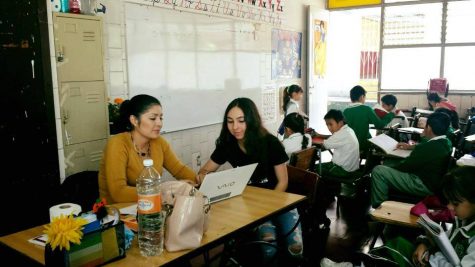 Technological Instruction for Professors by Students
Every day we are more immersed in an era in which our lives revolve around technology, and without it, we simply don't progress. The education field is not an exception; multiple education systems from around the world are using technology on a daily basis to develop more competitive students. Unfortunately, the transition hasn't been homogeneous in many countries, and one of them is Mexico.
This was the problem identified by three students from the Tecnológico de Monterrey in Guadalajara, three semesters ago: Betsua Nohemí Francisco from Financial Management, Francisco Castañeda from Civil Engineering, and Metztli Benavides from International Relations.
During a Business Development with Social Impact course from the Monterrey's Entrepreneur class, the students began working on a project to solve one of Mexico's social problems. They realized that without an efficient and competitive education system, Mexico will get stagnant and won't progress.
Francisco explained that she has always viewed education as a key piece in the development of Mexico, and Castañeda, who is from one of the most violent cities of Mexico, Tamaulipas, has suffered the loss of some of his friends at the hands of violence.  Nevertheless, they have also seen the way many of them have progressed thanks to education.
After deciding to focus on education, the students conducted an investigation at local schools to analyze the way they could address the problem, because the education system in Mexico is very complex and difficult to understand.
They discovered that there is very little technological involvement in the classroom because of limited pedagogical training and technological training.
If this is one of the elements to solve in the country, how do we plan to progress if one of the pillars is weak?
This was the moment in which Francisco, Dávalos and Campos decided developing programs that train teachers to use technology, given that in many cases they lack access to training.  And TIPS was born, a project run by students, which trains teachers in their free time to use technological tools in the classroom.
"The professors are a key piece of the education quality because they are the ones who develop the society", explained Betsua Francisco.
The Public Education Secretary in Mexico offers technological training but many teachers in Mexico struggle to attend. The teachers have low salaries and they often work overtime.
Besides, the SEP training is also ineffective as there are few instructors and many teachers interested in learning. Some teachers have told TIPS that in the training they were taught theoretical knowledge such as the definitions of the internet and its tools. They were not given practical training that they could apply to their classes.
TIPS aims to solve this problem by having one student from the Tecnológico de Monterrey train three professors at a time, as part of their social service requirements. In the trainings, professors are taught the basics, such as learning how to turn on a computer, to using more advanced tools such as Microsoft Office. There are different types of trainings based on the knowledge previously acquired by the teacher.
Additionally, TIPS received a fund of $192,000 Mexican Pesos, which was used to buy technological equipment. Many of the students of the beneficiary teachers have never had an experience with this type of material, so it is also sought that these trainings develop more competitive students.
Results until date
During the previous semester, 15 students began doing their social service with TIPS, but today there are 35. Every student is assigned with three teachers to train, which is why there is a close relationship between the students and teachers in which the teacher is not afraid to fail and learn.
In a day, the teachers can be taught how to use excel, use the cloud as a tool, or simple things like how to send an email. In a semester, they can learn how to use Microsoft Office and how to create web content.
The teachers are happy with the results; Sandra Hernández, who is teaching in an elementary school, said that one characteristic of the students is that they are always on the technological edge and the teachers are not. She talked about how she has been a better teacher thanks to TIPS and the trust they have in her, that motivated her to ask more questions and to use her new knowledge in the class.
Future plans
The first step for 2018 is to replicate the same model in another campus from Tecnológico de Monterrey, and after that, replicate it in other universities of the country.
Betsua Francisco ends the interview with this sentence: "Education is the key piece for Mexico's future". Therefore, we should not forfeit at fighting this problem, because here is the ingredient for a real change in our country. There is still time to do something.
By Diana Karely Moreno
Editor's Note: This article was written by a member of a collegiate publication independent of The Observer. It is being published on The Observer's website to celebrate Sparknews' Impact Journalism Day 2017 event on April 10. Sparknews' is a 2012 social business start-up. In the spirit of collaboration with other collegiate newspapers, The Observer did not edit the articles from the other newspapers for style or standards.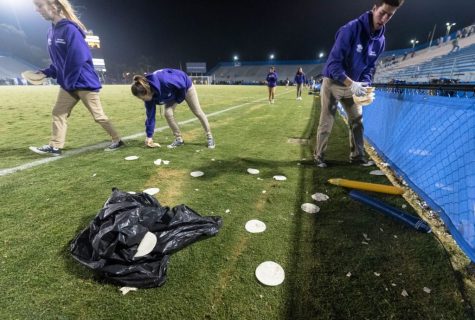 Tossed Tortillas Land in Campus Compost Bin
By Josh Ortiz
It is UC Santa Barbara tradition for students to fling tortillas onto the field after a goal during home soccer games, a custom that will undoubtedly continue into Saturday's match against rival Cal Poly.
In the immediate aftermath of Saturday's game, though, students might also expect to see a UCSB library employee on the field collecting the tortillas as she has done at every home game for almost a decade.
Margaret Rankin describes herself as someone who has been reducing, reusing and recycling "before those words were ever known." She recalls going to a soccer game at Harder Stadium about seven years ago and seeing the field laden with several hundred pounds of tortillas.
She naturally began to question their fate and soon learned that field staff disposed of them in the landfill dumpster.
"It was such a waste; to just send them to the landfill is just appalling," she said. "I thought, 'If they're going to continue this, then let's do something about it that's actually helpful.'"
The librarian first asked UCSB Athletics if she might take the tortillas to add to her own backyard compost operation. She later decided to collect the tortillas for on-campus composting.
Associated Students Recycling (ASR) partnered with her shortly after and supplied designated tortilla bins for her to wheel over to their on-campus composting facility just a couple hundred feet from the stadium.
According to Sarah Siedschlag, the A.S. environmental programs advisor and former ASR program coordinator, the A.S. Department of Public Worms, formerly a part of ASR, had been composting the tortillas in their worm bins when she came in as coordinator in fall 2012.
The mass of tortillas proved "too much for the worms," she said, and so the program opted to have the tortillas industrially composted off-campus in fall 2013.
Tortilla-flinging began in 1995 during an ESPN-televised basketball game against DePaul University when the student section threw tortillas on the court after the first basket. The tradition was adopted for soccer matches about a decade later.
The flying tortillas were especially problematic during basketball games; officials whistle any object thrown onto the court as an automatic technical foul for the home team, giving a free throw to the opposing team. Known as the "tortilla technical" in the 1990s, the tradition once cost UCSB three technical fouls in a close game against Pacific University in 1997, prompting former head coach Jerry Pimm to take a microphone and plead that audience members act more like adults.
To avoid such outcomes, UCSB Athletics does not allow tortilla-throwing at basketball games or soccer games.
Nonetheless, UCSB Athletics currently has a "quick response plan" in place whereby field staff retrieve the tortillas almost as soon as they land on the field. The staff then bag the tortillas and leave them on the sidelines for Rankin to collect later.
Rankin is not allowed on the field during the game, she said, but the exclusive pass granted to her by UCSB Athletics allows her to gather the tortillas in the moments following the game's conclusion. She said her pass reads that she is the "Director of Phylum Annelida" (Annelida is the phylum to categorize segmented worms, which are used for composting).
Rankin said she has found students to be quite "inventive" as to how far across the field they can fling tortillas. Frozen tortillas typically go further because of their rigidness, she said, as do thick tortillas and baked tortillas.
Tortilla-throwing is "a good release" for students, Rankin said, but she doesn't want to encourage it.
"I just try to get a better solution to what could have been wasted," Rankin said.
In her years collecting tortillas, Rankin said she has hardly received thanks for what she does. This is fine, she said, because her work is completely voluntary, and she aims to keep a low profile.
"At least I make millions happy, which just so happen to be worms," she said.
Editor's Note: This article was written by a member of a collegiate publication independent of The Observer. It is being published on The Observer's website to celebrate Sparknews' Impact Journalism Day 2017 event on April 10. Sparknews' is a 2012 social business start-up. In the spirit of collaboration with other collegiate newspapers, The Observer did not edit the articles from the other newspapers for style or standards.
About the Contributor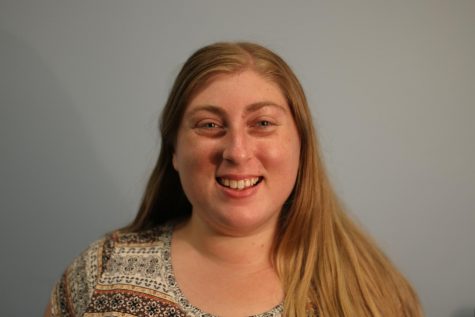 Sarah Parr, Director of Business Operations
Sarah Parr is a fourth-year at Case Western Reserve University and has been involved with The Observer since day one: she was the social media editor for...