Swinging away
Spartan softball wins seven straight
The Spartan women have kicked their season into high gear as they currently have compiled a seven-game win streak since their return from the University Athletic Association (UAA) tournament.
"We have been really playing well," said Head Coach Josie Henry. "Good pitching performances, our strong offense have done really well."
This may be an understatement, as the Spartans have knocked in an astounding 67 runs since returning from the UAA tournament in a total of seven games. The Spartans have jumped out to narrow wins in the opening caps of double headers and then followed the hard-fought wins with blowouts in the second matchup of the day. The close wins have come courtesy of strong Spartan play.
"We have been really aggressive in the opening games," said Henry. "Using pinch runners and just attempting to jump on the ball has helped us get to victory."
Despite the red hot nature of the Spartans' play, the team has had multiple games moved due to weather and have played just as many in the cold, wind and rains that accompany Ohio in the spring. It has been an ongoing battle for the team to find and keep games scheduled.
"We have the right equipment for it," said Henry about the weather. "From handwarmers to sweatshirts and jackets, we are prepared for the cold. Plus we practice in it so we are acclimated to the cold."
Despite the cold, the Spartans have clicked in over the past weeks. The Case Western Reserve University squad has had many leaders step forward and help the team win. The UAA Athlete of the Week, sophomore Annie Wennerberg, who set the CWRU softball home run record last week, hit .600 with four homers last week, scoring nine runs and putting up 12 RBIs. In addition to Wennerberg, leadoff hitter Molly O'Brien has been a driving force for the team. "Molly has the ability to have the will herself to win, no matter the school," said Henry.
Freshman outfielder Katie Wede has been a great addition for the Spartans as well, giving full effort on every play. Wede's highlight from the weekend was when she made a diving catch onto the warning track. When she attempted to repeat the feat on a following play, Wede skidded straight into the chainlink fence. She jumped straight up and continued full strength right into the next play. "Katie's [Wede]'s play has been infectious for our team," said Henry.
The Spartans will look to continue their winning streak as they take on Wooster on Saturday at 1 p.m. and 3 p.m. and will return to campus to take on Denison on Monday.
About the Contributor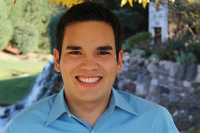 JP. O'Hagan, Sports Editor
JP. O'Hagan is powering through his third year as Biomedical Engineering major and Spanish minor, while serving The Observer as Sports Editor. JP is...