Spartans earn conference, national awards
Brooke Hortness named UAA Diver of the Week
Fourth-year veteran diver Brooke Hortness earned University Athletic Association (UAA) Diver of the Week honors on Dec. 5 following her performance at the Wooster Invitational. At the meet, she competed in both the one and three meter dive events. She earned a personal-best score of 387.85 in the three meter dive, following 11 dives, and a score of 342.95 following 11 dives in the one meter event. Hortness, a nursing major, earned UAA All-Academic honors her second and third years on the team. The swimming and diving teams return to action on Jan. 20 when they host State University of New York at Geneseo.
Elle Zadina on Academic All-American Team
The College Sports Information Directors of America (CoSIDA) selected fourth-year veteran midfielder Elle Zadina to the women's soccer Division III Academic All-America Second Team on Dec. 5 for her achievements both in the classroom and on the field. Zadina led the Spartans with eight goals, 34 shots and 17 shots on goal. A computer science major, Zadina carried a 4.0 GPA heading into her seventh semester. Both this season and last season, she earned UAA All-Academic recognition. Zadina is the fourth women's soccer player, and 98th Case Western Reserve University student-athlete, to earn CoSIDA honors. The women's soccer team finished the season on Nov. 4 with a 7-11-0 record.  
Three football players on All-Region team
D3football.com named three CWRU football players to the All-South Region team on Dec. 6. Fourth-year veteran center Gage Blair earned second team honors, while fourth-year veteran quarterback Rob Cuda and fourth-year veteran running back Jacob Burke earned third team honors. Blair and Cuda both earned honors in previous seasons, while the honor is Burke's first. Gage led the Spartans' offensive line in nine games this season and 39 games in his career. He has earned All-Presidents' Athletic Conference (PAC) and All-UAA honors in each of his four years. Cuda, the PAC and UAA Offensive Player of the Year, threw from 2,830 yards and 29 touchdowns and added 506 yards and seven touchdowns on the ground. Burke ran for 1,110 yards and 17 touchdowns, eclipsing 1,000 yards for the second straight season. The Spartans finished the season 11-1, earning their second ever playoff victory with a win over Illinois Wesleyan University.
Track and field earns three UAA Athlete of the Week honors
Second-year returning field athlete Dominic Oddo, second-year returning sprinter Michael Hradesky and fourth-year veteran thrower Cassandra Laios each earned UAA Athlete of the Week honors because of their performances at the Spartan Holiday Classic on Dec. 2. Oddo broke the school record with a 6.97 meter long jump, finished first in the 60-meter hurdles and third in the high jump. Hradesky finished first in the 800-meters with a time of 1:58.03 and currently ranks first in the UAA. Laios broke the school record with a 13.65 meter shot put throw and finished third with a 15.77 meter toss in the weight throw. She ranks first in the conference in both events. The Spartans track and field teams return to indoor action on Dec. 8 and 9 when they compete in the Kent State Golden Gala.  
About the Writer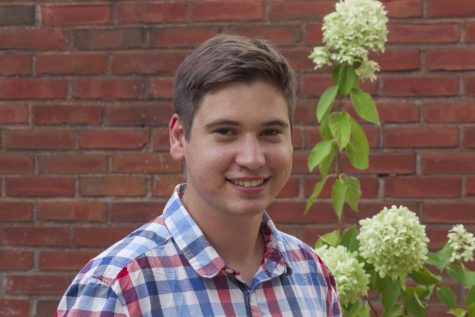 Eddie Kerekes, Executive Editor
Eddie Kerekes is in his fourth year studying chemical engineering while also pursuing a minor in German. He serves as the executive editor. Previous roles...