Spartans set to battle IWU in return to playoffs
On Sunday, Nov. 12, the NCAA announced the field of 32 teams to make the Division III football playoffs. For the first time since 2009, Case Western Reserve University made the cut.
After defeating Carnegie Mellon University in the team's final game of the regular season to finish 10-0, the Spartans knew they had a very good chance to return to the playoffs. The team will travel to Bloomington, Illinois to take on No. 11 Illinois Wesleyan University (IWU) with kickoff scheduled for 1 p.m. Just like the Spartans, the Titans (9-1) earned their spot as an at-large selection after tying for first place in their conference (College Conference of Illinois and Wisconsin). It is IWU's first trip to the playoffs since 2013.
The Titans (9-1) have one of the strongest teams in the country defensively, allowing just 10.8 points per game this season, 11th fewest in Division III. They really stand out against the run. Opponents averaged just 49.9 yards per game, 4th fewest in Division III.
"They are really good… they just execute very well," said Head Coach Greg Debeljak.
Leading IWU is fourth-year veteran linebacker Jordan Hassan. He has been a force to be reckoned with in the CCIW this season, racking up 92 tackles, 11 tackles for loss and 5.5 sacks. In three games, Hassan recorded at least 10 tackles, and he secured tackles for loss in seven of the team's 10 games.
Third-year veteran defensive back Trevor Staley is also a key part of the Titan defense. He is second on the team with 53 tackles and snagged three interceptions this season. The Spartans will need to be aware of fourth-year veteran lineman Justin Krzeczkowski, who leads the team with 12 tackles for loss. In every one of the Titans' nine wins, Krzeczkowski tackled an opponent behind the line of scrimmage.
Debeljak knows the Spartans will have to battle Titans' physicality, not just in the trenches but on the whole field. He feels that the team's scrimmage to begin the season against John Carroll University, another team with physical defenders, will prepare them well for IWU.
The CWRU offense, especially its running game, is firing on all cylinders to end the season, so it will be great to see how they match up against IWU. The team has scored at least 40 points in their final five games and at least 33 points in every single game. Meanwhile IWU has allowed no more than 26 points in a game and 10 or fewer points in seven of its 10 games.
"We're not going to try to change much and do many too many different things," said third-year veteran wide receiver Justin Phan.
Offensively, IWU presents a balanced attack. Third-year veteran running back Morgan Alexander rushed for nearly 1,000 yards and six touchdowns. Returning second-year quarterback Brandon Bauer amassed nearly 2,000 yards and 22 touchdowns through the air.
CWRU is 1-3 all-time in its three playoff appearances, with the lone win coming in its first ever playoff game in 2007 against Widener University. IWU is 3-5 in its five appearances in the playoffs. The Spartans and the Titans have never faced each other. The winner of the game will play the winner of the game between the University of Mount Union and Washington and Lee University on Nov. 25 in the round of 16.
"We want to keep playing. We want to make a run. We want to do something special, something that this school hasn't really seen," said fourth-year veteran linebacker Justin McMahon.
Facts About Illinois Wesleyan University
Location: Bloomington, Illinois
President: Eric R. Jensen
Undergraduates: 1,839
Mascot: Titans
Conference: CCIW
First football season: 1887
All-time playoff record: 3-5
About the Writer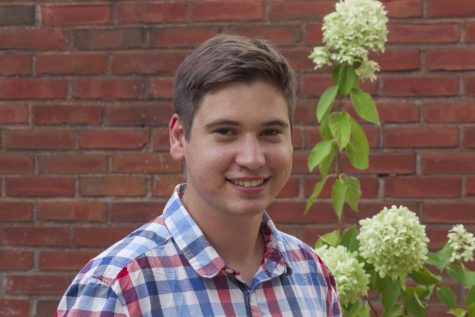 Eddie Kerekes, Executive Editor
Eddie Kerekes is in his fourth year studying chemical engineering while also pursuing a minor in German. He serves as the executive editor. Previous roles...