Spartans try to move on after inconsistent weekend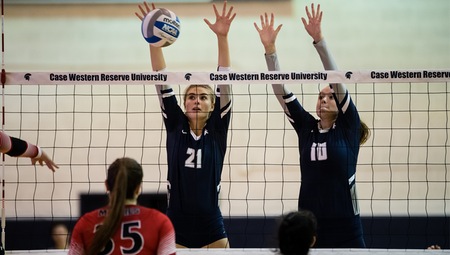 On Friday, Sep. 6, the Case Western Reserve University volleyball team rocked Horsburgh Gymnasium with a magnificent offensive display that quickly sent rival John Carroll University home. 
The same could not be said for Saturday. 
The Spartans suffered a pair of disappointing losses, both in five sets, at the hands of Muskingum University and SUNY Geneseo. 
"Any time you go five sets and lose, it's disappointing because you know you're in the match," Head Coach Karen Farrell said after Saturday's performance.
However, Farrell was pleased with the effort and intensity she saw on Friday's game. After opening the season with a tough loss one week prior, CWRU executed with near perfection most of the night. John Carroll had to take an early timeout after the Spartans jumped out to a quick 6-0 lead in the first set. CWRU dominated the rest of the set en route to a 25-11 win, capitalizing on many John Carroll mistakes. The second set was much of the same, this time a 25-16 victory, capped off by two powerful kills by fourth-year outside hitter Brianna Lemon. The Spartans finished off the Blue Streaks with a 25-22 win in the last set. 
Fourth-year setter Faith Ellis contributed 17 assists in the match. Lemon added eight kills and eight digs and fourth-year outside hitter Karley King had nine kills. 
However, that momentum could not be fully carried over into the next day. The Spartans started the match against Muskingum strong, winning two of the first three sets, yet they could not seal the deal in either of the next two sets, falling 22-25 and 12-15. 
Individually, there were some solid performances. Third-year defensive specialist, Jana Giaquinto, recorded a team-high 18 digs. Farrell raved about fourth-year, middle hitter Haley Sims and third-year, middle hitter Katie Kaminski in this match. Sims led the Spartans with 16 kills and a .538 kill percentage, and Kaminski added 12 kills of her own. King and Lemon combined for 24 kills as well. 
While the Muskingum game ended in emotional defeat, the Geneseo match proved even more deflating. In the first two sets it appeared CWRU had recovered. They came out of the gates fast, winning 25-12 and 25-13 and appeared on their way to a commanding victory. Then, Geneseo climbed back set-by-set, gaining momentum and not ceding it. 
Coach Farrell had words of encouragement for her team. 
"We can't sit there and mope about our performance. We have to get back out there and try to be stronger mentally, try to be more consistent and effective with our skill set," said Farrell.