Speak your mind
The case for free expression
It can be difficult to speak up. When surrounded by those who are different or even when
around friends, it's tempting to just smile, nod and move on. We stage internal monologues where the person is proved wrong, read some blogs that reflect the perspectives we share and know in our own minds that our opinion is completely correct. Unfortunately by doing this, we also get in the habit of letting things slide. We get complacent. We start seeming like we don't really care about anything at all.
At this point in our lives, it becomes critical that we push ourselves past the awkwardness to find a voice and make a stand for what we believe. You can stand your ground when it comes to the removal of $1 and $2 drinks from the Village Starbucks, or on some of the more sensitive issues that weigh on individuals within our community and generation.
Most of us agree that talking things out is the only way to fully come to understand one another. However we're a campus community that is growing all the time as the student body expands; we add new faculty and support staff, and University Circle draws in new businesses and restaurants. With this growth, the opportunities we have to say what we think and stand by those opinions are diminishing.
It may have become easier to post anonymous critiques online, but it's become more of a challenge to find venues where people are willing to say what they think about a topic and then claim that opinion by printing their name directly alongside. Every week in this section, we publish the perspectives, musings and impassioned ramblings from members of our campus who are willing to do precisely that. These individuals are mostly students, and their arguments and ideas reflect their personal experiences and concerns.
Though the editorial staff may make some adjustments to columns to form better arguments or to increase the level of clarity, we stand by our policy to not hold our own beliefs as a benchmark for what gets printed. These individuals who choose to make themselves vulnerable by sharing their perspectives and experiences with everyone who picks up a copy of The Observer do not always represent the opinions of the majority, but we believe in giving them an open forum to argue for their sides.
In equal measure, we give everyone from the community a chance to refute that argument or add their own. Not only are we always looking for new columnists at The Observer, we also accept and publish nearly every Letter to the Editor we receive. In this issue you'll see two of these which speak with the voices of two community members who have recognized that they need to speak up and contribute to a discussion rather than just getting frustrated by what others have said.
I've been extremely grateful for the fact that most of our issues this year have included submissions from our readers, who felt compelled to craft a reasoned and passionate response to one of our articles or columns. Without these letters, arguments are monologues rather than open dialogues, something we never want to occur.
Our pages aren't the only place to share what you think. With the end of the academic year, the Undergraduate Student Government, Class Officer Collective (COC), and the Residential Hall Association will be asking for the student body to vote on next year's representatives. It is essential that all members of this group take the time to learn about the candidates and cast their vote for the individuals they feel represent their best interests.
Within the past year, this organization has motivated some major changes in the lives of students, particularly those who are members of a student group. It's important not to take for granted that people will act in the way you would or in a way which reflects your wishes. We all have to protect ourselves from being misused, which means we have to make sure our voices are heard either in committee, in the voting forums or in a printed publication. Even if you can't find a candidate that supports what you believe in, consider running as a write-in campaign like COC's class president of 2017, Gabriel Murcia. When you have a chance to make a positive change, it's your responsibility to do so.
I'm getting ready to graduate this semester and my time at CWRU is coming to a close. I haven't agreed with everyone I've met here. Sometimes I'm shocked at the opinions expressed by my peers, and I wonder how they came to such a conclusion. When these instances occur, it's tempting to just end the conversation as quickly as possible, but as we've stated in this section earlier this year, we have to lean into discomfort. Only by having difficult conversations and arguments can we discover the root of our grievances and find a way past them. So please take the time in the next few weeks to speak your mind and claim your beliefs. You may not enjoy the experience, but you just may influence a change in our community.
About the Writer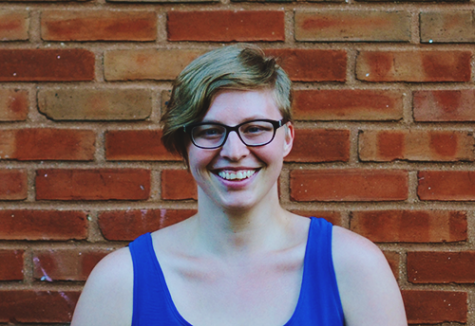 Katie Wieser, Executive Editor & Publisher
Katie Wieser is a fourth-year student working on her B.A. in Economics and is proud to serve as The Observer's Executive Editor this year. She has previously...