The Spill Canvas brings back decade-old album for latest tour
Alternative rock band The Spill Canvas released their successful album "One Fell Swoop" 10 years ago and this year embarked on their "One Fell Swoop" tour, where they played songs from (you guessed it): "One Fell Swoop."
Does it sound sort of redundant? That's because it was.
On Aug. 19, The Spill Canvas performed for a group of superfans at the Grog Shop, following openers Bonfires and The Press War. The small room became progressively more packed leading up to the headliner. Then, during "Lust A Prima Vista" (aka: the first track on "One Fell Swoop" and the first song of The Spill Canvas' set), giddy 20-somethings shouted the lyrics along with the band, forming a chorus.
The diehard fans knew every song that came next, since the concert followed "One Fell Swoop's" track listing exactly. Song number two, "Staplegunned," saw singer Nick Thomas bending over the crowd apologizing: "I'm sorry, I'm gonna spit and sweat all over you guys."
The crowd looked up, forgiving him.
Nothing new was played, but nothing new was promised, after all. In a tour titled after a 10-year-old album, it was unsurprising that they didn't dip into much newer material… but still disappointing, to me, at least.
Running an album-based tour is a disputed thing to do in the music world. Some bands hate the idea; others love it. Musician Dave Grohl has argued against full-album shows in a 2014 interview with Rolling Stone, calling musicians who do a full-album show "presumptuous" and "lazy."
Yet, many bands are known for successful full-album shows, including Bruce Springsteen and Wilco. And, due to The Spill Canvas' dedicated fans at the Grog Shop, their show could be called pretty damn successful.
I can't say I fell too in love with the concert, though. The songs' themes were repetitive, always about some failed relationship that the band members were harping on 10 years later. Before launching into "Himerus and Eros," Thomas announced, "I've got another song for you guys. It's about girls and sex; sorry, that's all I've got for you."
The concert reminded me of my high school love life … and not in a good way.
The whole "love" theme hit a low point in song "Secret Oath," with the stalker-ish, naive lyrics: "Tonight I made an oath / to keep chasing after you / and I am not going to stop / whether you like it or not."
Yuck. Nope, not feeling the same romanticism there.
Unfortunately, I wasn't able to stay for the rest of the concert, but I can imagine that they wrapped up with at least the final three songs on the album. I hope they encored with something like "Lullaby" or "All Hail the Heartbreaker." Still, the show remained dominated with "One Fell Swoop."
Granted, The Spill Canvas won considerable fame from the 10-year-old-album; they are proud of it, and aren't trying to hide anything by doing an album-based tour.
Going into a show with expectations of anything otherwise would be an error.
Concert: The Spill Canvas
Venue: The Grog Shop
Date: Aug. 19, 2015
Rating: ★★☆☆☆
About the Contributor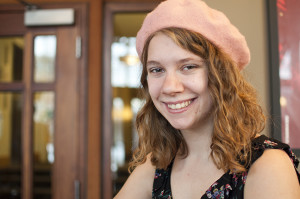 Anne Nickoloff, Director of Print
Anne Nickoloff, the Director of Print for The Observer, is a senior at Case Western. She hopes to one day be a music journalist, and has spent much of...