Pop punk fills the Agora
On Feb. 12, hundreds of concertgoers filled The Agora, removing layers of sweaters and coats. Outside, it was bitterly cold, and the chill seeped into the concert hall's lobby.
However, once inside, the crowded room heated up during a pop-punk show featuring State Champs, Neck Deep, Knucklepuck and Like Pacific. The two headliners, State Champs and Neck Deep, had just returned from their world tour; their performance in Cleveland marked the third stop of their North American travels, presented by Alternative Press Magazine.
Audience members climbed up to the top of the balcony seats, tucking their coats and scarves into corners, then ran back to the excitement below. Lights danced across the Agora's walls, flashing at every beat of the music.
Down on the ground floor, things got fairly wild.
Random crowd surfers tumbled precariously over a packed-in standing crowd during Neck Deep's set, pulled over the pit barrier by guards in front. In contrast, Neck Deep's actual performance was rehearsed; at times, the band's timing was so in sync that the musicians looked similar to a boy band dancing on the stage. Their energetic rock had the crowd dancing along. Soon, the band itself loosened up during their more well-known hits.
State Champs created a whole new level of excitement in the auditorium. Fists punched into the air and audience members sang along. At one point, a circle pit formed, and excited dancers jumped around the open area, flailing wildly on the floor. State Champs had a rawer sound, and a more intense effect on the dancing crowd.
The night's performances stayed on schedule, and despite featuring four different bands, the concert ended relatively early. Audience members sprinted back to their cars, some of them wearing shorts and t-shirts, others bundled in their warmest clothes.
Even Cleveland's coldest night couldn't keep them away from this show.
Concert: State Champs / Neck Deep / Knuckle Puck / Like Pacific
Date: Feb. 12
Location: The Agora
Rating: ★★★½☆
Leave a Comment
About the Writer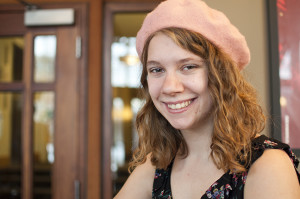 Anne Nickoloff, Director of Print
Anne Nickoloff, the Director of Print for The Observer, is a senior at Case Western. She hopes to one day be a music journalist, and has spent much of...