"Straight Outta Compton" flawed, but important look at rap group N.W.A.
The most important thing to know when viewing "Straight Outta Compton" is that two of its producers were also two of the main characters in the film (Dr. Dre and Ice Cube).
Knowing that, it's easy to see why the film is so ridiculously biased in favor of the protagonists, who were all members of gangsta rap group N.W.A. In "Straight Outta Compton," they were courageous, sexy fighters for truth, justice and the first amendment.
Was the film flawed? Oh, totally. Just take one look at the film's casting call, which ranked women from "A" to "D," and specified a darker skin tone for each less-beautiful grade. For a film that took such a rabid stance against racism, it's difficult to see their standards of beauty so adamantly (and negatively) connected to race.
Also, conveniently not included in the film were instances of Dr. Dre's abuse towards multiple ex-girlfriends, or his attack against music journalist Denise "Dee" Barnes.
And really, the orgy scene says all you would ever need to say about N.W.A.'s sexism. But I won't really get too descriptive of that scene here, past saying that the popular phrase "Bye, Felicia!" finally has some context to it.
N.W.A. was always pretty openly sexist, and plenty violent, so who could expect that to disappear in their self-produced film? At least "Straight Outta Compton" took an honest look at how the rappers grew up, and the state of police brutality today.
That's why I think this film is influential. It shaped a context around one of the most misunderstood genres of music that has existed in recent times, and it made the lyrics accessible even to non-gangsta rap fans.
Memorable scenes included one in which the band rolled past a group of protestors stomping on and burning copies of their CD's. This activity, of course, inadvertently supported N.W.A.'s album sales and growth as a musical group. Eazy E (Jason Mitchell) looks at them and, laughing, says, "They bought those motherfuckers!"
Despite the rappers' flaws, you were still rooting for them. The pure resentment the rappers showed towards a team of policemen before their concert was tangible. As the police officers demanded the group to not play hit single "Fuck tha Police" at the show, I rolled my eyes along with N.W.A.
You can't tell a musical group that gained fame off violent lyrics that they can't perform those violent lyrics. Seriously, what was N.W.A. going to play? A cover of some Beatles song?
The bad guys were harder to place. Evil-but-not-really-evil band manager Jerry Heller (Paul Giamatti) had surprising depth. The filmmakers made sure to show Heller's upstanding respect for the group, even in the face of police racism. Half of the film, you were rooting for Heller. For the rest, you were shaking your head as he easily took advantage of Eazy E and the remaining members of N.W.A.
The film's real villains were, honestly, the police.
This criticism is well-timed. In the midst of police brutality cases that seem to pop up every day, nothing is more harrowing than the opening scene of "Straight Outta Compton," where a house is destroyed in a drug raid (and, I mean, ripped apart by a battering ram), as Eazy E narrowly escapes across the rooftop.
The film has just as much to say about the world as it had to say about N.W.A. Sure, it is flawed in ways that absolutely cannot be ignored.
But the film is undeniably important—it brought light to the constantly revealed U.S. police flaws. And that absolutely cannot be ignored, either.
Film: "Straight Outta Compton"
Director: F. Gary Gray
Release Date: Aug. 14, 2015
Rating: ★★★½
Leave a Comment
About the Contributor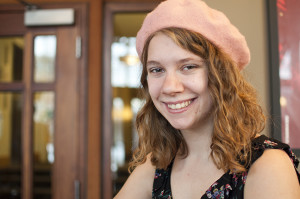 Anne Nickoloff, Director of Print
Anne Nickoloff, the Director of Print for The Observer, is a senior at Case Western. She hopes to one day be a music journalist, and has spent much of...