Student-run Food Symposium features acclaimed short film
Events centered around "Food, Health, and Politics"
This past week, students have been able to attend documentary screenings, panel discussions and more, all centering around food. This year's Food Symposium, themed "Food, Health, and Politics," began on March 23 and ran through March 30. It took place all over and around campus, from the Thwing Center on Thwing Tuesday to a discussion at Coquette Patisserie, a bakery on Euclid Street.
The symposium is mostly student-led, with hosts fourth-year student Naveen Rehman and third-year students Paul Halliday and Madeline Garb working with lecturer and Seminar Approach to General Education and Scholarship fellow Narcisz Fejes. According to Garb, planning began at the beginning of the fall semester.
"This year we partnered with the Baker-Nord Center to execute a week of events centered around 'Health' and 'Food literacy,'" said Garb.
The week is a product of collaboration with organizations all around campus sponsoring events. Food Recovery Network co-sponsored Thwing Tuesday on March 27, The Office of Sustainability hosted a Green Bag Lunch and other organizations such as Kids Against Hunger, Slow Food and University Wellness have also gotten involved.
The organizers also worked with the Greek Life Office to host a documentary screening of "Knife Skills," an Academy Award-nominated short film that focused on a local organization, Edwin's Leadership and Restaurant Institute, followed by a discussion with the restaurant's managers and two current students.
"It is a restaurant/culinary institute that hires men and women who have just been released from prison," Garb said. "It gives them a second chance at life. It is inspiring to see how food can bring an entire community together."
In keeping with the theme, other events included a Food Literacy panel discussion, a local food market featuring herbs and microgreens and a keynote address given by Marion Nestle, best known for her book, "Food Politics." According to Garb, the theme of the week was designed not only to encourage students to make healthier and more conscious food choices, but also to complement Nestle's speech.
She said, "We had 400 people at the keynote and 150 at the "Knife Skills" documentary screening."
About the Writer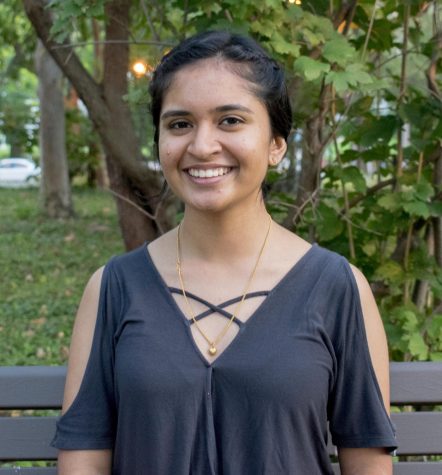 Smruthi Maganti, Arts and Entertainment Editor
Smruthi Maganti is a third-year student studying biology with a minor in public policy. After a year of copy editing, this is her first year as the A&E...