Spartan cross country crushes competition at Sudeck Stampede
With the late summer sun sitting low over the horizon, the Spartans lined up at the starting line.
The men's and women's cross country squads played hosts as they kicked off their season this past weekend. The teams hosted both crosstown rival John Carroll University and Ursuline College in the 15th Annual Bill Sudeck Stampede at Sundown.
The home course for the Spartans is located at the Squire Valleevue Farm in Chagrin Falls, Ohio; they used that home course advantage to secure a pair of wins.
In the intense heat of the weekend, the separation between the scoring runners was extremely narrow, with a mere 36 seconds of difference between the first and ninth place runner. The men's side was led by junior Galen Caldwell, who crossed the finish line with a time of 19:56.30. Caldwell narrowly beat out his teammate sophomore Sam Merriman, who finished the race right on his heels. Merriman finished the 6K run just over a second later than Caldwell, posting a time of 19:57.60.
This one-two combo for the Spartans helped them ride to victory as the next three spots were taken by John Carroll and Ursuline College runners. However, the Spartans also posted points with sixth, seventh and ninth place finishes. Senior Chippy Kennedy came in sixth, finishing in 20:23.40, followed by senior Ben Davis with a time of 20:28.30. Freshman Timothy Travitz closed out the scoring, finishing ninth.
The women's squad crushed their competition of the day as they followed senior Kelsey Aamoth's third straight victory in the event to take home the title. Aamoth finished the 4K with a time of 15:14.09, a good 48 seconds before the second place runner crossed the finish line.
That second place runner was fellow Spartan Kristen Ruckstuhl, who crossed the finish line in a very solid 16:13.06. After allowing John Carroll sophomore runner Erin Kiley to take third place, the Spartans then placed senior Dana Jeter at fourth place and swept the bottom of the scoring spots of sixth through ninth.
After the strong showings, the Spartans run again on Saturday, Sept. 12 at Calvin College. The race starts at 10 a.m.
Leave a Comment
About the Writer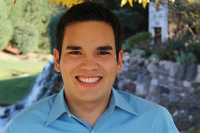 JP. O'Hagan, Sports Editor
JP. O'Hagan is powering through his third year as Biomedical Engineering major and Spanish minor, while serving The Observer as Sports Editor. JP is...