Swimming suffers setback with Saturday split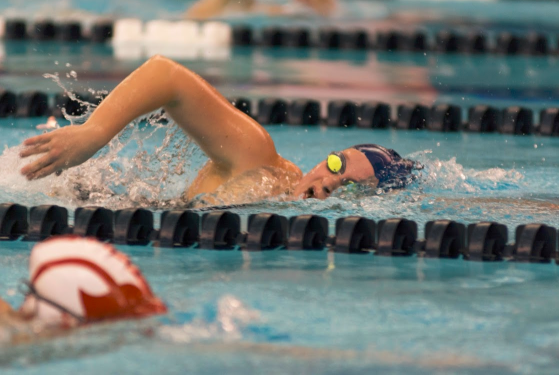 The Case Western Reserve University swimming and diving teams competed in a tri-meet on Saturday, Oct. 29, against Allegheny College and Carnegie Mellon University (CMU). The men's team split the doubleheader by beating Allegheny but falling to CMU. They beat Allegheny by a score of 196-97 while they lost to CMU by a score of 231-69.
The women's team competed only against CMU, losing the contest by a score of 203-97.
Despite the lopsided score, a few women won events. Third-year swimmer Jennifer Eurich finished first in the 50-yard freestyle event. She teamed up with second-year swimmers Bhavya Kumaran, Alli Drohosky and Casey Crowley to win the 200-yard medley relay. Eurich also won the 200-yard freestyle relay, and she was joined by third-year swimmer Inez Moore, first-year swimmer Rhiannon Reese and second-year swimmer Kelsey Holmberg.
Despite the losses, Head Coach Doug Milliken was pleased with the results on both the men's and women's sides. He sees room for growth but is satisfied with where his team is at this point in the season.
"I feel really good about it," said Milliken. "Although the final score might not be what we wanted against CMU, the team swam very well."
Milliken alluded to several instances during the meet in which his swimmers came up to him and talked about the progress they are making. He claimed that it reiterated to him that his team is right on track.
He said the two biggest takeaways from this meet are the teams' energy and his swimmers' ability to go out and compete against strong competition. Milliken is hoping to get more consistency from his swimmers in the next few weeks, as he feels that's an important area for improvement.
Moving forward, Milliken wants to make sure his team stays relaxed and trusts all the hard work and preparation they have put in. "To me, we just need to be more consistent," said Milliken. "We need to remember to be loose and enjoy the process."
The Spartans will now turn their attention to two upcoming meets. CWRU hosts the College of Wooster in Wooster, Ohio on Friday, Nov. 4, and travels to Oberlin College in Oberlin, Ohio on Nov. 5. The swimming and diving teams will look to get back on track after the past week's defeats.
Milliken is confident in his team and does not want to change anything up after just one loss. When posed with the question of whether to shake things up after the defeat or to trust the process, Milliken was quick to choose the latter.
"We have some good meets coming up, and I am sure we will perform well," said Milliken. "In swimming and diving, these meets are opportunities to get better."
Leave a Comment